By the 1960's Chania was left worn down and poor, with many buildings left partly destroyed due to bombardments from several invasions. As a result, many of these sights, including the fortification walls are now declared a historical monument. Within these walls you will find the old and beautiful Venetian harbour. Chania was built by the Venetians in 14th century for commercial purposes ; it was used as a port where ships would be loaded or tied. The Eastern basin was used to repair and build ships whilst the Western basin was primarily used to unload goods in warehouses.
Despite its development over time, the old Venetian harbour still holds much of its old-world charm. Nowdays, the Western basin is lined with cafes, restaurants that serve local delicacies as well as a string of shops and hotels. Contrastingly, the Eastern basin is the marina that anchors many private yachts , pleasure boats as well as fishing boats. Many hotels, cafes and restaurants on the waterfront have been developed from warehouses providing guests with beautiful views of the Venetian Harbour.
Take a stroll at the Lighthouse for the perfect sunset backdrop for your Insta shots!
Walk along the Venetian harbour's protective walls to visit the historical Lighthouse. It's the perfect self-paced sightseeing activity to do walking hand-in-hand with a loved one at dusk. Once you've arrived at the gates of the Lighthouse ( alas, visitors are not permitted inside ) you will notice the spectacular view of Chania's Venetian harbour's portand the caress of the gentle sea breeze whilst the warm sun sinks into your skin. You may even see sweet sea turtles on the shore!
Hot tip: We recommend visiting the Lighthouse either in the evening when the heat isn't too overwhelming, or early in the morning so as to avoid the busy crowds.

Ambassadors Residence Boutique Hotel for relaxing with unbelievable views of the Venetian harbour!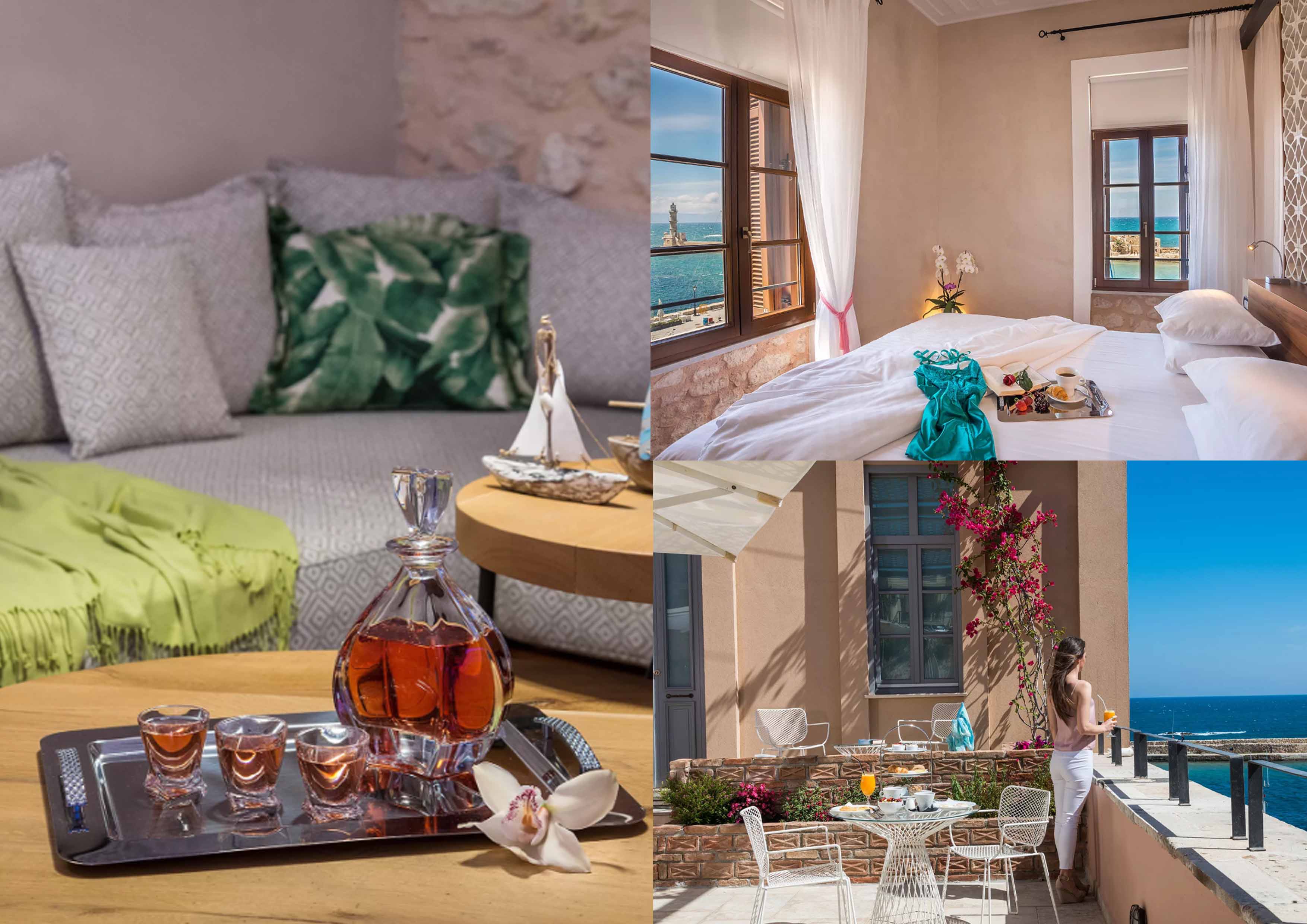 Views of Chania's harbour Lighthouse can be seen at Ambassadors Residence Boutique Hotel a fantastic neo-classical design boutique resort located at the foot of the harbour. Lounge in your very own private roof terrace or relax in your own jacuzzi whilst gazing over Chania's beautiful horizon in the Ceramic Suite. However, if you wish to see Chania's venetian harbour in all it's glory, we recommend arranging a boat trip with Ambassadors Residence Boutique Hotel for a water-excursion!

Learn all about about the region's fascinating architecture at KAM Centre of Mediterranean Architecture!
To the right of Ambassador's Residence Boutique Hotel you will come across the KAM Centre of Mediterrean Architecture, an instituition that holds workshops and seminars with fascinating insights on how Mediterranean architecture is affected by climate and space management. Once a school for the Christian community in the late 19th century, the centre now focuses on promoting art and architecture in connection to Greece and the Mediterranean; if you're interested in art and design we highly recommend a visit.
Hot tip: Walk West to Angelou Street to travel back in time and explore even more incredible architecture in narrow winding roads with Byzantine churches as well as other buildings whose traditional style has been left untouched.

Stay in town at Dorotheou House to be walking distance from the Archaeological Museum of Chania!
Dorotheou House is a gorgeous deluxe 3-bedroom house that provides the perfect restful stay for friends or families. The house has all the necessary ammenities and additional services that can be arranged for those who wish to create a vacation of a lifetime including a butler, caterer, chef or even a private helicopter.
It is located in the centre of the old town and just a short walk away from the Archaeological Museum of Chania, housed in a Venetian-built church. The museum is decorated with mosaic floors and filled with fascinating scultupres but be aware that photo-taking is frowned upon in order for the precious artefacts to maintain their quality!



Drop in to the local Market for an authentic Cretan shopping experience!
If you want to see the local Cretiens going about their daily business, this is the perfect spot for you. Join the hustle and bustle of the market and see what interesting finds are in store for you. Typically there is plentiful of locally produced, fruit, vegetables, honey and wine to household items and clothing.
Hot tip: Entertain family or friends in your large open kitchen at Dorotheou house and enjoy local dishes made by your even own private chef. You could even pop into the local market and pick up your fresh ingredients there!



Have a drink at Kydon, The Heart City Hotel - just a few steps from Chania's local market and the old Venetian Harbour!
Enjoy fine wine tasting at Kydon, The Heart City Hotel where you'll explore a wide variety of Cretan, Green and International wines . And if that doesn't spark your fancy, head to Agora Bar's and enjoy a refreshing cockail on a terrace with views over the ecclectic town and Venetiean harbour!







Seeking Art? Visit "The Seaside Mosque" !
Perched on the edge of the Venetian harbour, you'll notice The Seaside Mosque, the oldest Islamic building in Crete. The mosque not only stands as a physical reminder of the once present Ottoman Empire, but it is also home to many art exhibitions and galleries. These are frequently updated to display the work of local artists and a charming handmade gift store also makes and sells local crafts, perfect for those looking to purchase some unusual souvenirs.
Hot tip! Explore the harbour by horse- and-carriage for the ultimate touring experience! Many can be found outside The Seaside Mosque.
The old Venetian Harbour of Chania is an exciting maze full of unusual displays, local arts and interesting artefacts and monuments. If you're looking for stunning architecture and a surprise around every corner with discreet hidden alleyways, check availability at the above resorts!