There is a love-hate relationship going on between Italy and the LGBT community. The country is still highly influenced by the Catholic Church, however no one can deny its rich history, excellent sense of fashion, delicious cuisine and totally hot men. The above, and much more, make it quite difficult for any gay traveler to refuse visiting that country.
Nowadays, the Italian gay community enjoys most of the gay rights, however, Italians are still influenced by the Catholic church. What's surprising is that even though Rome's gay scene has remained the same (maybe, a little worse) than the previous years, more and more less known towns and villages around the country seem to develop a gay scene.
Nevertheless, Italy had always been a favorite destination for the global gay and lesbian markets, and we don't expect it to change in the near future. Find out below a complete guide to the gay life of Italy.

Gay-Friendly Areas in Italy
Gay life in Italy is discreet, so you should be prepared for a similar, discreet gay nightlife. Definitely do not expect the gay life of Paris and London (not even Athens' gay nightlife), however you will find a respectful diversity of gay venues everywhere around the country. Let's find some gay popular destinations with a great nightlife.
Italy's capital, Rome, boasts a rich gay nightlife with a mix of gay bars, fun gay dance parties, gay cruise clubs, and gay saunas. Check out the Gay Life of Rome in more details here! The Italian Fashion Capital, Gay Milan, is a very good alternate for the LGBT community. There are many gay events taking place there too (although not as many as Rome) but the gay nightlife isn't actually the best. We recommend you choose a hotel in the central part of the city so that you can be more convenient with your shopping, sightseeing, eating as well as exploration of the gay nightlife with the public transportation.
Gay Naples, Florence and Bologna come after the big cities referred above, hosting a satisfying gay scene that can keep you busy for some time.

Gay Naples includes several gay venues like gay bars, dancing clubs, a sauna and a couple gay cruising clubs.
Gay Florence includes a couple gay bars, a couple gay parties, a gay couple cruise clubs and a gay cruising sauna.
Gay Bologna scene is relatively small. It includes a couple gay saunas and a gay cruising club.
The villages Torre del Lago and Porta Venezia are considered gay destinations due to their high level of gay acceptance.
An Adults-Only Hotel in Riccione, Italy to relax and take a break from your gay adventure in Italy!
Gay life in Italy is quite organised, so many of you will be overwhelmed by the abundance of things to do. To avoid being overwhelmed and to give your holidays a more refreshing touch, picking a wellness hotel is essential. Such hotel is Lunariccione in Riccione, an adults-only hotel where you can relax and enjoy nature at your own pace.
Favored by all gay travellers, LunaRiccione is the ultimate hotel in Italy for gay travelers who want to lay back and enjoy their vacations getting pampered by wellness specialists. The hotel stands out for its exceptional services, intimate adults-only environment, modern spa, and gourmet restaurant, while it takes pride in the cleanliness and spaciousness of its rooms.
According to the room type that you choose, you are eligible for a special package that includes many benefits like complimentary access to the OpenSky 32 Degrees Heated Swimming Pool, Free Parking, Spa Access, and more. So, book now at Lunariccione Hotel & AquaSpa and enjoy the pampering that you deserve!
Gay Events in Italy
There are several gay events taking place in Italy such as:
Friendly Versilia which happens between April-September and attracts many people of the LGBT community.
Gay village which happens in Testaccio during June-September and it's an enormous area with different events and ways of entertainment only for gay people
Milan Gay and Lesbian Film Festival which is one of the many gay festivals that take place in Milan and happens in May.
Turin International Gay and Lesbian Film Festival "From Sodom to Hollywood" which happens in Turin during April and celebrates the initiative of making a gay-friendly movie.
Florence Queer Festival which takes place in Florence during June and there you will have the opportunity to watch many short movies about the life of LGBT community!
Gay Beaches in Italy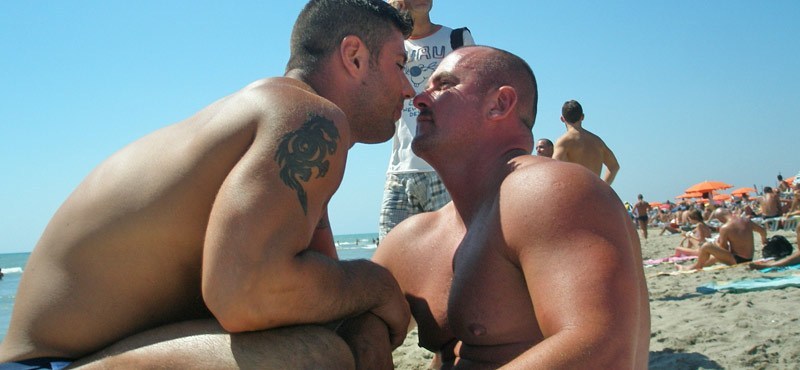 The Mediterranean climate of Italy makes it one of the best countries to spend your Summer. Even though there are not any publicly known exclusively gay beaches around the country, you will be surprised by the number of secluded and alternative beaches that are visited mainly by gay, and sometimes lesbian, audiences. Find everything you should know about Italy's Gay Beaches, in this detailed article "Gay Beaches in Italy | Everything you should know!"
Wellness & Relaxation in AquaSpa - A Luxury Spa to Relax & Enjoy Premium Services from Experts
Lunariccione Hotel is home to one of the best spa in Italy, featuring all the facilities of a modern spa including a hammam, sauna, steam bath, Turkish bath, Laconium tepidarium, steam calidarium and more. There, you can enjoy a series of wellness therapies that will help you relax and feel at least 10 years younger.
The spa menu is diverse, however we recommend you enjoy the day spa that will offer you a complete wellness experience. The Day Spa can last up to four days, and it includes a diversity of wellness treatments, massages, etc. The Detox and Coocon Male are particularly popular for men.
Alternative Places to Blow off some Steam in Italy