To ensure a healthy lifestyle, we must pay special attention to our diet. Today, there are countless diets that promise us a healthy body, however, they usually end up giving us much less than promised. There is a diet, whatsoever, that has proved its worth throughout the years as it is very beneficial for the people who follow it: Ayurvedic Diet.
Based on the Indian Ayurvedic Wellness Systems that date thousands of years, this diet aims to improve your health and wellbeing. At this point, we should note that this diet is not about losing weight. The diet's only goal is to boost your health by incorporating many different practices into your eating routine.
So, if you are new to the Ayurvedic diet, you would be happy to hear that there is a place out there that your Ayurvedic experience can start. We are talking about a luxury hotel in the Maldives, that happens to offer an Ayurvedic menu that's worth trying.
In this article, we are not going to focus on the general cuisine of Gili Lankanfushi, but more importantly on its Ayurvedic breakfast that has surprised us with is diversity and not only. Let's talk about one of the most popular breakfast buffets in the Maldives, and the lovely resort that serves it, Gili Lankanfushi.
The resort is temporarily closed for renovations, as a fire broke out at 3 January 2019. Rebuilding of the Gili Magic is currently in progress, you can subscribe to the hotel's newsletter to receive the latest updates!
Ayurvedic Breakfast
What makes this hotel's breakfast unique is none other than the Ayurvedic recipes on its menu, which help you detox your body and release it from the built-up toxins.
Ayurvedic Teas
Ayurvedic teas are made based on ancient Ayurvedic recipes and consist of purely natural herbs, roots and leaves. The Ayur Serene is an excellent tea ideal to relief you from stress and anxiety. If you want to boost up your immune system, then Ayur Immune is the perfect tea to detoxify your body.
Ayurvedic Elixirs
Now, that's something that you won't be able to find anywhere else, since the majority of the drinks' recipes are secret. The Stress elixir will relieve you from any stress or anxiety, while the Rejuvenate elixir will restore your poor vitality. The Energy Tonic elixir will significantly increase your stamina and strength.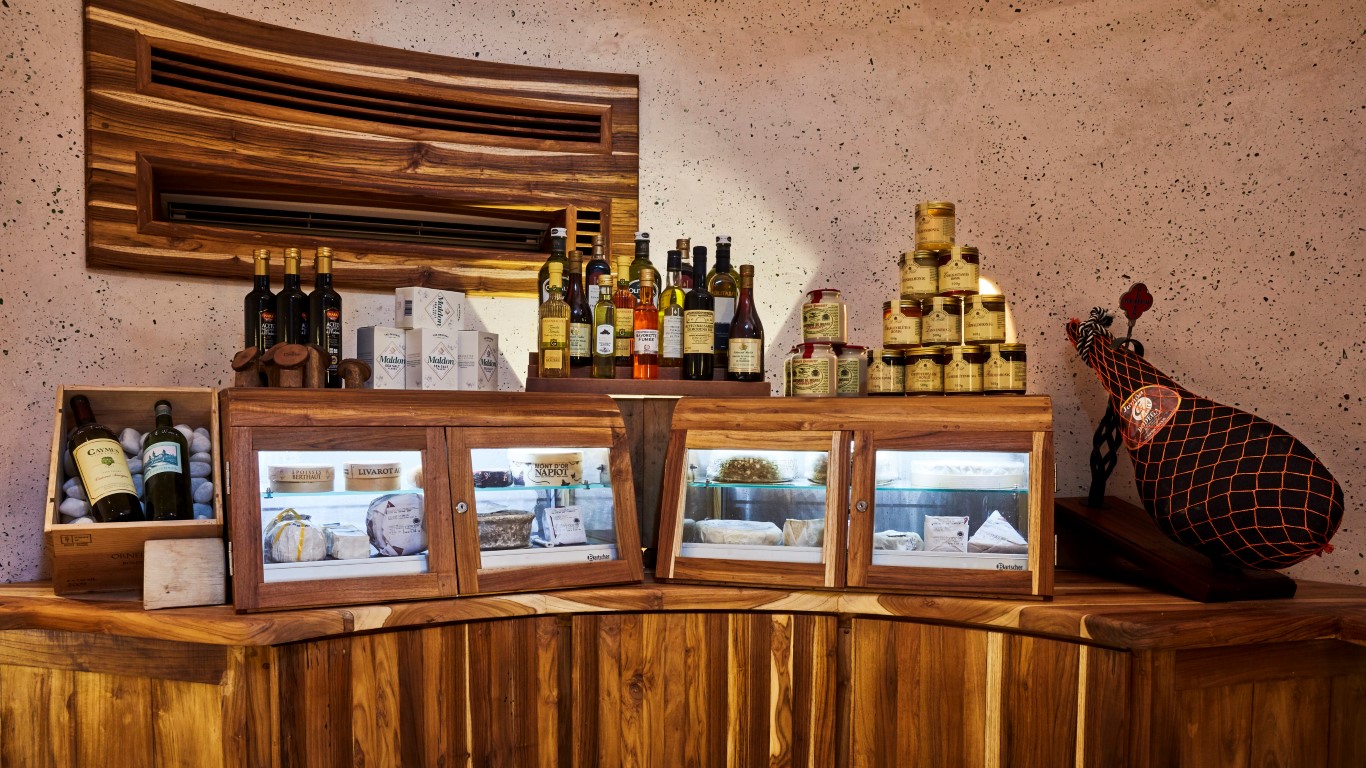 Eggs
If you are a fan of eggs, then you are going to love Gili Lankanfushi's breakfast! There is literally a dozen of ways to prepare your breakfast eggs. You can choose among a number of recipes such as sunny side up eggs, poached eggs, scrambled eggs, omelet and boiled eggs, and you can accompany them with all kinds of ingredients like sausages, ham, fried potatoes, polenta croquettes, vegetables or cheese.
✿ Spa Cuisine: The Maldivian Spicy Omelet consists of eggs with fried tuna, red onion, curry leaf and chili. It's a particularly hot and healthy dish.
Crepes and Pancakes
The list of crepes and pancakes is not particularly extensive, but the available options however, are absolutely delicious! You can either choose among the Sweet French crepe (with sugar, jam and/or banana), the Savoury French crepe (with cheddar cheese, ham and tomato) or the standard pancake with banana slices and maple syrup.
✿ Do not forget to try the sweet and warm French brioche, a brioche toast cooked with eggs, milk, vanilla, orange and sugar. It's delicious!
Juices & Beverages
Gili Lankanfushi has included a wide selection of juices and beverages on its breakfast menu . The juices are fresh and squeezed "a la minute", ensuring the highest quality possible. You can either ask for a juice from fruits like oranges, kiwis, melons, papayas, mangos and grapefruits or vegetables like carrots, cucumbers, celery and more. You can also make a combination of your choice.
Fruit smoothies, made from exotic fresh fruits like strawberry, peach, raspberry, banana and mango are also available.
✿ For extra energy, you should try one of the homemade energy drinks' alternates made from fresh fruits and vegetables. The Fast Breakfast Drink that consists of yoghurt, strawberries, passion fruit and honey can actually substitute a whole morning meal!
Immune Boosters & Detoxifying
Whether you want to get better from a flue or simply take care of your health, you can choose one of the Immune Boosting and Detoxifying drinks. The Hot Lemon and Ginger healer is a pretty strong drink against colds and flus, rich in vitamin C, ginger and chili powder that helps to cleanse the sinuses.
Coffee & Tea
If you are among those people who can't wake up without a cup of coffee, then Gili Lankanfushi has got you covered as well! You can choose your kind of coffee from the hotel's "a la carte" coffee menu, which includes, among others, cappuccino, cafe latte and hot chocolate from Dutch Hershey's chocolate. You can also try the Iced Coffee Latte, the Iced Thai Coffee, the Iced Mochaccino, the Chai Iced Latte and the Iced Vanilla Mocha.
If coffee is not your "cup of tea", Gili Lankanfushi has also included some exceptional tea flavors that wake you up, giving you enough energy to start your day. Alongside Earl Grey and English breakfast tea, you can also try the special homemade tea, gathered directly from the hotel's gardens!