Cute and gay - Paros is a quiet, gay-friendly island that's frequented after the partying in Mykonos. Located in the center of the Aegean sea, it's close to Naxos and right next to Antiparos, a favourite location for day trips. The island is overall very beautiful, while the white buildings found throughout the towns of Parikia and Naoussa make up Paros' iconic Cycladic landscape.
The island is packed with beautiful beaches and nature, making it the perfect getaway to relax and have a good time. The island is also incredibly gay-friendly, and welcoming to gay travellers. The locals are very friendly and, similar in every Greek Island, they will treat you with respect. Below, we've listed a few places for you to visit during you gaycation in Paros.
BEFORE WE EXPLORE GAY PAROS: THE BEST GAY-FRIENDLY HOTEL TO STAY

Before exploring gay Paros, we believe that you would rather finding a place to stay first. Well, to save your precious time, we decided to make the hotel research for you and present you the best hotel to stay in Paros for gay travellers. We are talking for none other than the boutique hotel "Paros Comfy Suites", isolated on a private peninsual of 6 acre by the sea and only 2km away from the town of Naoussa.
You couldn't ask for better location as you will enjoy both the seclusion and privacy of the countryside, and the vivid nightlife of the nearby town, which is only a 10 minutes' drive away. In the meantime, all suites enjoy unlimited sea view, alongside direct access to Siparos Beach, a golden-sand beach where you can bask on the Greek sun.
Of course, Paros Comfy Suites has a friendly and intimate atmosphere, ideal for all gay travellers, from gay couples, to families or even singles.
Parikia
Parikia is the main port of Paros and can be incredibly crowded during ferry times to and from Santorini or Piraeus. However, when it clears up, the port area can be beautiful, with delicious restaurants lined up along the coastline. The port is the capital of the island, so these restaurants, cafes, shops, and nightlife, are the biggest and best on the island. Some of our favourite restaurants include Aroma Traditional Tavern, for a variety of Greek dishes, Cactus Restaurants, for Mexican food, and Ephesus Restaurant, for Asian food cooked in a wood oven. Restaurants and bars in the area also have great drinks and delicious cocktails for you to sit back and enjoy on your relaxing vacation. The interior of Parikia is incredibly picturesque, with white walls and pink flowers that are perfect for Instagram. Roam through the streets to shop for souvenirs and snap the cutest pic for maximum likes.
14 Suites - Your Personal On-Earth Heaven!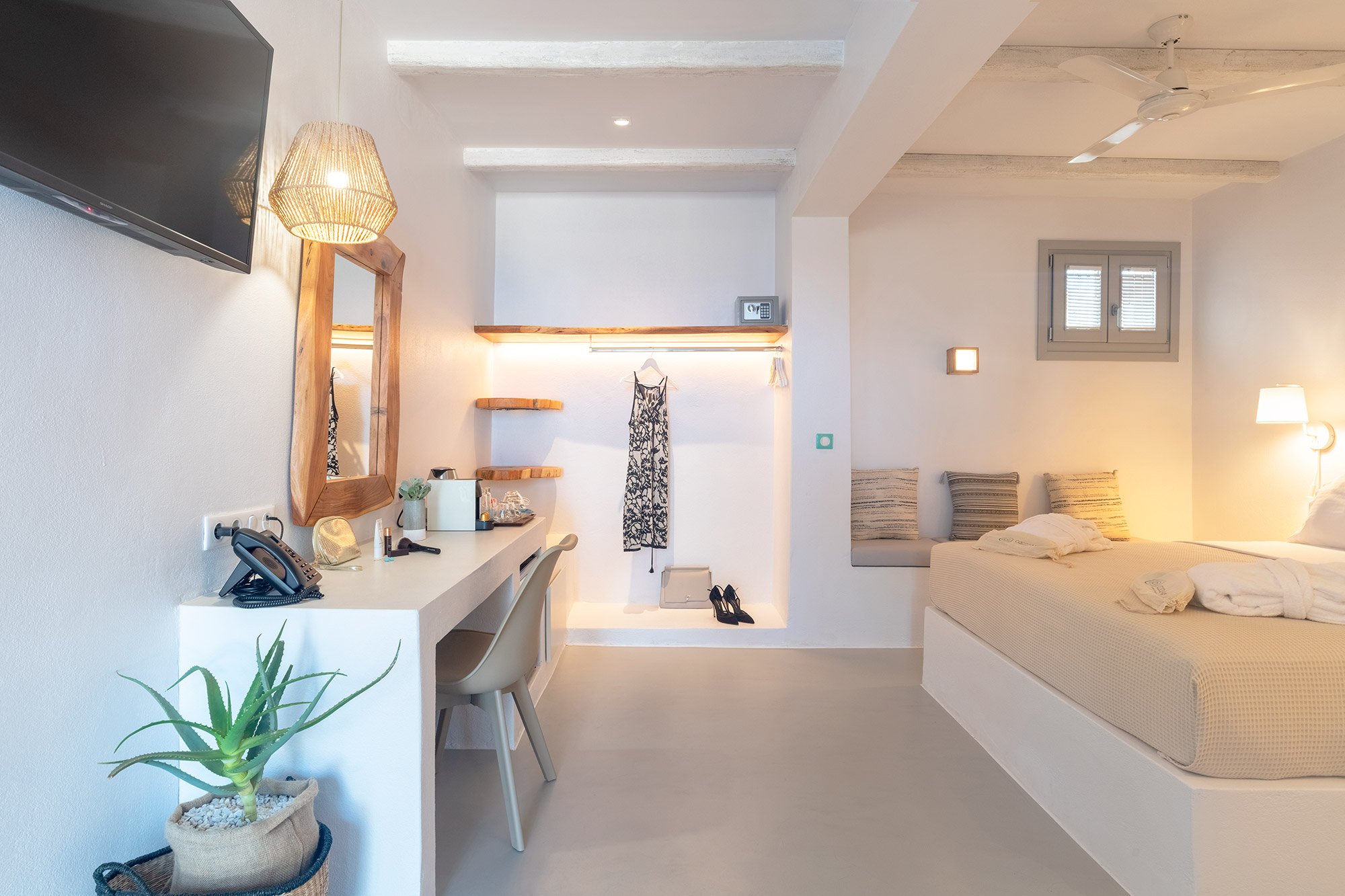 Paros Comfy Suites features 14 fully-renovated suites, all overlooking the sea, while featuring direct access to a small and private sandy beach. They all boast modern design and aesthetics, painted in hues of white and grey. The wooden bed headboards add a warmer tone in the room, perfectly combining with its energetic design.
The rooms are equipped with beds that use COCO-MAT Mattresses and Zealots Amenities. The hotel's delicious breakfast was created by the team of "beNatura", ensuring a high-quality experience. The hotel will supply you with detox and bio juices made with Superfoods all through the day.
Feel active? A free mountain bike is provided for free to the hotel's guests. For up to 2 people, we recommend you the 360 Double Suite with private outdoor jacuzzi, that stands out for its 360 views of the sea. Similarly, for families we recommend the 360 Family Suite with private outdoor jacuzzi
Naoussa
Naoussa is a fishing town located in the North of the island with beautiful buildings and a nice port. Walking along the coastline is incredible, allowing you to take cute snaps of the fishing boats and port-side restaurants and cafes. The area is mostly frequented by Greek travellers from Athens, as they enjoy the lesser amount of tourism here. This means that the food in the area is more authentic, high quality, and at a reasonable price. The streets of Naoussa are also pretty to look at and take pictures of, with the white walls and tiled streets. The beaches in Naoussa are also very beautiful, and there are beaches that gays congregate at. The favourites are Kalami and Lageria beach, that are both also clothing optional, a gay staple for beaches in Greece.
Antiparos
Antiparos is an island right off the coast of Paros, with plenty of ferries that go to and from during the day. The island is perfect for relaxation at their secluded beaches, where you can participate in activities like swimming, water sports, diving, and kite surfing. Some of our favourite beaches are Psaraliki beach, Faneromeni beach, and Sifneiko beach, the favourite for watching the sunset. Camping beach is a nude beach on Antiparos that gays meet at, so there's a fun one to visit. There are also fun landmarks to visit like a Venetian castle and the Antiparos cave.
Book a hotel in any of these areas now to have an amazing gaycation in the beautiful island of Paros.