No matter how exciting the change of environment is to your Western, gentrified neighborhood, traveling to faraway Asian destinations can still be daunting. From such a vast choice of beautiful resorts in Bali, narrowing down where to stay and figuring out which resort is going to enhance your vacations could be difficult ― despite your reason for traveling may be.
In this guide, we'll paint a few pictures for you, so that you imagine your vacation at a stunning villa located in one of Indonesia's most famous islands. Bali, here we come!


Introducing the brilliant property trios | Kalua, Kayu and Ka
Welcome to Bali Ethnic Villa, a Blue Karma resort, designed by Alexa Genoyer Aguila. Upon your arrival, take in the luxurious surrounding villas created in such a way to enhance the local ethnic culture with the use of local material. The design creates an atmosphere of luxury and comfort, which is the pillar to your stylish stay at Bali Ethnic Villa. Each of the three villa properties varies slightly in style and design, but the spaciousness and large pools are a common feature all around. If you're searching for an effortlessly cool stay, Bali Ethnic Villa will make sure you have everything you need while you focus on relaxing and taking in the beautiful surroundings.
Villa Kalua, the Exotic!
Villa Kalua is closely situated to Umalas, a residential area that is a convenient thirty-minute drive from the airport and just a 10-minute drive from Seminyak. Enjoy the lotus pond setting at Kalua Villa, and settle into your four "joglos," vernacular houses that include wooden double/twin rooms.
Enjoy bathing like never before, in your luxurious, semi-outdoor bathroom. Be charmed by the views of the surrounding rice fields and the fragrance of jasmine all around as you relax by your private pool and catch up with family or friends. The Joglo lounge and dining Joglo also offers you alternative spaces to relax with loved ones.


Villa Kayu, the Elegant!
Villa Kayu is made up of a similar space as Kalua, with four bedrooms, but characteristically varies in the prominent Feng Shui concept. Natural elements are featured in through the property, with boho-style rooms that are tastefully decorated with ethnic furnishings. The wooden structure of the villa and the presence of stone makes for a natural bathing environment that a couple can easily enjoy in their outdoor bathtub.

Villa Ka, the Tropical!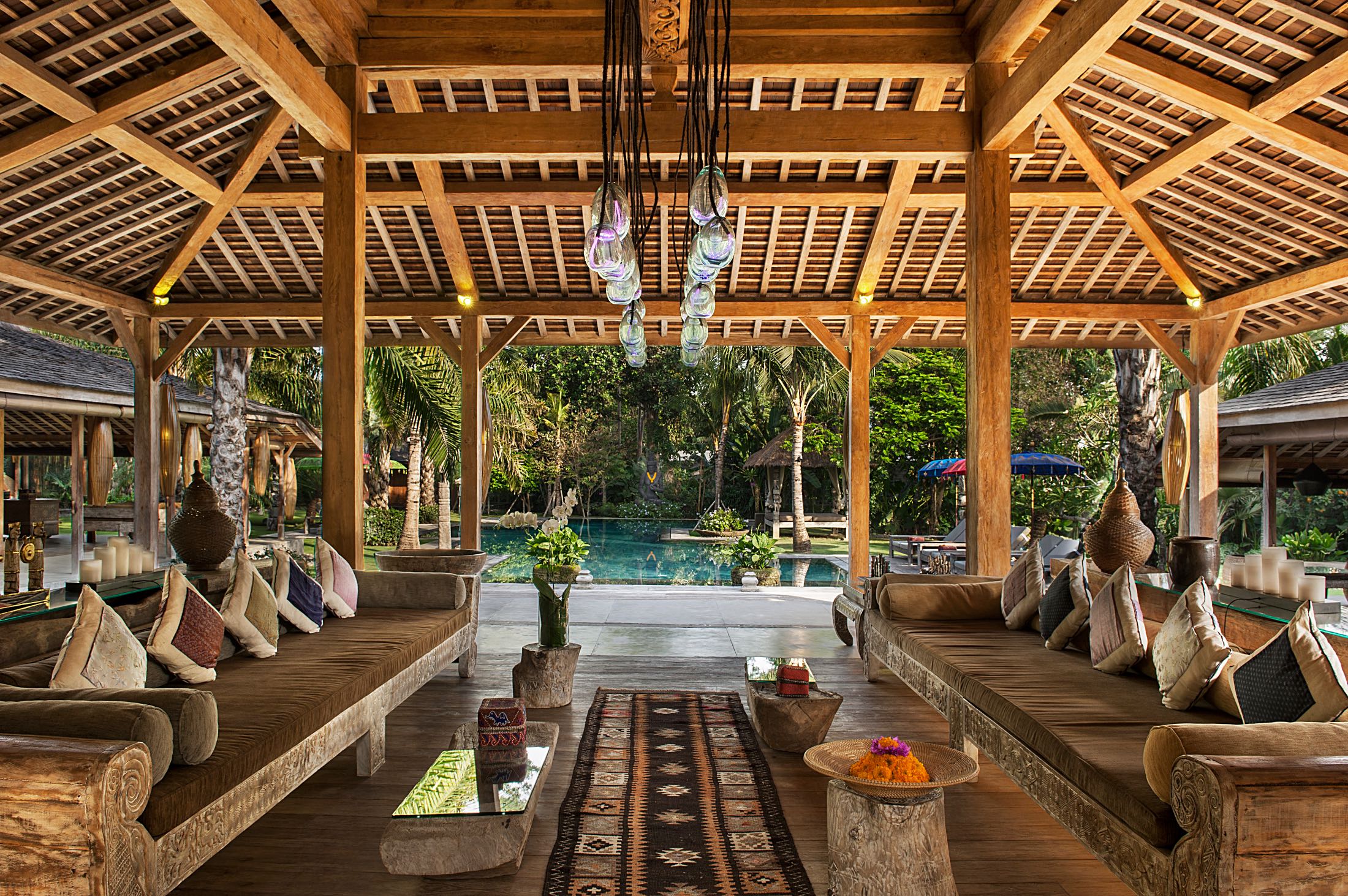 Villa Ka is the largest villa with five "joglos", catering to a larger group of family or friends. The villa features a ceiling with sparkling drops of blown glass, and upon approaching the property, you'll come across an enchanting water-lily pool.
Your exciting Bachelor Bali Aventure!
Get active with the boys with some River Kayaking!
Your Bachelor trip calls for endless activities at a destination that's going to provide you with all types of thrills. Create your own exciting Bali adventure during your Bachelor trip, with daily activities that'll leave you in wonder. Get in pairs and head on down to Bali's longest river, Ayung River in your inflatable kayak; a fun, adrenaline-inducing activity in nature's most glorious river settings is the ideal bonding activity for you and your boys!
Spend a little time with Bali's magnificent Elephants!
During your Bali Elephant Experience, you will spend the morning watching the elephants bathing in the lake followed by a bareback atop ride. During this unique opportunity, you may even take care of these wise animals by washing, caressing and feeding them. After your morning Elephant action, enjoy a gourmet breakfast in the Park Restaurant and re-group your boys for your safari ride in the Jungle of Taro!
A Bali Wedding Package unlike any other!
Rent all the Villa Complexes for your loving family and friends for a fantastic impression for your Bali wedding. The combination of the Balinese and French styling with the outdoor villa settings are bound to be enough of a wow factor to impress all of them. For your favorite loved ones, ask for Bali Ethnic Villas' staff to arrange special massages to help them relax after their long travels.

"Make me a 10/10!"
It's essential that you know all the necessary beauty treatments will be organized and executed in such a way that when you walk down the aisle on the day of your wedding, you look flawless! Have your nails done the day before your big day and ensure all the last minute beauty pampering is done in the comfort of your villa. Bali Ethnic Villa wedding package ensures that you also undergo a satisfactory hair and makeup trial before the wedding day, wedding day bridal makeup & hairstyle as well as a makeup & hairstyle touch-up after the ceremony.
Let Bali Ethnic Villa, entertain you!
Calling your loved ones across the world for your memorable Bali wedding requires some serious thoughts - you want to make sure that the wedding celebrations go out with a bang, with endless entertainment for the guests. You can be sure they'll be entertained with Bali Ethnic Villa's wedding package that includes entertainment: expect unbelievable fire dancing, a romantic live jazz band as well as a DJ for later on in the night.
A moment alone, under the candlelight and the starry night sky
The evening after your wedding takes some time alone as newlyweds by having a romantic, private dinner on the padi fields. Gaze into your loved one's eyes and remember all the reasons you said " I do", surrounded by candlelight.
Unforgettable family moments at Bali Ethnic Villa!
There's nothing to bond a family like a good hearty breakfast. Bali Ethnic Villa creates unique culinary moments every morning for you to discover, meaning you won't find yourself complacent about breakfast a few days into your vacation. Enjoy a "Joglo" dining breakfast, served by the vibrantly coloured and fragrant tropical fruit, chosen from the local market and ideal to get in your daily dose of vitamins!
Family adventure-time!
Following your large breakfast spread, solidify the bond that's been tethered by the distance between you and your loved ones with some cultural and sight-seeing activities. Bali Ethnic Villa has several types of tours available for you to choose from according to the needs of your family. From half to full day tours, cultural tours, Ride Paddy walks, treks, and sight-specific tours, there is so much waiting for you all to explore. Join the 5*, safest family rafting company Bali Adventure Tours for an action-packed two-hour journey down Ayung River for the ultimate fun family activity. This activity is inclusive of a follow-up hot shower with clean towels and a hot gourmet buffet in the setting of a private restaurant overlooking Bali's wild mountains and lush rice fields.
Snooze the afternoon away...
By the afternoon, spend some time around the pool while the kids splash around and cool off, and you get your tan-session started over cocktails with your favorite girls. Alternatively, lounge around with your family at Villa Ka's oriental lounge, an ideal family nap area! Decorated with multicolored cushions, the lounge invites you to relax facing the "Garden of the Gods" and gently snooze the afternoon away. If you're traveling with children and need an afternoon to yourselves, the community classes also include Kids Yoga, Balinese Dance, and Balinese Painting classes. These classes are also available for adults, so you don't have to miss out on any of the fun either!

A Fairytale Tropical Paradise!
These luxurious villas in Bali are bound to provide you with a beautiful escape from reality with your loved ones, regardless of what type of Bali experience you're searching. Begin your wonderful vacation at Bali Ethnic Villa's by checking booking information directly here!