The awe-inspiring landscape of the Maldives shapes the dreams of many worldwide wanderers. The country is widely recognised for its pristine white-sand beaches with turquoise waters, rich underwater environment packed with rare fish and colourful sea creatures, and, world-class hotels and resorts that offer a stay like nowhere else.
All of the above – and much more! – make Maldives a lavish destination that very few get the chance to experience. Of course, Maldives has seduced many celebrities with its paradise-like landscapes, like Prince William and Kate Middleton, the Kardashians, Fernando Torres, Michael Phelps, Cristiano Ronaldo – and the list goes on.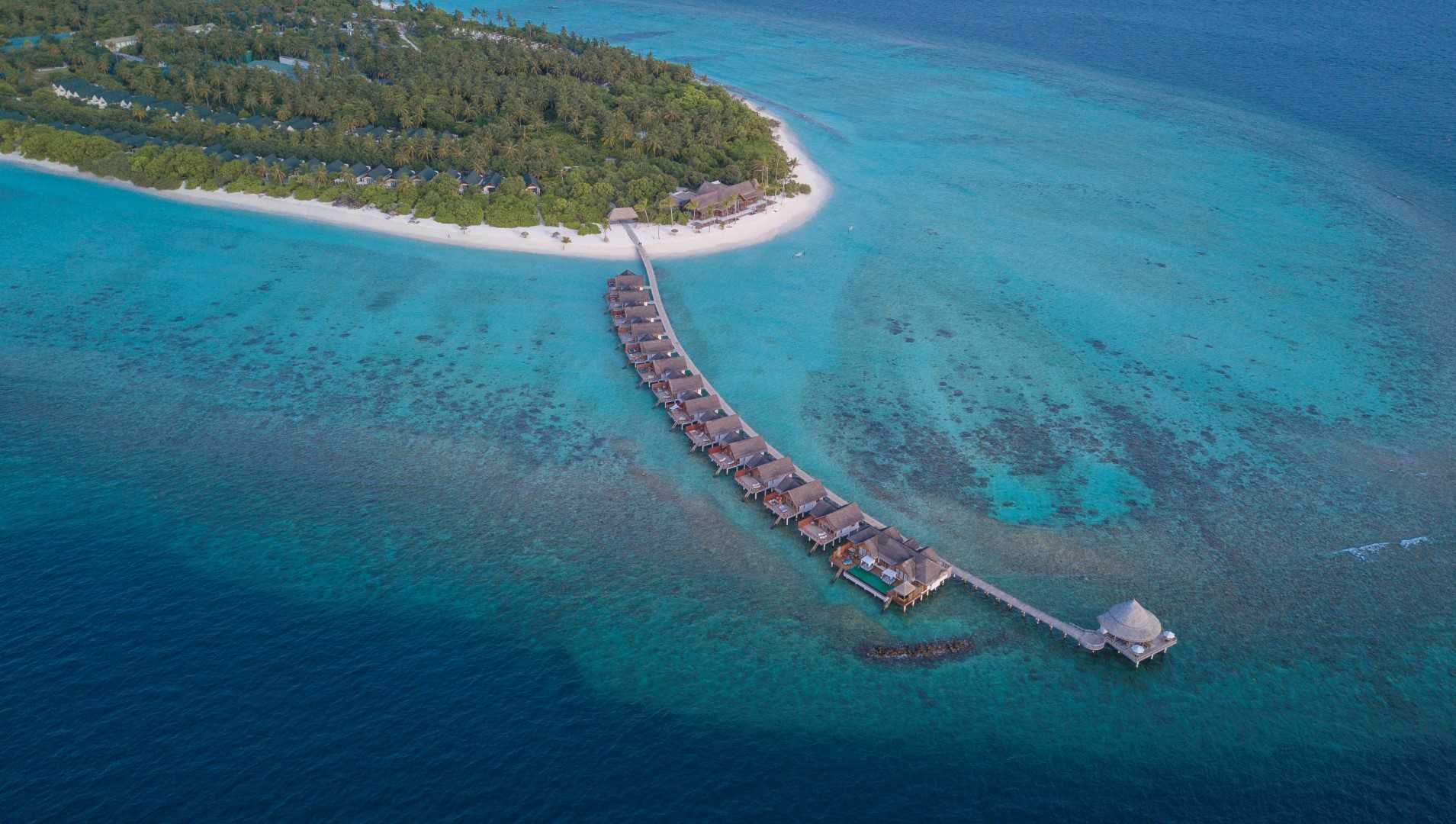 One of Maldives' peculiarities, that make it differ from other exotic destinations like the Bahamas or the Philippines, is that most of the hotels are located on small islets all by themselves. This means that in many resorts, you will enjoy total privacy and seclusion, meeting with none other than the staff and the other guests.

On your first trip in the Maldives, we think you should stay in a resort where you can do many activities including getting a glimpse of the local life. Maybe meet locals and make some very good friendships, who knows? This is why we have chosen this superb resort located in the exotic Raa Atoll, 151 km north of the capital city of Male.
Furaveri Island Resort & Spa – The ideal resort for every traveller!
After a short 45-minutes' trip above turquoise waters and small islets from Male Airport to Furaveri Island Resort & Spa, your Maldivian dream officially starts. You will notice the resort's high quality as soon as you enter the main building, when the staff will offer you towels to wipe the sweat from your face.
While you are waiting for the check-in procedure, you can look at the hotel's amazing boutique located by the lobby, or even buy something that you fancy. After your short check-in, you will be guided to your room by one of your hosts.
As you swim at the turquoise waters of a secluded white-sand beach, snorkel around sharks and manta rays, and relax at the sundeck of your overwater bungalow, you will realise the excellence of the Maldivian dream.
Welcome to your 155 sqm Beach Pool Villa!
Overlooking a pristine, white-sand beach, the Beach Pool Villa will host your most enticing moments in the Maldives. The villa spreads through 155 sqm, where you can relax and unwind wither by yourself or with your other half. The villa features a modern yet traditional design, and it's packed with the most advanced facilities that ensure an effortless stay.
The villa has an absolutely gorgeous beach-front garden, which you will never want to leave during your stay. The garden is home to cushioned day beds and sun loungers where you can relax and sunbathe, as well as a private 5-metre pool where you can skinny dip during the hot summer days. It also offers direct access to the beach in case you want to enjoy Maldives' azure waters!
Eat to your heart's content!
The fact that you are going to limit your vacations in one resort does not mean that you will have limited dining options. Furaveri Island Resort & Spa is home to four amazing restaurants, serving from Asian Ala Carte Menus to International Buffets. At the western tip of the island you will find the hotel's Signature restaurant "Raiyvila - A Taste of Asia". There, you can enjoy Asian Fusion dishes, Sushi and Sashimi, alongside various Western and Eastern dishes prepared by Asian Chefs.

Craving for some Mexican in the Maldives? Amigos @ Farumathi is located on the edge of the reef, at the end of the water villa jetty. It offers undisturbed views of the sunset, serving casual fresh Mexican Food. It's ideal for lunch and a flavor-packed dinner and a cocktail on hand to wash it all down. For an International breakfast, lunch or dinner, you should opt for Jaafaeiy Restaurant. The buffet includes live cooking stations, as well as every night has a different theme (Maldivian Night, Pasta Night, BBQ Night, etc).
Are you on your honeymoon or a romantic trip? Make a gift to yourself and your other half by arranging a candle light dinner in any spot on the island you would prefer to. The special 6-course menu will offer you a delightful experience including a selection of seafood, crispy salad, homemade soup, two main courses and a delicious chocolate dessert.

Pamper yourself to the limit!
A destination like the Maldives will awaken your desire for relaxation. Especially if you are living in a big city, you will need that extra push to get into a vacations' mood. A massage or a relaxing spa session is the perfect way to cast away the built-up stress of your everyday life and be introduced to a temper and slower lifestyle.
The spa facilities of Furaveri Spa include 4 open-air pavilions and 4 Air conditioned pavilions where you can enjoy side-by-side couple treatments, a separate steam bath, a sauna, a jacuzzi, a relaxation area, and manicure & pedicure. For a holistic wellness experience, we highly recommend the spa packages that last from 60 to 180 minutes.
You can choose among seven marvelous massages, as well as some on-the-spot, in case you are on a hurry. The 60 to 90 minutes' facials will make you feel younger than ever, while the body treatments will make your skin as smooth as a baby's.
Your first trip in the Maldives will surely be exciting. So, there is nothing holding you back from this experience, check prices directly at the hotel by clicking here, and open up to a pristine world full of new experiences!