Thinking about making grand and lavish vacation? You should think of Greece and its fabulous islands. Close your eyes and think of Greece, what do you see? White houses with little blue windows, lush and colorful bougainvillea plants climbing the walls, and a strong smell of sea salt and oregano. But not all of Greece is like that: many places around Greece have more to offer and such place is Kos. It is a part of the Dodecanese archipelago, a few kilometers from Turkey that adds a particular touch to everything on Kos. Especially the exotic smell of spices and delicious flavors of the Orient make it differ from other Greek islands. It is a fitting option if you wish to combine luxury vacations with typical Greek surroundings. Of course, to do so, the best choice is to book in time a 5-star resort like Astir Odysseus.
Kos: A high-carat gem in the Dodecanese!
If you have already visited Greece, you know that it's home to hundreds of fascinating islands for refreshing summer vacations, but Kos has a unique charm that will make you fall in love with it. Known for being the birthplace of Hippocrates, with ancient ruins near the sea, beautiful villages, very long beaches of golden sand or small pebbles, the sea alluring with its crystal clear water with shades ranging from blue to turquoise, Kos will not disappoint you in any way. For travelers that prefer nightlife, the vicinity of the town of Kos is well appreciated.
Among the most beautiful seaside resorts Kos has to offer, near the Tigaki village, the luxurious 5-star Astir Odysseus Kos Resort & Spa has caught the eye of many. Tigaki beach in particular, is absolutely not to be missed, and it can be easily accessed by the resort if you rent a bicycle (the resort offers bicycle rentals). 10 km long, it is really suitable for everyone: couples, families with children, or even young people. With excellent views of both the Turkish coast and the nearby islands of Kalymnos and Pserimos, this beach is absolutely gorgeous.
Astir Odysseus Resort is located on top of a very beautiful, pebbled beach, that can work as a great alternative if you want to skip the "long journey" to the other beaches. Overlooking the Turquoise Sea, it is perfect resort to spend your wedding or honeymoon. Note that this exclusive resort offers to organize weddings and let you ''Live the dream''.
Staying at Astir Odysseus: The Experience
Astir Odysseus Resort has elegant, deluxe and welcoming rooms, some of which feature a private Jacuzzi, a sharing pool or a private pool. It is a luxurious resort that offers also excellent food, five fantastic swimming pools, 2 children pools, and a spa with a lovely indoor pool, various sports facilities and a mini club for children. The very best luxury apartments, rooms, and suites at the Astir Odysseus feature comfortable bedrooms that have great views and facilities that really deserve the 5-stars.
Dining at Astir Odysseus: Tasting "Greece"
Be inspired by the luxury of exquisite food offered by various restaurants like Taverna Argo offers typical Greek cuisine with a lunch buffet and an à-la-carte evening meal. Achilleas restaurant meals are served as a buffet and international cuisine specialties are served for dinner at Ithaka à la carte right by the sea. You can also choose exquisite gluten-free dishes, all sort of drinks, various types of coffee and different types of tea, and some of the best cocktails are served at the bar near the Dawn Pool and in the elegant Sirens Bar.
Sport facilities: An adventure on Kos Island!
The resort is particularly popular with adventurers and small families, offering a climbing wall, a gym, tennis courts and of course beach volleyball. You can also rent a bicycle or play football while your children can enjoy kid's club and areas to play made just for them.
An Exclusive Experience to remember!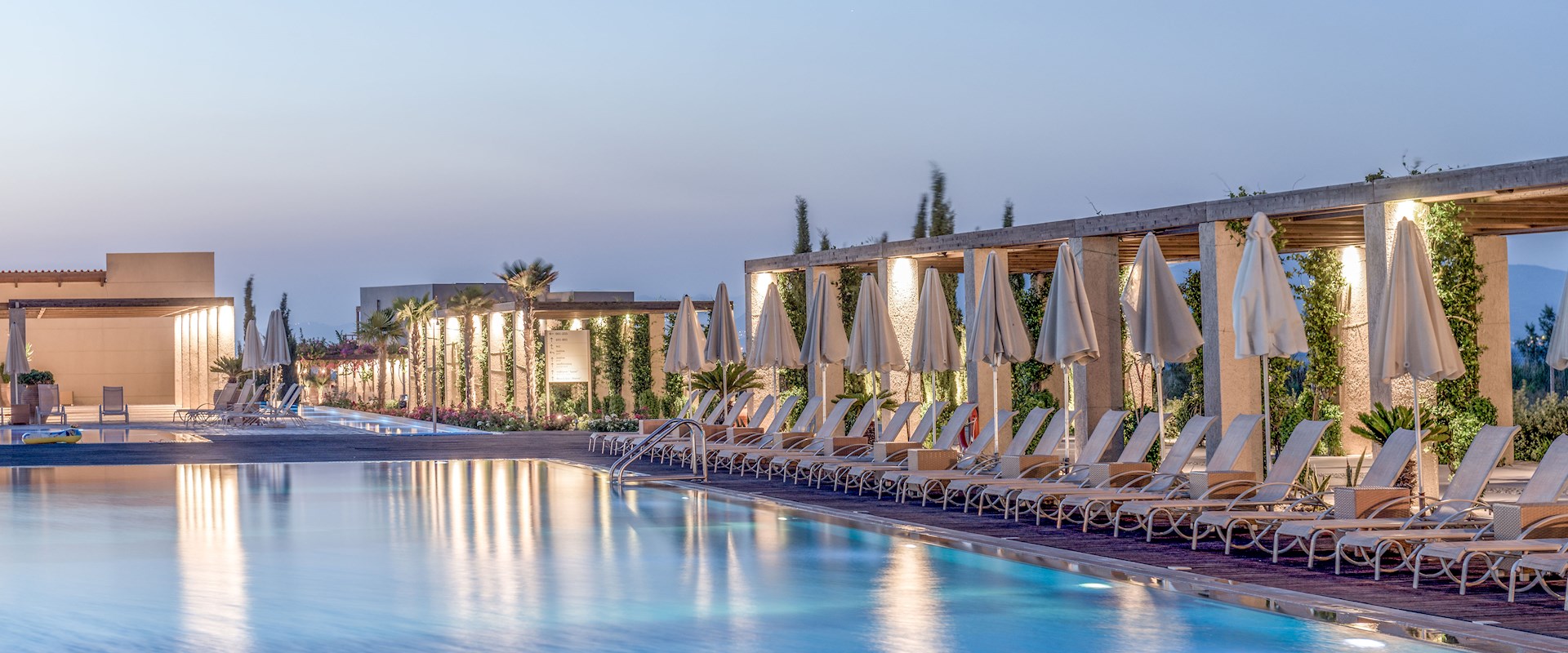 Astir Odysseus Resort is a very exclusive and private resort that can cover your every need and desire, no matter if you come for a romantic getaway, family vacation or for a conference. It's close distance to the capital of Kos, about 5km, will offer you a wide range of opportunities for more than a quiet vacation, as well as easy access to the island's vibrant nightlife. The city of Kos is not big, but it is the center of all events that take part on the island. The center of Kos Town has different distinguished palaces and its architecture is a melting point of modern, Ottoman and the Venetian architecture and culture.
Just 13 km from the Astir Odysseus Resort is the mountain village of Zia, featuring great panoramic view over the island. The village is very picturesque and offers authentic Greek hospitality. There, you can buy some lovely pieces of authentic artisan works to get back home. Of course, Kos is perfect for excursions as well and if you like to visit other islands excursion boats leave from Kardamena Kos to Nisyros for a daily visit to the volcano. This volcano is still active until today and it is one of the most famous volcanoes in the Aegean Sea. If you would like to visit Bodrum on the near coast of Turkey, you can catch a boat from the city of Kos.