Wanna spend some quality time with your one and only? Rekindle the spark or spice things up a bit? Live exclusive, romantic moments?
If you answered yes to any of these questions, Santorini is the ideal holiday destination for you! Santorini is a world-renowned destination for couples, and for good reason, as its gay-friendly lifestyle matches the cosmopolitan atmosphere. This is why we went a step ahead and listed things that you and your partner can do to experience the magical, romantic side of Santorini. Check them out below!

A Romantic Dinner with a View over the Caldera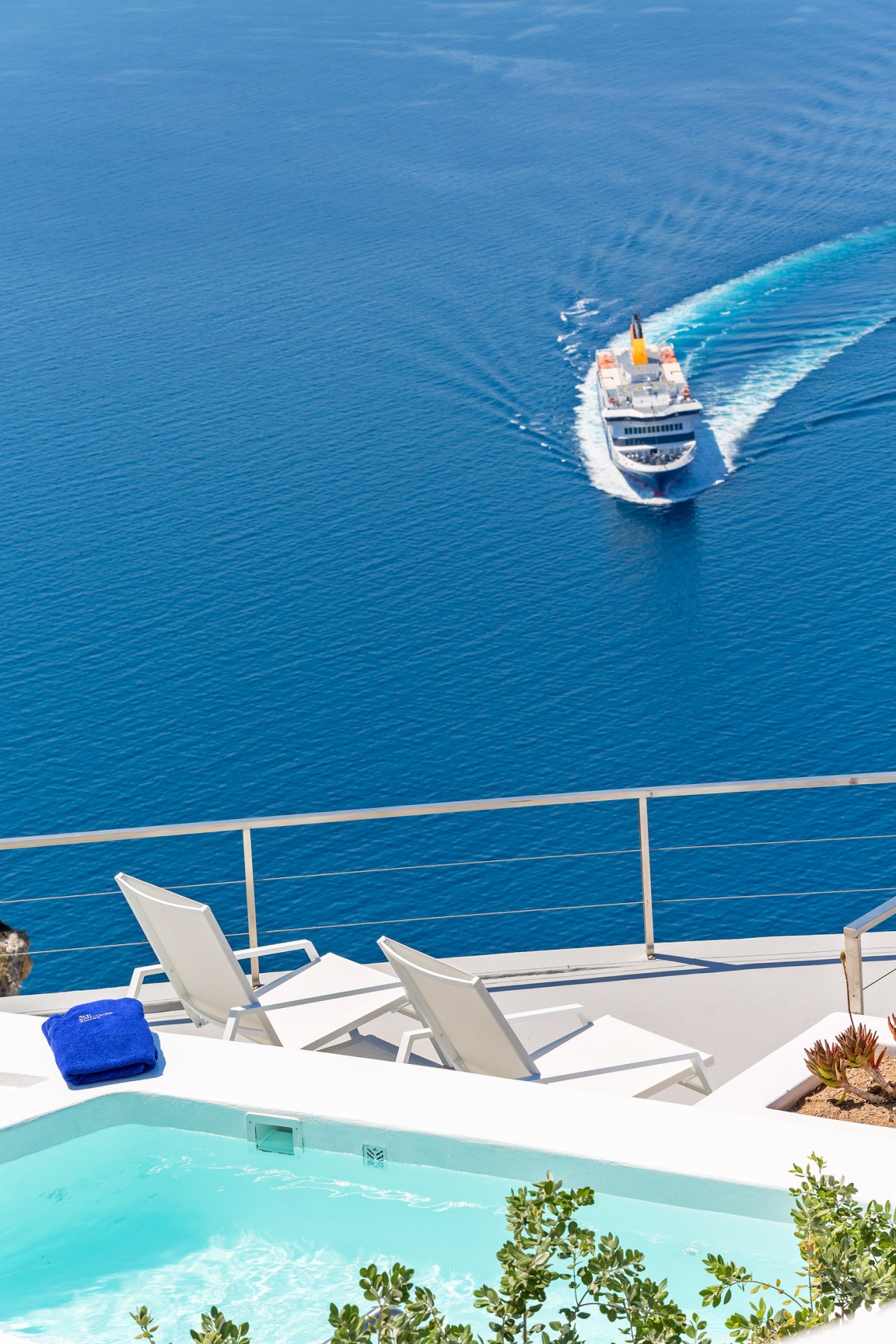 Your Romantic Gay Holidays in Santorini will be extra romantic and rewarding both for your partner and yourself if you pick the right hotel. Of course, as Santorini is a gay-friendly destination, there won't be any issues of acceptance. To make your hotel research easier, however, we have searched every corner of Santorini, turned every pebble upside down, and present you the best hotel for romantic gay holidays: Alti Santorini Suites.
As previously featured among the hotels that gay travellers fall in love at first sight, Alti Santorini Suites is an excellent option for gay holidays of all kinds. It arranges all sorts of activities that couples will love (some of which are also recommended in this article) like boat cruises, bus tours, catamaran and a wonderful wine tasting if you want so.
Spend quality time together... on the beach!
Photo credit: santorinidave.com
Katy Perry said it best; let's go to the beach, each, let's go get a wave. Santorini might lack beaches compared to other Greek islands, but the very few beaches there are breathtaking and unique. There are beaches with different coloured sands for any Instagram occasion, from a red sand beach to black sand beaches to regular white or brown sand beaches. If you're interested in visiting a gay beach, Vlychada has a gay-friendly section on the furthest part of the left-hand side where the huge white rocks and black sand pebbles are. Relax on the beach, tan, and have an amazing time with your beautiful boo.
Alti Santorini Suites offers an excellent array of high-quality suites. Among of them, for couples, we distinguished The Private Honeymoon Suite. And don't let its name fool you: you don't necessarily have to be on your honeymoon to on this gorgeous and 100% private room.

The room is fully equipped with free wifi, even though we know that you are not going to need that much. You will love its outdoor heated mini pool-jacuzzi, found on a private balcony with 1st row views to the Caldera. How does a complimentary full, delightful breakfast overlooking the Caldera sounds to you?
Last but not least, we should mention that the hotel offer personal concierge services according to you needs to ensure a premium and personalized experience.
Go on a Catamaran Tour
Photo credit: tripadvisor.com
Plenty of companies allow Catamaran excursions and rentals for those looking to go on a boat adventure with their significant others. With a boat that big, you can invite another couple or two and make it a romantic, fun group date. These rentals usually come with a captain, cook, and waiter to cater to your every need, the perfect luxurious experience. Imagine yourself lounging on the deck, a drink in your hand, surrounded by people or a single person you love, feeling the sea breeze on your skin as you contemplate how amazing your life is. This is the perfect option, you really can't go wrong.
Whichever idea you choose, a trip to Santorini is a perfect idea for a romantic trip with the love of your life. Plan your holidays in Santorini today to fall in love all over again.