The quaint town of Český Krumlov in the South Bohemian Region, Czech Republic has impressed us with its impressive history, exquisite building architecture, and gay-friendly attitude. 2020 finds Czech Republic more accepting of LGBTQ+ individuals and rights than ever. Of course, Prague, as the capital and largest city in the country, is still leading this progressive movement, but smaller cities near Western Europe like Český Krumlov follow close in suit.
Český Krumlov is notorious for its historical sights and regular frequented by European travellers looking for a day trip out of Prague. It is heavily based off tourism, with these landmarks being the city's most popular places. The reliance on visitors to support the economy presents a friendly view towards all travellers, including gay travellers, making it safe and fun to wander around the town!
So what's the plan for an unforgettable gaycation in Český Krumlov? The secret lies in the colourful town and the historical sights within them!
HOTEL OLDINN: A 13TH-CENTURY CASTLE IN THE MIDST OF CESKY KRUMLOV
Preserving the authentic atmosphere and architectural heritage of a 600-years-old building, you will immediately feel the positive energy flowing through you when entering Hotel OLDINN. The hotel is housed in 3 historically and architectonically connected buildings: the Chapel, the Municipal Court, and Hodek's House.
The hotel has everything that a gay man would want from his accommodation. Exquisite architecture, unique atmosphere and extremely friendly attitude - no wonder why it's one of the most popular hotels in Czech Republic for gay holidays. Of course, its central location is another positive that we can't ignore!
Regarding the hotel's rooms, they all have a story to tell, as they were designed in a way to do so. Elegance and luxury intertwined create a sophisticated result with the required attention given up to the smallest detail.
Cesky Krumlov: the next big destination for Alternative Gay Holidays?
As an alternative destination, it will take time for gay travellers to include Cesky Krumlov in their gaydar. The town might be heavily based on its tourism, but it's still outshined by Prague. If we created a scale of no-go to yasss! queen, we would say that Cesky Krumlov is right in-between.

If you are searching for gay nightlife, all-night partying and underground parties, you can stop reading right here, and visit one of our guides for Barcelona, Mykonos, or Athens. If you are the other kind of traveler; the romantic one, the one who wants some time for himself, and enjoy a peaceful break in a friendly town, then why haven't you booked your tickets then?
Family breaks, romantic trips, or a journey of self-discovery? Cesky Krumlov is the answer for you. Of course, a great amount of your trip will be about sightseeing and culture exploration as you can't visit this culture-abundant town and not visit at least a couple of its sights.
Exploring the history of Cesky Krumlov: Must-Visit Sightseeing Attractions

Photo credit: littleholidays.net
Wandering around the neighbourhoods of the Old town is serene with historical elements mixed into the buildings and architecture in place. It's best to visit in the fall, when the trees bring about a natural swirl of colour to the gorgeous town, creating a fairy tale picturesque landscape for cute Instagram photos. Imagine you and your boo in sweater weather with cute scarves, toques, and boots against a backdrop of Baroque and Gothic architecture and a flurry of red, orange, and yellow leaves.
The Český Krumlov Castle
Photo credit: zamek-ceskykrumlov.cz
The Český Krumlov castle is the major tourist attraction that everyone visits on their vacation in Český Krumlov. The castle was built in the 13th century with historical designs and unimaginable beauty in their castle gardens. There are guided tours year-long that showcase the theater, tower, stables, and more!
To keep things exciting, the castle is said to be haunted by the ghost of Perchta Rosenberg, the White Lady. She is said to have fled from her husband's abuse and her refusal to forgive him led to a curse that forces her to haunt the estate. Beware of a blonde woman wearing a white dress!
The Castle Theatre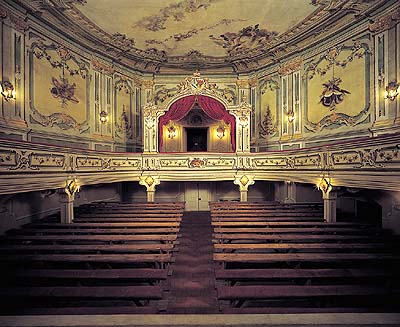 Photo credit: castle.ckrumlov.cz

The Český Krumlov castle boasts a well preserved Baroque theatre with a modern stage from multiple renovations. The theatre is used infrequently to preserve its heritage, though the performances in here by the Baroque opera are legendary. If you get a chance to attend a performance, you should for the performance of a lifetime!








The Marionette Museum
The Marionette Museum is an acquired taste, highlighting marionettes created throughout history. There are over 200 exhibits, and includes a complete and functioning Baroque marionette theater. You can also buy a marionette of your own at the gift shop, as well as take a tour through the museum in your free time!
The Muzeum Fotoatelier Seidel
The Muzeum Fotoatelier Seidel is a museum focused on photography and history based on the works of Josef Seidel. He was a well known photographer of his day pioneering the use of the Autochrome technique, a historical form of colour photography. This museum focuses on the man himself as well as his son, who took over the family business after his father's death. The museum is also a viewpoint for an amazing view of the city. You can wander through the museum yourself of take a guided tour!
MORE REASONS TO LOVE OLDINN HOTEL: LOVELY PACKAGES & AMAZING FACILITIES
Let's begin from the basics: breakfast. Breakfast obviously becomes the most anticipated meal when staying at this hotel as the buffet breakfast served at the hotel's restaurant is absolutely delicious. There is wifi through all hotel grounds, and it's pretty fast, so you can upload your instagram photos easily and without surprises. Other well-noted services include that it's pet-friendly, there is laundry and iron service, extra beds and baby cots are available on request. While, there is available parking space for the hotel guests.
There are currently four available packages, each serving its own purpose. You can either opt for the Stay & Explore package, the Stay Longer package, the Business Stay & the Renovated one. All are equally amazing, giving unique value to your stay. If you feel like you need some help with your sightseeing tour, you should pay a visit at this hotel page, where you will find all sightseeing attractions and how to reach them.
How to reach Český Krumlov from Prague
From Prague to Český Krumlov by train: There is a single train that travels directly from Prague to Český Krumlov every day at 8:00am. The journey is approximately 3 hours. If you miss the train, don't worry! There are trains throughout the day that require you to stop and change trains in České Budĕjovice, and the journey isn't much longer. You can walk or taxi to the city center from the train station with ease.
From Prague to Český Krumlov by bus: There are buses that run directly from Prague to Český Krumlov that also take around 3 hours, and it goes directly to the city center.
From Prague to Český Krumlov by car: You can drive from Prague to Český Krumlov in 2 hours and 15 minutes, and there are plenty of car rental locations in both areas if needed!