For many years, Italy has been the world's fashion capital - from the high quality craftsmanship, to crisp tailoring, to unique and luxurious designs, it's no wonder that Italy is a shopping lover's heaven! Italy has always been known as a country with an extreme eye for detail, for "dressing up", and for able to leave "la bella figura" (a good impression).
Did you know that many of your favorite luxury brands were actually Italian? brands such as Armani, Fendi, Gucci, Prada, Moncler, and Versace all originated from Italy. Therefore, when visiting Italy, shopping is a must!
Naples, the third largest municipality in Italy, is perfect for all shopaholics. With plenty of side streets, independent boutiques, and luxury brands, there is something for every type of shopper with every kind of budget!

Two absolute "must-visit" shopping streets are:
Via Toledo (more budget friendly)
Via Chiaia (more luxurious)
A 5-STAR LUXURY HOTEL TO STAY IN CENTRAL NAPLES!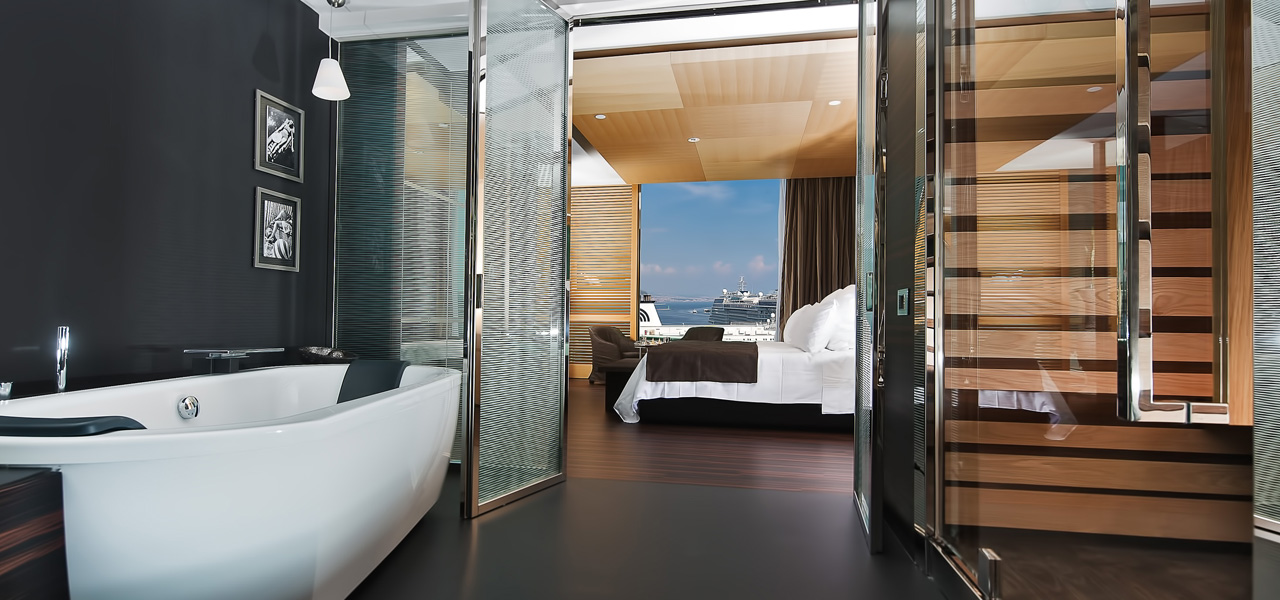 Its central location, gorgeous view, advanced facilities, and modern amenities make Romeo Hotel one of the best hotels to stay in Naples. Let's start from the basics: the accommodation. The hotel is home to 79 gorgeous luxury rooms and suites, overlooking Mt. Vesuvius, Naples, Capri, and the Sorrento Coast.
All are equipped with in-room Espresso Machines, Luxurious Celestial Beds, and modern furniture by designer Antonio Citterio. You will love the bathrooms' sleek design, featuring marble, metal, ceramic and corian in perfect harmony. All bathroom amenities are custom made for the hotel. If we were to recommend you one room, we would pick the Penthouse Suite!

Via Toledo (Via Roma)

Photo Credit: Wikipedia

LOCATION
Via Toledo, also known as Via Roma, is located close to the Vomero Area of Naples, Italy. Vomero is the highly populated central district of Naples, mainly inhibited by a wealthy, upper middle class. The shopping area starts at Piazza Dante and goes at the Pizza Trieste e Trento.

DISTINCTIONS
Via Toledo, the street designed and created by Pedro Alvarez de Toledo, is one of the main shopping districts in all of Naples with one of the longest streets, stretching over 1.2km. There are plenty of street artists, music, alleyways and mini boutiques for art lovers. Visitors to this street are bound to see many other visitors, as it is one of the main tourist attractions of the city
FEATURED STORES
Because the area is not the most luxurious, this place is frequented by beloved fast-fashion stores such as Victoria's Secret, Zara, and H&M.
Photo Credit: Donna Vercoe Blog

OTHER ATTRACTIONS
Although most people come to Via Toledo for the shopping, there is also plenty to see around the area. For example, the Galleria Umberto (a pubic shopping center) is a prime example of neoclassical architecture. Some other important, historical monuments surrounding the area include the Palazzo Berio, Zevallows Palace, Palazzo Buono and Palazzo Cavalcanti. A must-eat after a long day of shopping is the Cafe Gambrinus, right at the end of the street. Gambrinus is a historical building founded in 1820s, and was the old meeting place of many Italian philosophers, actors and writers.
STAYING NEAR PIAZZA DEL PLEBISCITO: THE EXCELLENCE OF A CENTRAL LOCATION
As referred above, Romeo Hotel stands out for its great location. It resides by the city's main port, and it's at a walking distance from both major shopping streets of Naples. Via Toledo is the closest one, found only 850m away from the hotel (about 13 min. walk). Via Chiaia is slightly further, 1.2 km away. It's a 7-minute drive from the hotel, or 17 minutes' walking. To understand the convinience of its location, you have to experience it!
The hotel has created a special section in its website, when you can check out some major museums and historical sites, shopping spots, restaurants and other major sightseeing attractions. You will also find popular nearby events to attend. In Naples, you can shop from traditional limoncello, to fabulous collections of artworks, traditional handmade chocolates, and luxurious watches. You can't help but fall in love with this city!

Via Chiaia

Photo Credit: Flickr
LOCATION
Via Chiaia is located close to Via dei Mille, Via Calabritto ia Calabritto and Via Carlo Poerio. For cheaper shopping options in the same area, visit the street called Via dell'Epomeo.


DISTINCTIONS
Via Chiaia is now a path that used to be a natural riverbed and is close to the seaside. It is known for having high end products that are on the spectrum of higher end and better quality. Since it is catered towards the affluent class, it also has a calmer, quieter and cleaner ambiance. Even by the sales associates and the clientele the frequent Via Chiaia, it is easily distinguished as a higher end and more designer like street by the gestures, fashion and small nuances of people in that area.
FEATURED STORES
Via Chiaia is the central place for luxury and exquisite shopping. Popular and well known stores include Gucci, Louis Vuitton, Cartier, Hermes and Bulgari. One specialty store to visit is E.Marinella, essentially the most prestigious tie store in the world, that has had its products worn by royalty such as Prince Charles and celebrities like Bill Clinton.
AFTER SHOPPING THERAPY: A RELAXING JOURNEY THROUGH TIME
After or before a day of shopping, you deserve some "you" time to relax and release your tension. Romeo Hotel, for once again, makes a difference with its glorious spa and wellness center - Dogana del Sale. Following Rome Hotel's concept and philosophy, the spa boasts comfort and technology seamlessly intertwined.
The spa boasts modern facilities that will greatly enhance your well-being like the Emotional Shower with Tropical Rain, the Finnish Sauna, the Frigidarium with Snow Cascade, the Infrared Sauna with Himalayan Pink Salt Walls, the Jacuzzi Whirlpool & other great facilities.
During your treatment, you will be able to enjoy various herbal teas and infusions, as well as chill out at the relaxation area. We highly recommend you the Body composition analysis, which will surely help you discover more about your body. For an Intense and Healing Experience, we highly suggest you the Decontracting Massage.
OTHER ATTRACTIONS
Some other must sees in the area include the Monument to the Martyrs, the Ponte Chiaia. Although it is one of the best streets for "elite shopping", it is also home to many buildings and churches such as the Church of Sant'Orsola a Chiaia, Church of Santa Caterina a Chiaia, Palazzo Cellammare, Ponte di Chiaia, Sannazzaro Theater.
Photo Credits: Reid's Italy