Vietnamese cuisine mainly focuses on 5 fundamental tastes (spicy, sour, bitter, salty and sweet), perfectly intertwine them within every individual meal. Common ingredients in Vietnam include seafood flavored dishes like fish sauce and shrimp paste, while the Vietnamese enjoy using ingredients like lemongrass, ginger, mint, chili, lime and basil as seasonings.
Most people enjoy Vietnamese cooking because of its fresh ingredients, lack of dairy and oil, and heavy use of herbs and vegetables. From history, we learn that when the Chinese dominated Vietnam, their cuisine also became heavily influenced by traditional Chinese food and medicine.
Photo Credits: Karma Group
Most food is extremely fresh, where meat is only cooked briefly, vegetables are eaten fresh and if cooked, only briefly boiled or stir fried. There is a strong amount of herbs and vegetables and a variety and unity in textures, such as crispy and soft together in one dish. Broths and soups are commonly served with every meal and the presentation of food is colorful and pleasing to the eye. A typical family meal in Vietnam includes rice, seafood/meat/tofu, stir fry, fresh vegetables, soup, small relishes, fruit and fish sauce.
Photo Credits: Miss Tam Chiek
Ho Chi Minh (also known as Saigon) is Vietnam's culinary capital. Because of that, visitors can experience all kinds of food! The food scene of Ho Chi Minh is unparalleled. There is an abundance of street food, local food, fancier dining, International food and more! There are plenty of popular local favorites and streets full of food vendors to visit on your trip!
Photo Credits: Shutterstock
Most Popular Foods in Vietnam:
Banh Mi
Photo Credits: Bakers Royale
Banh Mi literally translates to just "bread", but it also refers to the popular Vietnamese sandwich. These sandwiches are popular because they are cheap, filling and they can be literally found everywhere! When you walk around Saigon, you are guaranteed to see hundreds of carts selling this kind of sandwiches. To break it down, the sandwich starts off with a toasted baguette toasted in half and stuffed inside with meats and plenty of vegetables. One of the most popular places to eat Bahn Mi is at Bánh Mì Huỳnh Hoa.
Pho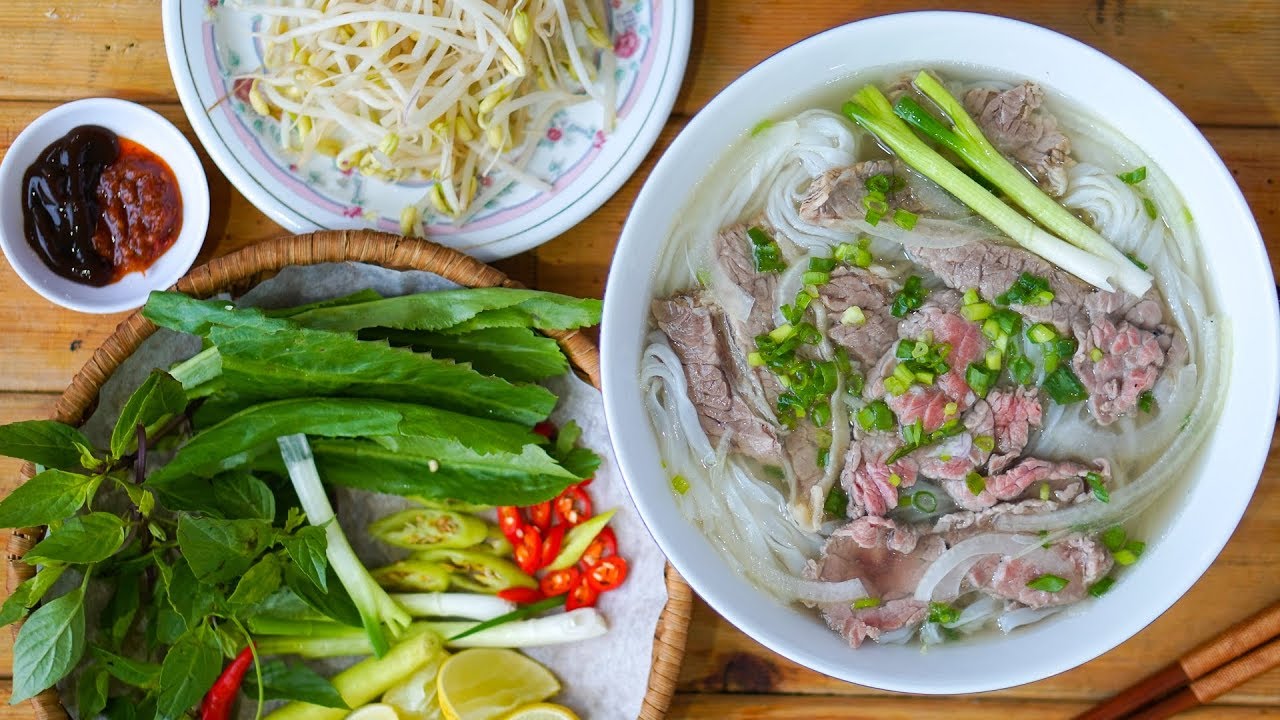 Photo Credits: Youtube
Pho is a noodle dish that combines soft noodles with an incredible broth that has been boiling for hours. These noodles are topped with a choice of meat and are garnished with toppings such as onions and other fresh vegetables. With every bowl of pho there is a plate of fresh herbs such as mint, coriander, chili and peppers to garnish your bowl of noodles with. This dish is perfect for when you have a stomach ache or feel sick! Think of it as the Vietnamese version of soothing Chicken Noodle Soup!
Bun Rieu
A less popular, but still equally delicious noodle is called Bun Rieu. It's made from a crab base stock, tomatoes, and filled with seafood and noodles. It is topped with toppings such as tofu meatballs, chili paste, lime etc.
Banh Beo
Photo Credits: Tripadvisor
"Water Fern Cake", an extremely popular street food, is made from rice flour and pork rinds, shrimp powder and fish sauce. It is eaten mainly as a snack, but locals realized how delicious it was and started incorporating it into lunch and dinner menus as well! A good place to eat this is at Nam Giao.
Different Food Streets in Ho Chi Minh
Food in Vietnam tends to be cheap and easily accessible as there are many street vendors and stalls that are central to all the tourist places. What distinguishes Vietnam is that eating is not just a necessity but a celebration. Everywhere you look, you will see families and friends enjoying meals together on the streets. Some of the busiest streets are:
Van Kiep
Su Van Hanh
Vinh Khanh
Phan V Han
Co Giang

Van Kiep Street
Van Kiep spans across the border of two of Saigon's most lively areas, Phu huan and Binh Thanh. There are over 50 different dishes here and over 100 different eateries to choose from. For the young travelers - this is the perfect place to be!
Rarely are people over the age of 30 in this area filled with neon signs, illuminating lights, loud music and loud talking and laughing. One of the most popular booths on this street is called Quan 104, a trendy place that sells grilled octopus grilled over a coal barbecue.
Photo Credits: Vietnam Coracle
Su Van Hanh Street
Su Van Hanh is located between Ngo Gia Tur and Nguyen Chi Thanh and sometimes referred as the "Ghetto" area because of the run-down apartment buildings in the area. However, don't let the setting discourage you! Because there are many people living close by, so the street life is lively and vibrant, full of food stalls, vendors, eateries, cafes and bars.
Both young couples, teenagers and families can be seen bustling around in this street. The specialty food on this street is mini banh xeo (crispy rice flour pancakes filled with pork and bean sprouts). There is also an abundance of other food options such as mi vit tie (egg noodles with duck in a broth), sold from a noodle trolley.
Photo Credits: Holidify
Vinh Khanh Street
This street is especially known for its seafood and young people. As one of the trendiest streets, you will see the latest hairstyles and fashions on all the people who gather around here (under ages of 25). Because of the young age, there is always a happy and exciting atmosphere and vibe here with large groups of people, the smell of seafood and the loud noises of laughing. There are also many performances around the area such as street dancers and fire eaters. Some of the most popular dishes here include the ốc hương ràn muối ớt which is salted and chili fried sea snails and sò điệp nướng mỡ hành which is grilled scallops.
Photo Credits: Hi Asia
Phan Van Han Street
This is a long street that is normally frequented by locals and students from universities who live close by. It is a very intimate and artistic space with many different vendors, shops, motorbikes and the latest fashion. Come here for some delicious food or for your next Instagram banger!
Photo Credits: HostelWorld
Co Giang Street
This street is unofficially on the borders of Saigon's backpacking district, filled with plenty of bars, western restaurants and exciting nightlife. There are not as many food stalls but the food is still local and there are many open air eateries. This is the place to go for clubbing, alcohol and a fun night out! Visitors are guaranteed to meet other interesting foreigners, so prepare to make new friends!
Photo Credits: AsiaWebDirect