The Saronic Island of Aegina is a popular day or weekend trip for many Athens visitors during the summer months. What makes it so popular is that it's just a short ferry ride from Piraeus, the Central Port of Athens, as well as its natural beauty.
The island is packed with many beaches, restaurants, shopping venues and sights to see. To make the most of your time there, we have compiled a list of must-dos and sees when on the island!
Getting There
If you are visiting from Athens, you can simply take the express bus X96 from the airport to Piraeus or any green metro line from the city. The regular ferry takes around 80 minutes for arrival while the express ferry takes only 40 minutes (at an additional cost). There are normally 3 or 4 ferry times a day so you can choose which time works better with your schedule.
Beaches
There are many great beaches to bask in the sun of Aegina and escape the hustle and bustle of Athens. Visitors can choose from a diversity of organised, sandy beaches, with beach bars, sunbeds, umbrellas etc. Some of the most popular beaches include the Agia Marina, La Palma, Aeginitissa, Vagia and Sotos beaches. However, we recommend visiting the secluded Souvala beach!
Souvala
This beach is far from the port and must be reached by the #3 bus, but is definitely worth the 20-30 minute scenic bus ride! The trail goes through small roads and quaint houses until it reaches a small "village" street. This street is filled with lively outdoor patios filled with seafood restaurants, convenience stores and small shops. A few minutes walk from the village will take you to the beach.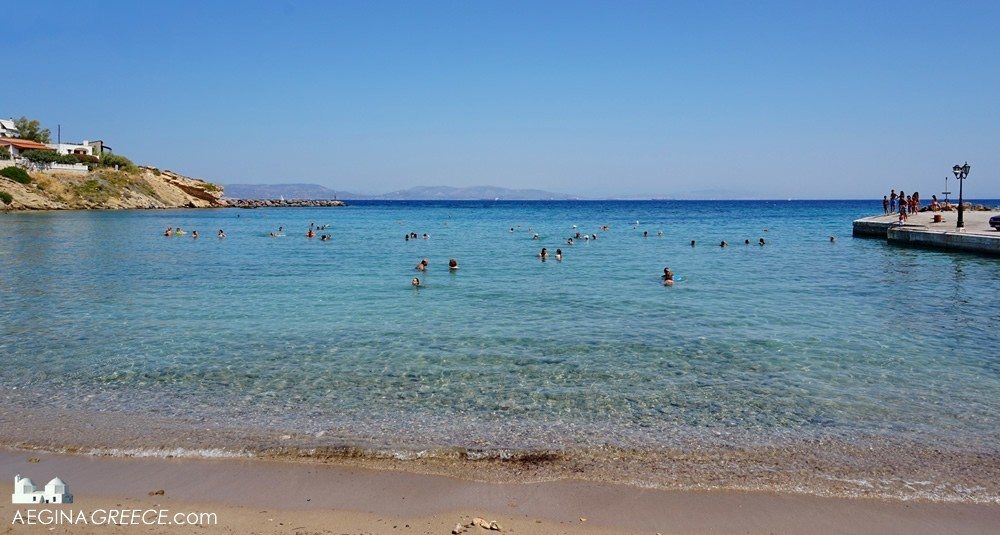 Beach Features
Souvala is located where an old mineral spring on the eastern edge of the town once was. Few people know about Souvala so it feels like a private beach. (There were maybe 10-15 people when I went so you never have to fight for a beach chair or for space to swim in) The waters are a bit chilly but very clear, refreshing and shallow (safe for children). The transition between sand to water is a bit rocky so visitors should be careful and consider wearing waterproof shoes.
Restaurant
There are beach chairs and umbrellas set up on Souvala, which are free to use with the purchase of an item from Sole and Mare Beach Bar, the seaside restaurant on the beach. The best part about this restaurant is that the prices are fairly reasonable, the service is great (food and drinks are delivered right to your beach chair), and you save so much money from not having to pay expensive rental fees for beach equipment. The restaurant also plays beach music and provides a great ambiance for the entire experience.
Dining
Back to the port, there is a variety of traditional Greek restaurants to enjoy. On the streets, there is an abundance of vendors selling gelato, souvlaki and seafood. Many of these restaurants also have beautiful, panoramic views of the sea.
Shopping
There are no malls or big department stores to shop on Aegina island, but there are many small, hidden shops that stand out for their character. However, keep in mind that because this is a tourist destination, the prices are a bit more expensive for souvenirs than in Athens.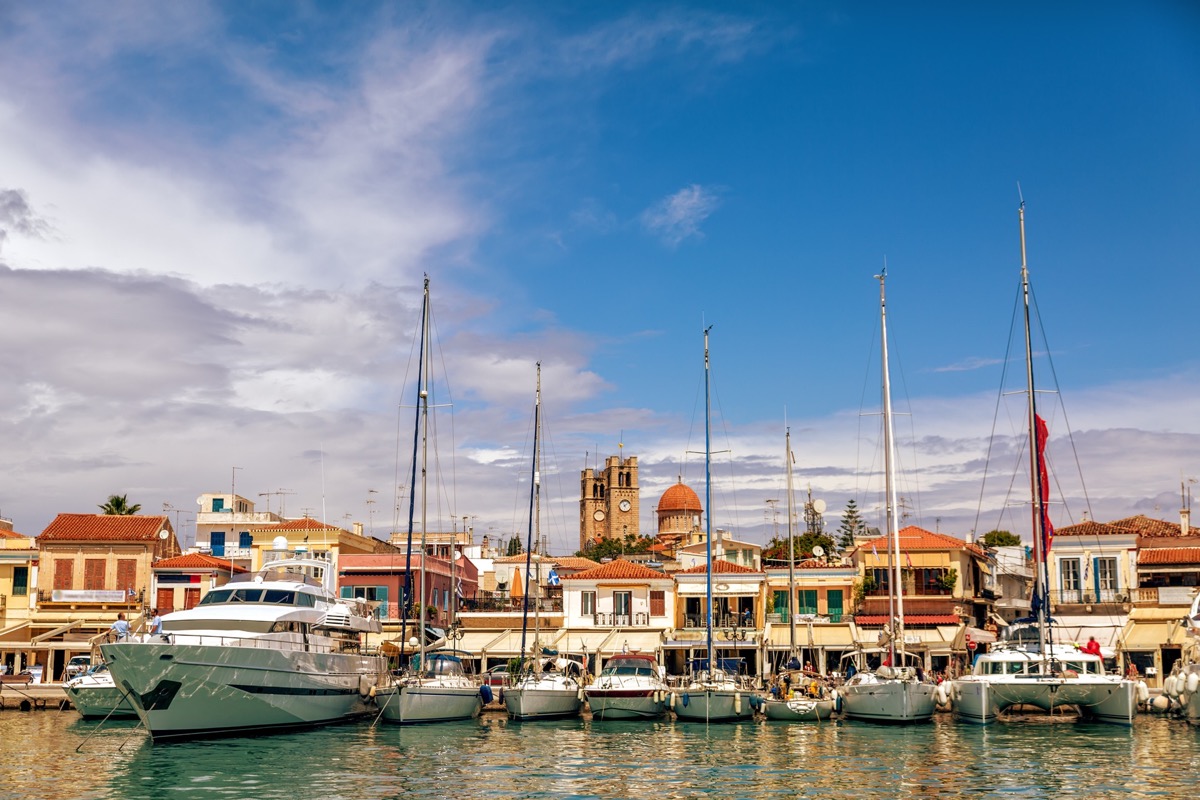 Sights to see
There are numerous RV's, bikes, motorcycles, cars and other vehicles to rent for the day that can seat groups of people. There are also horse carriages to ride and a few buses that operate a few times a day for those who want to travel across the island to see more. For those who enjoy history, there is a number of historical sights to see, such as the Temple of Apollo, the Temple of Aphaia and the Saint Nektarios Monastery.
Temple of Apollo
The Sanctuary of Apollo is the only Doric column remaining from a 6th century BC temple.
Temple of Aphaia
The Temple of Aphaia, along with the Parthenon and the Temple of Poseidon at Sounion are called the holy triangle of antiquity.

Saint Nektarios Monastery
Another popular stop is the church of Agios Nektarios. He was one of the most well known Greek Orthodox saints and many people celebrate him, pray to him and ask for his blessings. The Saint Nektarios Monastery is one of the biggest monasteries in the Balkans.