Athens is the ultimate food lovers paradise! Attracting millions of tourists every year, every imaginable cuisine is available for its visitors to sample. However, there is one thing that everyone MUST do when visiting Athens: sample its delicious and diverse street food.
And, there is not a better way to do that than trying local delicacies. Street food is vast, delicious, and easily accessible in Athens. Mouth watering street food is available all-day-round, either for breakfast, lunch, dinner and everything in between.
Of course, to further enhance your food experience, don't forget to stay in one of the numerous gastronomy Athens hotels ideal for food lovers. We especially recommend you the hotels with rooftop restaurants, as alongside delicious food, you will also enjoy enchanting views over the Acropolis!
Breakfast
Unlike other countries, the Greeks aren't very big on breakfast. Normally, people will grab a coffee and maybe a baked good, or munch on some traditional Greek yogurt on the way to work.
Cafes
In Athens, there is no shortage in cafes and bakeries; you will probably find one in every corner you turn on. For a drink, try traditional Greek coffee. It is unfiltered and made by mixing water with grinded up coffee beans. It is served with a foamy topping and the grounds in the bottom.
Baked Goods
For baked goods at bakeries, the most common snack or breakfast food is koulouri, which is similar to a rounded pretzel bagel with sesame seeds. It is generally 50c and are made fresh in the morning.
Street food in Athens is perfect for lunch; it's filling and available for take-out. The three most popular foods in Greece that come in similar shapes and sizes are gyros, souvlaki and kebabs. The gyros, souvlaki and kebabs are pretty similar but are made with different ingredients in them.
Gyros
Gyros is made from meat that is roasted vertically turning on a split. Typically, Gyros is placed in a pita and garnished with toppings such as tomatoes, onions, lettuce, french fries and sauces like tzatziki. Gyros is pretty fatty and oily from its ingredients, we highly recommend you ask for un-oiled pita bread. There are also various alterations to the typical pita bread, like whole-grain pita or Cypriot Pita.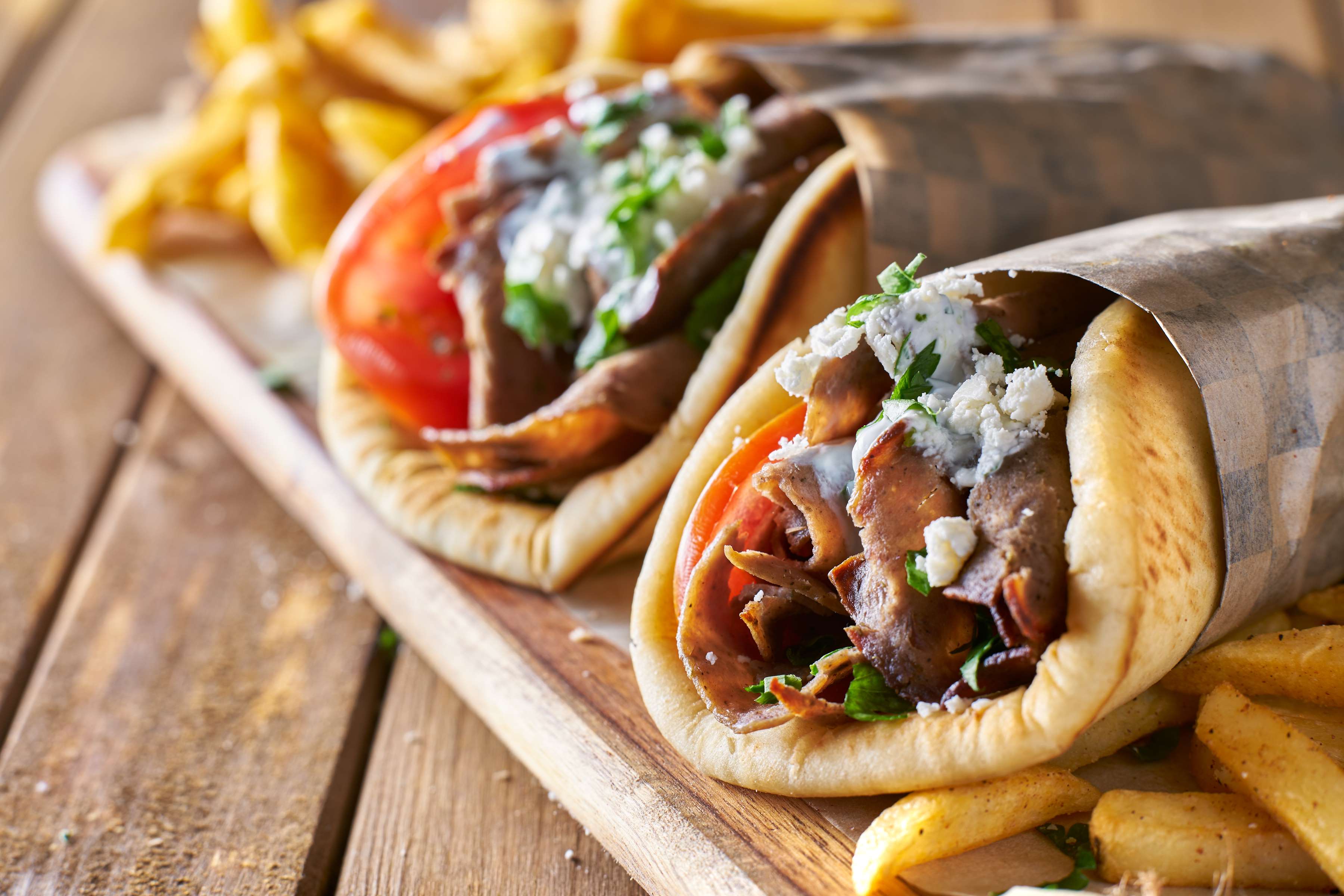 Souvlaki
Souvlaki, on the other hand, is anything that is grilled on a skewer, such as lamb, chicken or pork. They are also served with a pita with similar sauces and garnishes as gyros. Chicken Souvlaki is great if you want to eat light (always according to the Greek standards).
Kebabs
A kebab is minced meat in a long roll. It is usually served within a pita or over rice.
Gyros, souvlaki, and kebabs can be found on any street in Athens. They all have their unique tastes and are all quite delicious - it comes down to personal preference for the nuances to choose a favorite! One popular fast food joint is called O Kostas, which is known for its cheap and delicious souvlaki. The family secret recipe has been passed on by generations, now run by Kostas Jr (the grandson).
Dinner
Market
For dinner, you can visit the Varvakios market (Athens Central Market) where all sorts of meat, seafood, fruits and veggies are available to buy. There are also many meat shops where visitors are encouraged to sample on the local hams and cold cuts along with cheese and bread.
Seafood
Because of Athens' location, there is always fresh seafood to enjoy, served along local, fresh herbs and vegetables. Normally, seafood dishes are accompanied with bread, olive oil, fresh potatoes and lemon. The best seafood places are in Piraeus, which is near the Athens Port.

Moussaka
Moussaka is the traditional food of Greece, similar to a lasagna. However, it is not made with pasta but with eggplant, minced meat, tomato, onion, garlic, potato and cheese. It is created with multiple layers and can be found in most taverns.
Snacks
Pies
Pites (traditional pies) are everywhere. You can find them filled with cheese (tiropita), spinach (spanakopita), custard (bougatsa) or with meat (kreatopita). All are flaky, crisp, and made with filo pastry!
Fast Food
For cheap and fast on the go snacks, try heading to the busy squares of Syntagma and Monastiraki. Every corner you turn, you be overwhelmed by the diversity of food options. We recommend the fast food joints of Johnnie Hot Dog and Potato King that serve hot dogs and potatoes with a twist. Both of these are perfect for late nights out, while they are also extremely budget friendly.
Vegetarian Options
Vegetarians visiting Athens may be worried that they won't find any suitable food, but fret not, because there is actually an abundance of vegetarian options in Athens - including a vegan shop in Omonoia where you can buy food to cook by yourself. For the most part, souvlaki can be turned into a vegetarian dish just by asking for a meat substitute of mushrooms. There are also various restaurants like Feyrouz on Monastiraki and Vegan Beat that are vegan friendly and have an abundance of vegetarian dishes.