In the famous Cyclades Archipelago of Greece lies the beautiful island of Ios, surrounded by over 45 stunning beaches with golden sand and deep blue waters. Because of its natural beauty, this island has been an international favorite for visitors, and movie producers alike. Film productions like "the Big Blue" and "Ginger and Cinnamon" were filmed on the beaches of Ios. Some of the most popular beaches include Kalamos, Managanari, Tris Eklisies and Plakes. More secluded and private beaches include Chamouhades and Pikri Nero. However, closer to the port there are Koumbara and Mylopotas beaches. All visitors to Ios should try to embrace the full Ios beach experience in order to have a good time!
Ios beaches are considered among the best places to swim in Greece because of their clear blue waters, sandy coasts and awesome facilities. Some of the busiest beaches are Mylopotas and Ormos because of their short distance to the port, their sandy coasts and, of course, many beach bars and watersport centers along the shore. However, for those who prefer quieter and more private settings, there are plenty of beaches that are secluded and remote, particularly those located farther from the main town. Here is a list of our top ten beaches in Ios, 5 popular and 5 alternatives for all types of beach-goers to visit!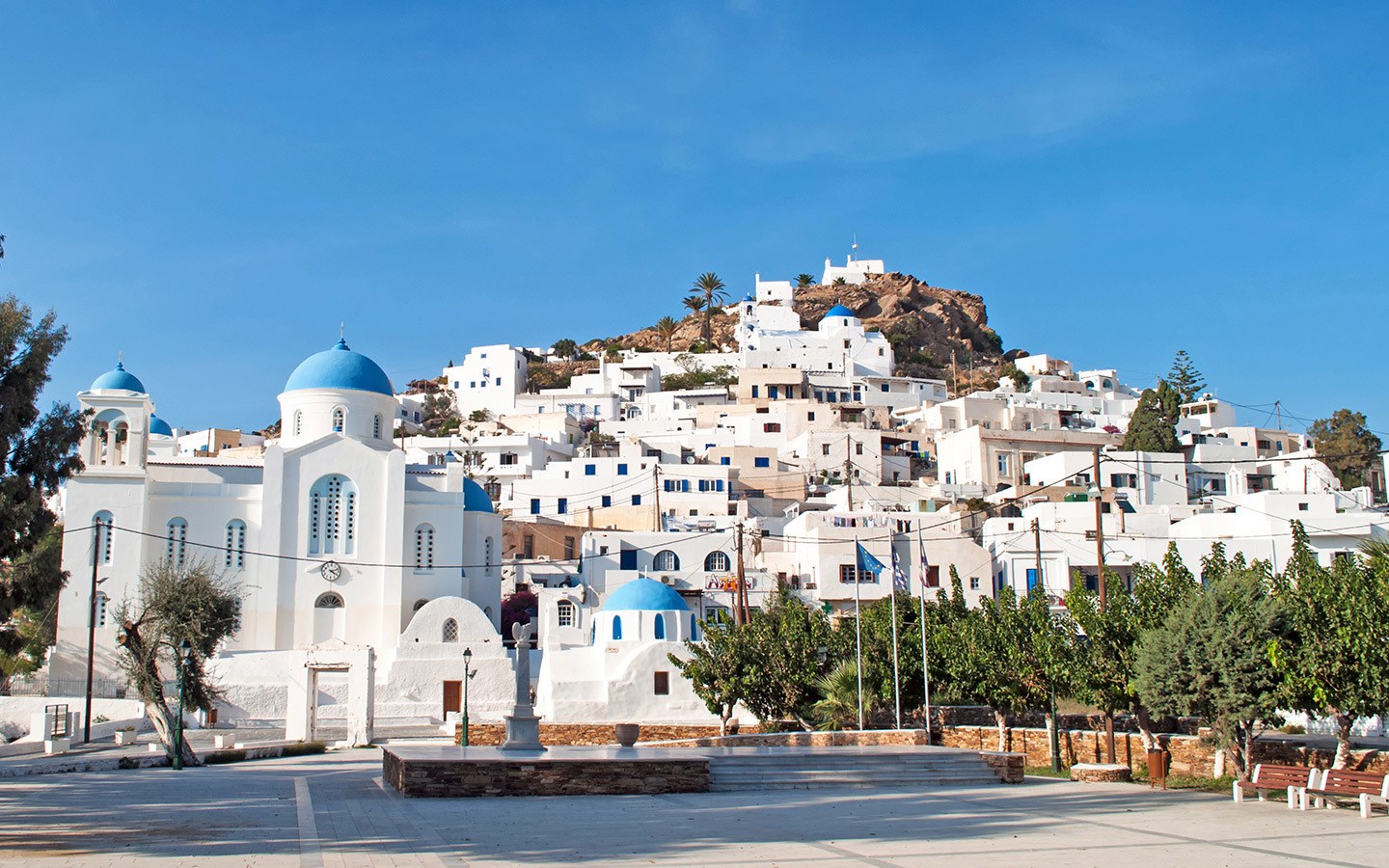 Popular:
Mylopotas
Kalamos
Managanari
Tris Eklisies
Plakes
Alternatives:
Chamouhades
Pikri Nero
Koumbara
Agia Theodotis
Psathi
Mylopotas
Location:
Mylopotas connects by ferry to several islands such as Santorini, Naxos, Paros and Mykonos. It is very close to the central town of Chora, making it a favorite and very popular beach in Ios. From the main village, there is a direct bus, or a path for a 20 minute walk down hill to reach the beach. Near the Hermes Hotel is a hidden shortcut that will lead to a donkey track directly to the beach.
Beach Features:
This is a long white beach perfect for taking strolls with family or friends. There are plenty of sunbeds for rent but also some areas to lay your towel on for free. This beach is known as the "party beach" and you will find a shortage of activities, bars and restaurants within walking distance to the beach. One club that many visitors recommend is the Far Out Beach Club. For those who would rather be swimming, the emerald waters and fine white sand make Mylopotas a top choice as well!
Kalamos
Location:
Kalamos is located next to Papas beach, which lies on the eastern coast of Ios.
Beach Features:
This beach features beautiful golden sand and crystal clear waters, granding the location ideal for tranquil, relaxing and secluded vacations. Beyond the spa-like qualities of the natural beach are many amenities such as water sport equipment like snorkeling and diving. When walking from the main city to the beach, visitors will see the Byzantine monastery of Agios Ioannis, which is definitely worth visiting!
Manganari
Location:
Manganari is a beautiful beach that is found 23km, around an hour drive, south of Chora, the main city center. However, it is worth the drive as the distance from Chora creates a quiet and calming atmosphere, allowing visitors to feel tranquil and escape from the busy and loud tourists. For those who drive, there is free parking available, but in the summer, there is also a bus that goes directly to the beach. There are also plenty of historical sites and natural wonders to explore surrounding the beach.
Beach Features:
Manganari is created with 4 consecutive beaches, making it a majestic lagoon where you will take some of the nicest strolls of your life. It is considered one of the most beautiful places to swim in all of the Aegean because of the crystal clear waters and convenience on the beach. For example, there are plenty of amenities such as equipment rentals and small beach huts within walking distance. This beach is ideal for those who prefer swimming and snorkeling.
Tris Ekklisies
Location:
Tris Ekklisies is a secluded seaside village located 64km south of the city of Heraklion, in the middle of the Asterousia Mountains. To get to this beach is quite a trek, as you must drive through a 10km long asphalt road from the closest village of Paranymfi. However, the views along the way are stunning, and you can see natural wonders such as the Libyan Sea and the waterfall of Ambas Gorge.
Beach Features:
This beach is not ideal for swimming as it may be dangerous with the abundance of cliffs, hills and rocks surrounding it. However, this place is perfect for the adventure seekers and those who enjoy hiking! Imagine hiking up beautiful rocks while reaching a peak and watching the sunrise over the tranquil, blue waters. Tris Eklisies is recommended for couples and not families with small children.
Plakes
Location:
Plakes is a remote beach that is located near Kalamos, 16km from Chora, the main city, and northeast of Manganari.
Beach Features:
Plakes is distinguishable because of its soft golden sand and calm shimmering waters that reflect from the many days of sun. This beach is highly recommended for fantastic nature experiences such as hiking or water activities such as diving or snorkeling. Plakes is not the most accessible beach as there are many steps down a hill to take and it is quite far from the city center, but the emerald waters and pure white sand will make the trek worth it.
Chamouhades
Location:
Chamouhades is accessible only by sea, ferry or private boat, making the beach secluded and perfect for romantic getaways. Chamouhades beach is situated within a 350 acre private estate with a cozy lounging area inviting guests to enjoy the peaceful serenity of their surroundings while relaxing on the fine white sand.
Beach Features:
The beach boasts 350 acres of a private estate, fully furnished with cozy and secluded lounge areas that allow guests (typically couples) to enjoy the wonders of the fine white sand. The calming atmosphere, alongside classic, slow jams and the quiet chatters of conversation make this location seem like a private spa getaway. Rarely will you see children on this beach.
Pikri Nero
Location:
Pikri Nero is a beach that is also privately owned and only accessible by boat or ferry.
Beach Features:
This beach is 250 acres long and features many common beach amenities such as a lounge area, sun beds, umbrellas and bars nearby. Similar to Chamouhades, Pikri Nero is typically an "adults-only" beach, and children and families are not recommended to visit.
Koumbara
Location:
Koumbara is heavily frequented because of its close proximity to the port (3km northwest). It can be reached by a bus or is a relaxing 30 minute stroll away from the Ormos port.
Beach Features:
Koumbara is perfect for both families and couples alike. It is one of the most organized beaches in Ios with full amenities such as sundecks, umbrellas and rentals for water sport activities. It is considered a "hidden gem" because of its small 300 meter stretch across a natural sandy beach and seclusion from noisy crowds in the town. One thing that visitors recommend is catching the sunset from the beach. Numerous hotels, hostels, restaurants and cafes are located within walking distance.
Agia Theodoti
Location:
Agia Theodoti is a beach that is fairly far from the main city center of Chora, around 14km away and a 40 minute drive.
Beach Features:
Agia Theodoti is the name of a 16th century church on the top of the hill, praised for its majestic beauty and calming features. Similarly, this long, sandy beach is fully equipped with restaurants, bars, sunbeds, umbrellas and sport rentals, but also calming enough for tourists who just want to tan and sunbathe to calming tunes. Note that there is a section of this beach that is nude, so come prepared!
Psathi
Location:
Psathi is a quieter, more secluded, and lesser known beach that is on the way to Agia Theodoti and accessible by car.
Beach Features:
When visiting Psathi, be prepared to bring everything you need as you will not be able to buy from the surrounding area! There are no small boutiques or beach huts close by so make sure to pack your water bottles, towels, umbrellas, and other beach day essentials. However, don't let the unorganized beach scare you. This is known as one of the most beautiful destinations in all of Ios to catch the sunset and to just relax on the fine grains of sand. Because of the location, this beach is also home to natural waves in the water, making it ideal for water activities such as surfing.