Breakfast is the most important meal of the day and it is really nice when you start your day right by cooking a morning meal for you or your loved ones, but what do you do when you don't have enough time?
Here are some of the easiest and most popular recipe ideas for a quick but complete breakfast.
Casserole Muffins
Photo Credits: Mink Mingle
There are many reasons to love this type of savory muffins! They are delicious, easy to make and family-friendly, meaning that yours kids will enjoy the process of cooking them with you.
Ingredients
3-4 pieces of whole wheat bread, cut into small pieces (enough to fill muffin tins)
3-4 slices deli ham
1 cup shredded cheese of your choice
8 eggs
1 cup milk
2 teaspoons ground mustard
½ teaspoon ground pepper
dried Parsley
Instructions
Preheat oven to 200 degrees Celsius. Grease the muffins tins well with butter or olive oil.
Fill each tin evenly with the bread pieces up until the middle of it.
Put the ham pieces evenly on top of each tin.
Sprinkle cheese evenly in each tin.
Mix together the eggs, the milk, the ground mustard and some pepper.
Then, pour the mixture evenly in each tin.
Garnish with dried Parsley on the top of each one.
Bake for 15-18 minutes, until they get a golden-brown color on top and all through the middle.
Coffee Cup Scramble
If you own a microwave, then this is the perfect breakfast for you in case you want to eat something quick and easy. Very convenient for rushed mornings!
Ingredients
2 Eggs
2 tbsp. milk
2 tbsp. Cheddar cheese
1 tbsp. chopped tomato
1 tsp. minced pickled pepper
Salt and pepper
Instructions
Whisk together the eggs, the milk, the cheese, the tomato, the pickled pepper and salt and pepper.
Grease the inside of a small microwave-safe mug with cooking spray or butter and pour in the mixture.
Microwave on high heat for 30 seconds and then stir the mixture.
Microwave for 70 to 80 seconds or until the eggs are puffed and set.
Breakfast Bruschetta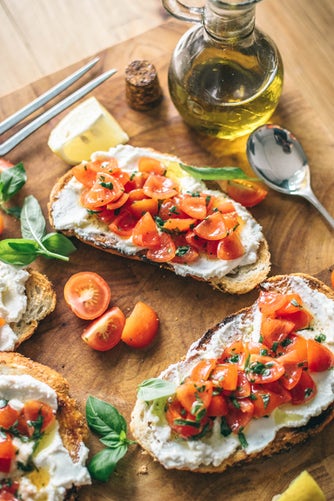 Photo Credits: Calum Lewis
A simple recipe for the lovers of bruschetta! This morning dish is fun and easy for an everyday morning breakfast, but it also looks fancy enough for a Sunday brunch with family and guests.
Ingredients
8 slices French bread
3 tbsp. unsalted butter
4 large eggs
1/4 cup whole milk
1 tbsp. chopped fresh chives
1/8 tsp. fresh black pepper
3/4 cup mashed avocado
1 cup diced tomatoes
Instructions
Preheat oven to 200 degrees Celsius.
Melt 2 tbsp. of the butter and spread it on both sides of each slice of the French bread. Put the bread slices on a baking sheet and bake for 5 minutes, then flip them and bake another 3 to 5 minutes until toasted. Remove it from the oven and set it aside.
In a medium bowl, whisk together the eggs, the milk, the chives and add pepper.
Heat a medium pan over medium-low heat. Add the remaining 1 tbsp. of the butter and when it has melted, pour in the eggs. Cook them while stirring as needed, until they become scrambled.
Spread the mashed avocado on one side of each slice of the toasted bread putting the scrambled eggs on top of it and garnish with the diced tomatoes.
Cream Cheese Danish
Photo Credit: Jane Yokata
For those craving something sweet for breakfast this recipe is for you! Learn to cook your own Danish pastries and make your house smell like a traditional bakery!
Ingredients
1 package cream cheese
2 tsp. fresh lemon juice
1 tsp. fresh lemon zest
2 tsp. vanilla extract
2 1/2 tbsp. sugar
All-purpose flour
1 package frozen puff pastry (2 sheets)
1 cup sliced strawberries or other fruit of your choice
1 large egg
Instructions
Preheat the oven to 200 degrees Celsius.
In a mixer bowl, mix the cream cheese, the lemon juice, the lemon zest, the vanilla extract and the sugar. Beat until it gets a creamy texture. Then put the mixture to a sealable plastic bag or piping bag.
Unfold each sheet of puff pastry, after you flour your work space, and roll it into a small square. Cut each one into four smaller squares and try giving them a diamond shape.
Put the pastries on a line on the baking sheets. Fill each pastry with a small amount of the cream cheese, using the piping bag.
Garnish with the sliced strawberries.
Whisk the egg in a small bowl and then brush the pastries all over with it, carefully not mix it with the cream cheese.
Bake the pastries for 15 to 20 minutes, until puffed. Wait some minutes for them to cool down before serving and enjoy!
Peach Pie Smoothie
Photo Credit: Joanna Kosinska
Smoothies are one of the most nutritious morning meals, packed with vitamins and proteins help by keeping your energy up all day long. One of the simplest but delicious smoothie recipes is the Peach Pie Smoothie.
Ingredients
1 cup unsweetened frozen peaches
1 tbsp. honey
1/4 tsp. vanilla extract
1/8 tsp. ground cinnamon
Pinch ground nutmeg
Pinch ground ginger
1/2 cup nonfat or 1% low-fat milk
1/2 cup nonfat plain yogurt
Instructions
Put the peaches in a blender and blend until smooth.
Then add the honey, the vanilla extract, the cinnamon, the nutmeg and the ginger and blend again.
Leave the milk and yogurt for last and then blend all the ingredients together for some more seconds. Serve in a big jar or a juice glass, add some ice (optional) and enjoy!
Photo Credits: Brooke Lark