Zakynthos is an island on the Western Coast of Greece in the Ionian Sea, around 4 hours away by ferry. The island has a nickname of "The Flower of the Levant" which was given by the Venetians when they were in possession of Zakynthos. The mild Mediterranean climate makes this island an ideal travel destination for many tourists.
In addition to all the beautiful beaches, there are plenty of sights and landmarks to visit and see. Since the 1980s, Zakynthos became extremely popular for young adults (18-30 years old) to visit as a vacation destination. As a result, the island became a clubbing center, with many brand new night clubs, bars and restaurants. However, most people visit the island for the stunning beaches that inhibit it. Here are our top 10 favorite beaches!
Navagio
Makris Gialos
Dafni
Agios Sostis
Marathonisi
Agios Nikolaos
Tsilvili
Alykes
Porto Azzuro
Gerakes
Photo Credits: Culture Trip
Navagio
About:
Navagio is the signature and most well known symbol of Zakynthos. It is also known as the "Shipwreck beach" because of a stranded Freight-liner that was found on the beach. Legend says that in 1981, Greek authorities found the freighter smuggling cigarettes and women, and because of that, the captain steered the boat directly to a boat and left it stranded. That is also why the beach has been nicknamed "Smugglers Cove".

Location:
it is located around 30km from the town of Zakynthos, which is also around an hour drive away. The only way to reach the beach is to take a boat there, which takes around 20 minutes and departs every hour.

Beach Features:
This beach is ideal for both families and couples as there is both soft, white sand as well as crystal clear water with a shallow end. This beach is beautiful because it is surrounded completely by limestone caves, but that also makes the accessibility more difficult. There is not much natural shade, so it's advised to bring a personal umbrella and load up on sunscreen and hats. There are plenty of sulfur caves that release large amounts of sulfur that give opportunities for beautiful and colorful photographs.
Photo Credits: We are Travel Girls
Makris Gialos
Location:
It is located 30km north of Zakynthos city (1 hour drive approximately).

Beach Features:
Makris Gialos is a sandy beach, loved for its... unpopularity. Since not many people know about this beach, it is fairly quiet and secluded, making it ideal for couples. Families are not advised to come here as the water is pretty deep and could be a potential danger for children.
However, this beach is ideal for the snorkeling, swimming and diving utilities. Because it is not heavily tourist occupied, there are no sun beds, chairs, vendors or umbrellas, so make sure to pack wisely before coming!
Photo Credits: Go Zakynthos
Dafni
Location:
It is located in the south-west coast of the Laganas gulf, around 18km away from the centre city.
Beach Features:
The most common words used to describe this beach are "long, wide and pristine". It is fairly sandy here and an important location for the nesting grounds for the Caretta Caretta sea turtles. Although the beach isn't organized, the shallow turquoise waters make it ideal for families to visit.
Photo Credit: Go Zakynthos
Agios Sostis
Location:
Agios Sostis is located 11km southeast of the town of Zakynthos. From this island, there is a view of the Marathonisi which is a small island in the shape of a turtle too, which can be accessed by boats
Beach Features:
Agios Sostis has two small beaches nestled between a small harbor. The first beach is very family friendly because of the packing sand and clear, shallow water making it safer for all beach side activities. However, water sports and activities such as snorkeling, windsurfing etc are not advised because of the shallow water.
Photo Credits: Marinas.com
Marathonisi
Location:
Marathonisi is a small island that lies right across from the Keri bay. This island is easily accessible by boats and has a beautiful sand beach. This unorganized beach is around 25km away (a little over an hour) from the small town.
Beach Features:
This beach is also called Turtle Island because of all the small turtles, and the shape of the island, and is a great place for animal lovers!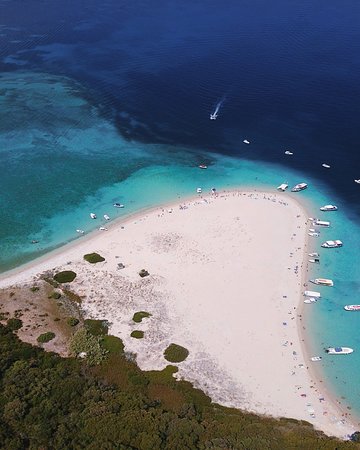 Photo Credits: TripAdvisor
Agios Nikolaos (St. Nikolas)
Location:
Agios Nikolaos is located on the northern side of the island (20km away) and is the water sport destination!
Beach Features:
It is perfect for families, couples and those just wanting to relax or do extreme sports! There are amazing activities and entertainment for both young children and teenagers, including plenty of beach-side restaurants and umbrellas to rent. This place especially is great for scuba diving. However, for those who want to stray away from the crowd, there are many quiet corners to relax in.
Photo Credits: Saintfridays Holiday Villas
Tsilivi
Location:
Tsilivi is much closer to the center town than the other beaches listed (only a 20 minute drive). Because of this, it is easily accessible by car and there is an abundance of space for parking on the beach.
Beach Features:
This beach has won numerous awards for constantly being the cleanest beach, winning the "Blue Flag Award" consecutive years. This place is ideal for both families and couples as the water is shallow enough for families with young children and also secluded enough for private romantic getaways.
Photo Credits: Go Zakynthos
Alykes
Location:
Alykes is also around an hour drive away from the main Zakynthos city, and has its name from a salt mine that is located behind the beach.
Beach Features:
There is plenty of parking for cars to drive here, and this beach is the ultimate relaxation space. There are many sunbeds, umbrellas, restaurants, bars, sand and fine pebbles for all types of beach goers! This place is safe from turtle nests so there are plenty of opportunities for water sports such as snorkeling or boating.
Photo Credits: Fishalda
Porto Azzurro
Location:
Porto Azzurro is located around an hour (20km) away from the central town of Zakynthos.
Beach Features:
For all luxury lovers, this is the beach for you! Considered the most deluxe out of all beaches, Porto Azzurro is frequently a wedding destination because of the beautiful pristine waters, golden sand and beautiful pine trees that provide natural shade. There are also a large amount of sunbeds, sunshades and beach bars located nearby, with several cafes and restaurants to eat and drink at as well.
Photo Credits: Porto Azzuro
Gerakas
Location:
Gerakas is located around 18km south from the capital town (around a 40 minute drive away). This location is ideal for both couples and families, as t is long enough to find a secluded area, but also long enough to feel like walking across a desert.
Beach Features:
Gerakas is the ideal beach for long, sandy walks. It is best known for being the home of many sea turtles called Caretta-Caretta and for being a part of the National Marine Park. Because of the sea turtles, the beach is closed half an hour before and after the sun rises/sets, but is open all other times. Gerakas is known for having an abundance of clay from the coastline, and some tourists even enjoy using this clay as therapy for their skin.
Photo Credits: Youtube