Everything about Santorini screams "Romance!".
This breathtaking island is like it was created for that purpose while the fact that it often ranks among the top romantic destinations in the world makes a point. If we were to write down all reasons for someone to love Santorini, it would most probably go like this:
The white-washed villages
The blue-domed churches
The imposing views
The diversity of lifestyle activities
The overall ambiance of the destination
The unique Catamaran Cruise
The one-of-its-kind sunset
The abundance of Instagrammable spots
But, above all, we believe that Santorini Honeymoon is a lifetime experience due to the super luxurious resorts perched on its steep cliff. Not just because they are super luxurious, with mind blowing facilities like in-room Jacuzzi and infinity pools perched on a cliff, but more for the fact that these hotels value couples and honeymooners so much, that they create unique experiences tailor-made to their needs.
And, for us, the best experience to look up to is the one of the Honeymoon Suite with private pool.
A Luxury Hotel Perched on the Caldera that caters exclusively to Couples | Pegasus Suites & Spa
Pegasus Suites & Spa is an iconic hotel in Santorini that has become a sensation for honeymoons and romantic holidays. This luxury hotel, perched on the Santorini Caldera, stands out not only for its wonderful diversity of honeymoon suites but also for its ability to cater to all couples, providing from value-for-money to super luxurious accommodation options.
The in-room experiences are plenty and it's difficult to decide which of them are the best. The stunning views over the Caldera definitely add a wow factor to the stay, however, keep in mind that the better the room, the better the view over the Caldera. The in-room breakfast is another great service to look up to, as there is not a better way to start your day with your other half than with a glass of champagne with mouthwatering local delicacies.
To sum up, the rooms are plenty and each of them caters to a different type of traveler. Let's explore the most important types of rooms:
Honeymoon Plunge Pool Suite: Romance & Well-being go hand-in-hand in this room
Offering direct views over the Caldera, the Honeymoon Plunge Pool Suite is the perfect suite for couples who want to focus on their personal well-being. Its open air terrace with sun loungers provide the best spot to relax and sunbathe during the day. In addition, the cave style or open air plunge pool with Hot Tub make this the ultimate suite to relax and unwind.
Pegasus Independent Villa: An Independent Villa 60 Meters from Pegasus Suites & Spa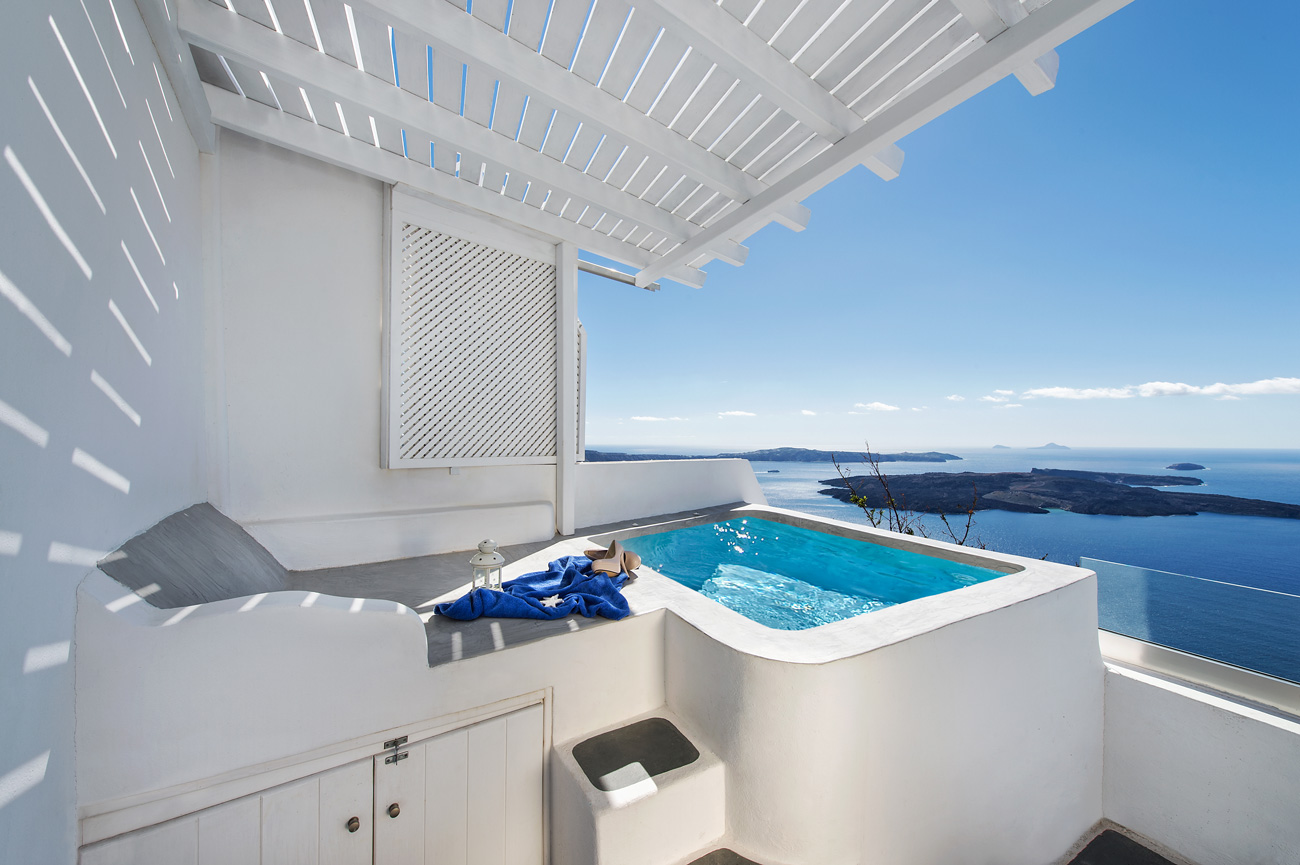 This is the only room that's not located in the resort. Pegasus Independent Villa is found 60 meters away from the main building and its 70sq. m can host even a family. Its private terrace features sun loungers to sunbathe while the outdoor hot tub is excellent for lazy afternoons. If privacy is what you seek, this suite is your best option.
Angels Infinity Pool Suite: An Infinity Edge Pool with first-row view to the Caldera
Unwind and relax in one of the hotel's most breathtaking rooms - the Angels Infinity Pool Suite. Its highlight? The infinity edge pool located at the edge of the cliff offering a breathtaking view to the Caldera and Palaia Kammeni. This upscale suite features a series of luxurious facilities and amenities that ensure a premium stay, like the oil room vaporizers with selected fragrances of your choice, signature bathroom amenities, American Champagne and Greek Breakfast.
Grand Luxury Plunge Pool Suite: A chic suite to immerse in the pleasures of luxury
The chic colors of white and grey intertwine at Grand Luxury Plunge Pool Suite creating the perfect room to relax and enjoy moments of intimacy with your other half. This suite is a heaven of contemporary comfort, inviting you to fully immerse in the pleasures of luxury. The suite's highlight is the indoor plunge pool, which is ideal for a romantic evening with your partner.
The Romantic Activities at Pegasus Suites & Spa| From Candlelight Dinners to Luxury Wine Tasting Evenings
Even though the romantic experience that the suites of Pegasus Suites & Spa offer is enough for every couple out there to say that they have had a great honeymoon, the hotel has included a series of romantic activities within its hotel grounds that further upgrade the overall honeymoon experience.
A candlelight dinner at the hotel's terrace under the stars will surely be the perfect surprise to your partner, as you will be able to enjoy a high-level culinary experience in an intimate atmosphere that oozes luxury and romance. Another great but not so romantic food experience would be to take a cooking lesson together, which will introduce you to Greek cuisine and teach you how to create some popular local recipes.
A wine-tasting evening is another must-do, especially if you are fans of good wine. Through the wine-tasting tour you will get to try local and international labels of great reputation as well as learn the history of Santorini and how it ended up one of the best wine-producing areas of Greece.
Special Packages for Couples | This is the perfect time to book!
Last but not least, the hotel has created a series of special packages for couples, including various luxuries like private transfers, bottles of champagne, special room decorations, flower bouquets, and more. You will find more information about the packages on their official website. So, if you have booked already, then good for you. If you are still in doubt, then we recommend you book as soon as possible because the rooms are limited and they won't be available forever.