At a sun-drenched plateau high above the Rhone Valley, at an altitude of 1500m, there are two neighboring resorts called Crans and Montana. These two together form one of the biggest holiday destinations in the Valais: Crans Montana.
Crans Montana is a town in Canton Valais in Switzerland that is widely famous for its luxurious resorts and abundance of winter sports, the most popular of which being skiing. The town is blessed with many accommodation options, but there is an eco-friendly hotel that stands out from the rest.
Chetzeron 2112 Hotel is among the most well-known resorts in Switzerland for two reasons. Its high altitude, located 2112 meters above sea level, and high-quality of services and facilities. Let's find out how to spend a day at Crans Montana, and more particularly in the Chetzeron 2112 Hotel.
Chetzeron 2112 Hotel's breathtaking views, high-quality facilities and wonderful food and wellness options have been enlisted it among the best mountain hotels in Europe for spring breaks.

A sumptuous breakfast in the heart of Crans Montana!
Chetzeron 2112 Hotel offers a delicious breakfast buffet, featuring a wide variety of delicacies that can be enjoyed by non-residents as well. Although the breakfast options are limited, the quality of the available morning dishes is exceptional!
In the first section of the buffet you can find different types of bread, as well as ham, salami and cheese. Try eating your bread toasted, with spread butter and homemade marmalades!
Nearby the cold cuts and cheese
corner, you will find cereals, muesli, fresh fruits, freshly squeezed juices and fruit salads, local milk and traditional Greek yogurt.
❆ You can either enjoy your breakfast at the hotel's panoramic restaurant, or at the hotel's terrace, which is exclusively for the guests!
In the middle of the buffet you will find eggs, cooked according to your preference: hard-boiled, fried, omelet or scrambled. The staff is always at your disposal, so you can order all kinds of coffee including espresso, cappuccino, latte etc.
Fire & Snow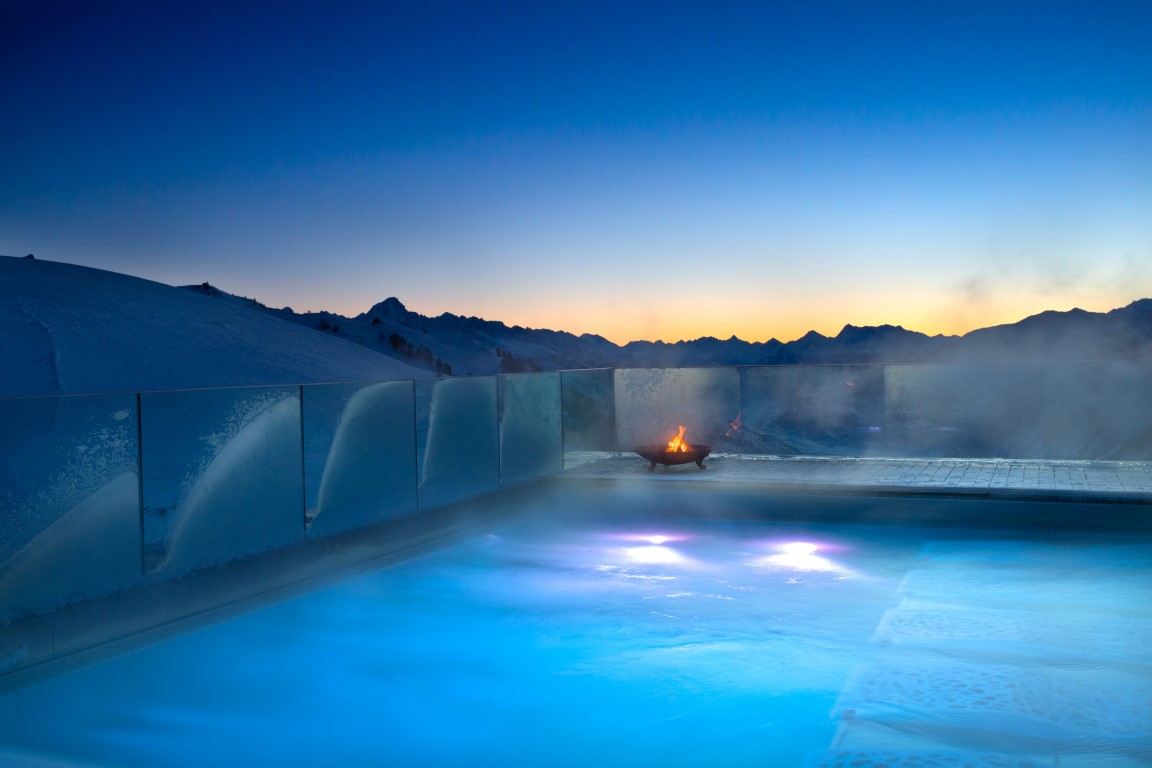 Your Crans Montana Experience will not be complete unless you dive into the heated outdoors swimming pool of Chetzeron Hotel, overlooking the picturesque Crans Montana.
If you want to relieve yourself from the built-up tension, then you should definitely try the Ma-uri massage, a complete body massage that originates from New Zealand, and uses hot oil as its basis.
❆ The rooftop swimming pool is open all day long, so you can visit it right after your breakfast. We recommend you to visit during evening hours though, since the landscape is more spectacular!

If you consider yourself an adventure lover who wants to further explore the surrounding area, then skiing is the perfect choice for you. The ski resort of Crans Montana is situated at 1,500 to 3,000 metres above sea level and provides a variety of slopes of all difficulty levels.
Other sports and activities that you can do in Crans Montana are ice skating, husky-sledge riding, biking, hiking, trekking, snowboarding and more.
Rooms & Suites
Chetzeron has made sure to take full advantage of its location, offering stunning views over the Southern Alps and Crans Montana from all of its rooms, as well as its main restaurant.
The best type of room is, by far, the Junior Suite, with its "cozy" corner. There is also a sofa bed in the room that can accommodate up to 2 children, making it also ideal for families!
The Must-Dos of Crans Montana
Crans Montana might be very popular for its excellent skiing opportunities, but there is also a wide variety of other sports and activities that you should definitely give a try.
❆ Daily Tour at the Lac Souterrain: Being the largest natural underground lake in Europe, Lac Souterrain is the first place to visit! If you want to see the emerald waters of this unique lake, join a 30-minute guided tour by boat. The place can gets really crowded during summer months for obvious reasons!
❆ Bisse du Ro: Well, if you have a fear of heights, then maybe this activity is not for you! Bisse du Ro is a breathtaking path that leads to Lac de Tseuzier passing between cliff walls where restored ruins can be seen. The view is truly stunning!
❆ Chocolate: Switzerland is widely popular for its delicious chocolate! You can't simply visit Crans Montana and not purchase some of the tastiest chocolates made by the locals. A great gift for your friends and family!
❆ Chateau de Tourbillon: Located approximately 15 minutes away from Crans Montana by car, Chateau de Tourbillon is surely worth a visit. The castle ruins will certainly travel you back to Medieval times!
❆ Sports & Outdoor Activities: When you are in Crans Montana, you have to literally seize the day! There is a great number of outdoor activities to do, such as skiing, boating, biking, golf and hiking!