Choose to stay in a hotel near the picturesque center of Athens, where you can walk through the narrow streets of Plaka, and buy souvenirs for everyone from the famous flea market in Monastiraki. You can find notable landmarks, neighborhoods and sites almost everywhere around the city.

Here is a collection of some of the most important historic sites found in the heart of Athens:
Photo Credits: Georgios Tsichlis / Shutterstock.com
Panathenaic stadium in Athens, Greece (hosted the first modern Olympic Games in 1896), also known as Kalimarmaro which means good marble stone.
Photo Credit: Adam P / Shutterstock.com
Temple of the Olympian Zeus, seen behind some modern buildings in the center of Athens.
The Philpappos monument, an ancient Greek mausoleum dedicated to Philopappus, a prince from the Kingdom of Commagene. It is located on Mouseion Hill in Athens, Greece, southwest of the Acropolis.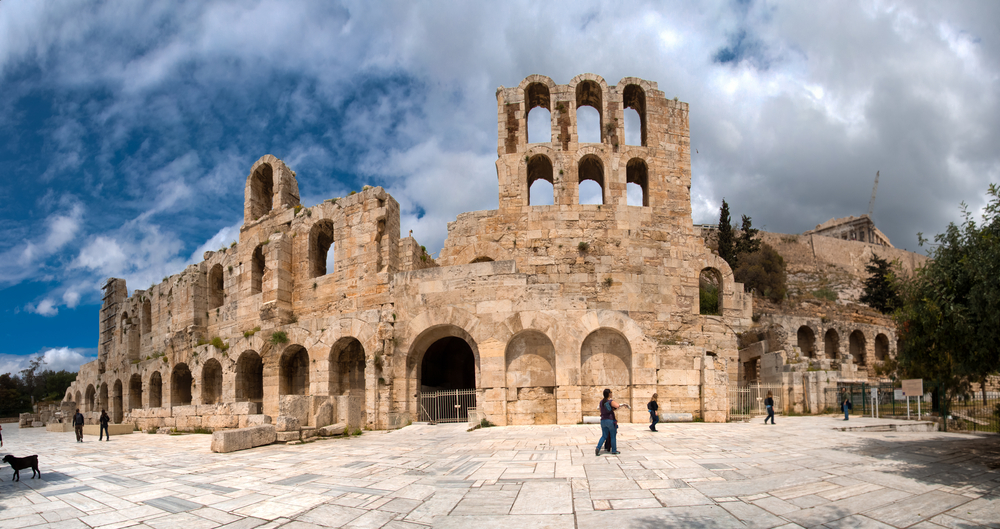 Photo Credits: Alla Khananashvili / Shutterstock.com
The Odeon of Athens, or Odeon of Pericles in Athens, built at the south-eastern foot of the Acropolis in Athens, Greece.
Photo Credits: goga18128 / Shutterstock.com
Soldiers during the ritual of changing the guard, at the Monument to the Unknown Soldier, in front of the Greek Parliament.
The Erechtheion is an ancient Greek temple on the Acropolis of Athens in Greece, dedicated to the ancient gods of Athena and Poseidon.
The Parthenon Temple on the Acropolis in Athens, Greece. The Acropolis of Athens is an ancient citadel located on a rocky hill above the city of Athens.
View of the Acropolis and the ancient Agora of Athens.
Choragic Monument of Lysicrates in Plaka, Athens.
Panoramic view of the ancient Greek Odeon of Herodes Atticus, taken from the Parthenon temple in Athens.
Exterior view of Academy Of Athens, Greece's national academy, and the highest research establishment in the country.
Temple of god Artemis Agrotera.
Visit Greece and your book stay in one of the best Hotels in Athens, in order to admire the ancient beauty of the Greek architecture by yourself!