Famous for its rich cultural heritage and magnificent natural scenery, Chiang Mai boasts a stunning setting that all couples adore. It is home to a wide range of colorful temples, traditional pagodas, historical museums and monuments and offers a plethora of activities to do ranging from exploring of the hill tribes, walking around local street markets or simply gazing at the passing river life of the Mae Ping River.
Its idyllic setting radiates a relaxing and romantic aura that makes it particularly popular for romantic vacations. This is why it is frequented by couples, newlyweds, and those who want to relax and unwind surrounded by nature. Before we explore the best romantic activities in Chiang Mai, we introduce you to a resort that will become your private nest when you visit the city.
As a bustling city, Chiang Mai is blessed with many excellent hotels and resorts. Among the numerous hotels around Chiang Mai, we have picked one that stands out for its impeccable services, world-class facilities, and excellent privacy. Let's discover X2 Chiang Mai Riverside Resort!
Welcome to your private nest!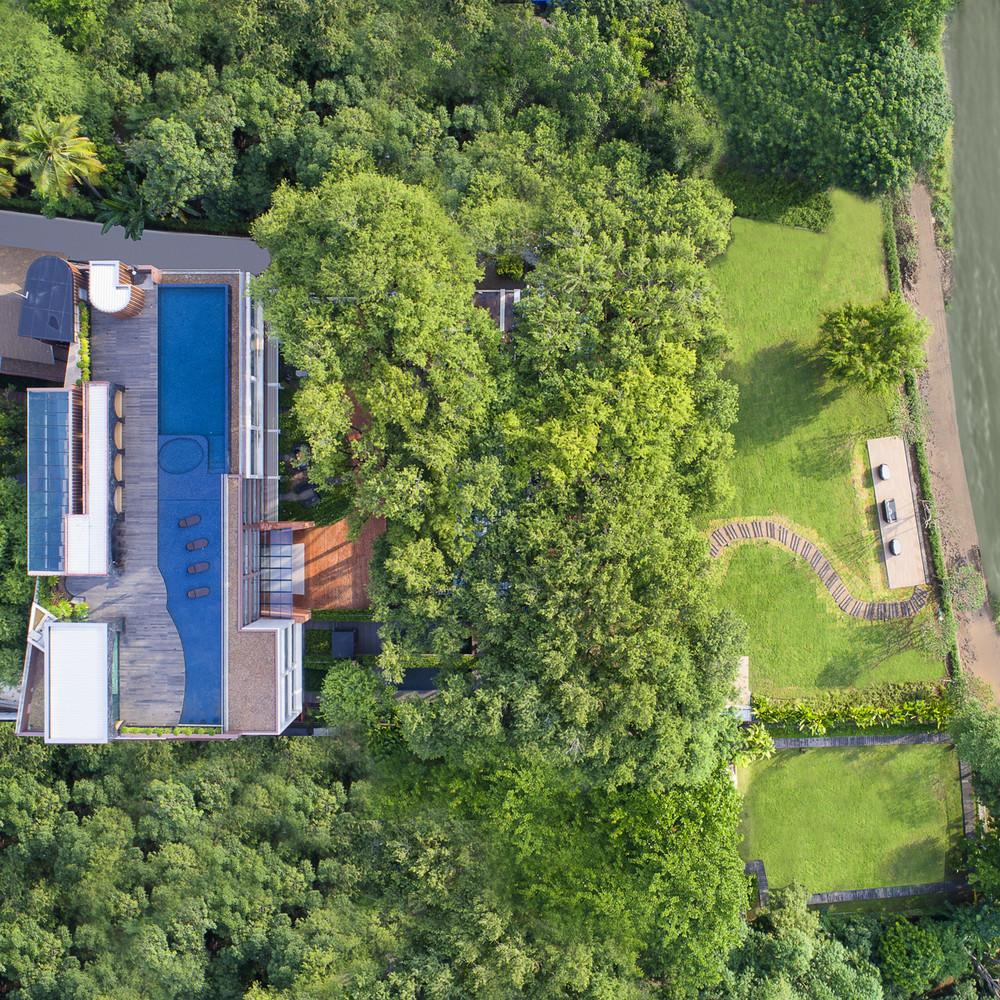 X2 Chiang Mai Riverside Resort, also pronounced as cross-to, is a gorgeous resort on the peaceful banks of the Ping River, whose quirky design, superb facilities and high-quality accommodation ensure a premium stay for all its guests. Overall, the resort has a beautiful, laid-back atmosphere that allows couples to relax and celebrate their love in absolute privacy and seclusion.
Fancy getting hitched in Thailand?

The GM of the hotel is delighted to offer his service of presiding over your ceremony in front of your friends and loved one's. After your legal registration is done at home then fly out to Chiang Mai with a few of your closest and have a boutique destination ceremony with the backdrop of the Doi Suthep mountain and on the river's edge of the resort's expansive lawn. Then, have your wedding set lunch or dinner created by the resort's famous consulting Michelin Chef in the fully glassed Oxygen dining room. Contact the resort for details on sm.cmr@x2resorts.com for any assistance.
The hotel's marvelous location, only minutes away from Chiang Mai's bustling city center, provides a sweet balance of serenity with a dash of vibrant city life. Its courtyard is fully immersed in nature, featuring leafy 100-year-old tamarind trees that make it look like a tropical garden. It's the absolute resort to relax and cast away your everyday challenges.
The beauty of X2 is spread all through the hotel's grounds. There is nothing better than a mellow evening by the pool, drinking refreshing cocktails and watching the stunning landscape from the rooftop Ozone gym-pool-rooftop bar. Actually, the resort boasts the only rooftop pool in Chiang Mai with fibre optic lighting and sunken pool loungers.
The rooftop pool deck is only open to hotel guests, so a private experience is guaranteed. The resort has kayaks and bicycles for the adventurous couples as well as steam rooms and quiet areas for the love-birds who prefer peace. Its modern design combined with traditional Lanna-style aesthetics form a place of unparalleled beauty.
Furthermore, whether you are a food aficionado or simply a traveler searching for a scrumptious meal to dig into, you will have a plethora of food choices at X2 resort. Oxygen dining room, the resort's now famous main restaurant, is a great place to enjoy the unique French/Thai fusion cuisine, as well as create your own cocktails with the in-house mixologists, an ideal ending to a romantic day of pampering and indulgence.

Accommodation? Check. Food? Check. All that's left now is a place where you can boost your personal well-being, and X2 Chiang Mai Riverside Resort has, once again, got you covered. Relieve your stress and feel rejuvenated at the X2 Spa, the resort's premium spa center where you can enjoy traditional Thai massages, luxurious body wraps and other amazing therapies. This is the place where you and your other half will experience a most unique and soothing experience.

5 Activities that will make you fall in love with Chiang Mai!
Before visiting the gorgeous city of Chiang Mai, make sure to create a list of things to do. This way you will be organized and you will be able to see the most of the city even if you have limited time. To make your life just a little easier, we have a created a short list of things to do that will introduce you to Chiang Mai's lifestyle!
1. Go on a romantic riverboat cruise along Mae Ping River
Mae Ping River is the most significant landmark in Chiang Mai city. It has a great natural beauty that makes cruising in it a must-do activity for couples. The romantic aura of the river will awaken all your senses. So, don't hesitate any longer; grab your partner and discover the full-of-wonders river of north Thailand.
2. Shop at the street markets of the city.
Chiang Mai, like many other cities in Thailand, is a place where you can find several street markets selling local goods, souvenirs and street food. The street markets are the perfect spot to find unique items to purchase for your partner, so you can remember this special experience forever. Street markets are also the ideal places to meet new people and expand your social circle, set a double date or make new friends that you can count on. Sunday Evening Jhaban Market is among the most popular markets of Chiang Mai and it's only 10 minutes' drive from the hotel. Check directions here!
3. Explore the Mae Sa Waterfalls
You don't have to be a nature aficionado to fall in love with the Mae Sa Waterfalls. Located in San Doi Daen, the Mae Sa Waterfalls is the best place for a swim in the ponds, a romantic picnic, or for hiking in the naturally formed routes in the hills while admiring the natural landscapes of the area. The Waterfalls also offer the best scenes for commemorative photos and selfies, so don't forget to capture every special moment at this wonderful place.
4. Reach the highest peak of Thailand at Doi Inthanon National Park
Doi Inthanon National Park, also known as the "roof of Thailand", is the home of the highest mountain of Thailand. The park offers a mesmerizing view and gives you the opportunity to participate in special activities such as hiking and birdwatching. It's highly recommended to visit during January and February where the park is adorned with beautifully bloomed colorful flowers.
5. Discover the Hmong Tribal Village
Chiang Mai, which is also described as the Thai capital of culture is home of many local tribes, a unique trait of the region's rich cultural heritage. Hmong Tribal Village is an indicative local tribe village where you can learn more about the history and civilization of Thailand's northern tribes. Visit the village and witness the simple life of the tribe, learn about their culture and appraise their handmade artifacts such as instruments, items made of bamboo, and their embroidered costumes. Simple and at the same time beautiful, interacting with this tribe will be an unforgettable experience for you and your partner.
Chiang Mai is considered the top destination in Thailand to live your most romantic holidays. The whole city is a combination of unique sites and landscapes of great natural beauty, where you and your other half will be able to relax and enjoy the beauties of the city. Book now at the X2 Chiang Mai Riverside Resort, at the banks of Ping river and start living your amorous adventures in the most charming city of Thailand.