The history of Naples cuisine goes back several centuries, having influences from the Greeks, Romans, Goths and Byzantines. In Naples, food isn't just made to be eaten quickly around a table, but is rather considered an art, and a series of repetitive gestures that have been carried on by tradition. Cooking and eating is a way for the people of Naples to express love and gratitude to one another.

Naples is the third largest city in Italy after Rome and Milan, known particularly for its delicious cuisine, and has accumulated the largest amount of stars from the Michelin Guide of any Italian city. Most tourists visit Naples for the wide selection of food that it has, including the large collection of locally sourced fruits and vegetables, and high quality of fresh seafood products.
Naples is most renown for its delicious pizza, eggplant Parmesan, pasta, street food, drinks and desserts.
ROMEO HOTEL: CAN A HOTEL INFLUENCE YOUR FOOD HOLIDAYS IN NAPLES?
The best way to upgrade your food holidays in Naples is by staying in a hotel that takes good care of its foodies-customers. Firstly, it's the place where you will take your everyday breakfast. Some of you may go Half Board, so a hotel that takes food seriously seems like the only option for you. Well, to save you from the trouble of searching, we think that we found the perfect hotel for you.
Its name? Romeo Hotel. Location? In the heart of Naples. Just judging from its location, Romeo Hotel is a hard-to-pass option for anyone. But, what makes it so special about foodies anyway? Let's start from its delicious buffet breakfast. Served at the 9th floor, breathtaking panoramic views over the bay of Naples will accompany your very first meal of the day.
And, to make it more appealing, the hotel has created a very special package that includes an after-breakfast, 2-hour treatment at Romeo Wellness - Dogana del Sale. So, breakfast-wise, it's clear why it's the perfect hotel to stay in Naples.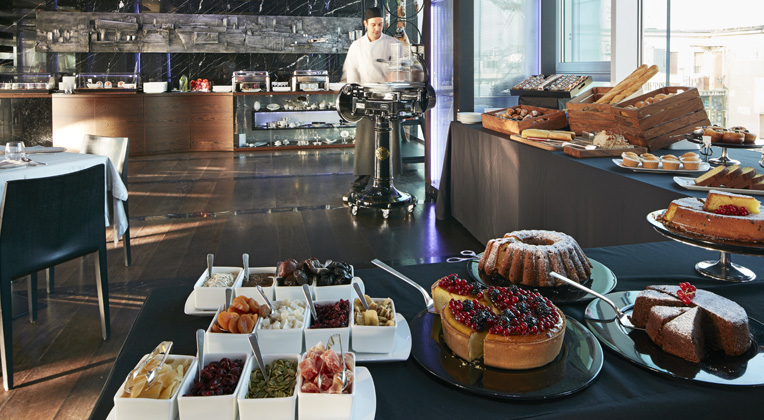 Pizza
Pineapples on pizza? Forget the heated debate. In Naples, the most popular pizza is the plain and simple Margherita pizza, which originated from 800 AD. The Margherita pizza is covered with tomato sauce, cheese and basil and has been a classic dish since the early 18th century. These three main ingredients are in reference to the colors of the Italian flag. Pizza Fritta is deep fried pizza dough stuffed with ricotta, provola cheese, cold cuts, meatballs and vegetables.
Every restaurant in Naples will be able to make pizza dish deliciously, so don't worry about stumbling into a random eatery or going to wherever is most convenient for you! However, we highly recommend trying Di Matteo (Via dei Tribunali 94). Locals love going to Di Matteo for the reasonable price, great atmosphere, and of course, mouthwatering pizza. Even Bill Clinton made sure to stop by this restaurant when visiting Naples!
Photo Credits: Pinterest

---

Eggplant Parmesan
There is no shortage of eggplants in Naples as it is one of the local vegetables. Eggplant Parmesan is a casserole dish made up of layers of eggplants, tomato sauce and basil, layered with cheese. The eggplant is cooked a second time in the oven so that the flavours don't mix. Sometimes, the eggplant is covered with batter before being fried.
One of the restaurants that makes the best Eggplant Parmesan in Naples is the Ristorante Pizzeria Leon d'Oro. This restaurant has both indoor and outdoor seating in central Naples, with scenic views of the city. They are known by locals by providing a friendly atmosphere and chatty employees who will make all visitors smile!
Photo Credits: Table for Two
---

Pasta
Many classic Neapolitan pasta dishes utilize seafood because of the abundance of it- like spaghetti alle vongole and risotto alla pescatora. Pasta can also come in nontraditional forms such as pasta e fagioli, a pasta and bean soup, and pasta fazool which is made from hot pepper and mixed pasta.
A great pasta is Ragu (not the cheap pasta sauce) which is a traditional Naples tomato sauce. It's a Sunday tradition to cook ragu early morning and eat it for dinner together. When the pasta is done, the remaining sauce is to be eaten with a special bread called scarpetta.
A great restaurant that capitalizes on ragu pasta is called Tandem. What makes this restaurant unique is the user's ability to customize their pastas to their liking, by choosing their pasta type, sauce, toppings etc.
Photo Credits: Eater
---

Street Food
Street Food in Naples, also known as "friggitoria" is typically fried and can be found literally everywhere. Many fried options include croquettes, pasta, rice balls, and panzerotti. All of these street foods are served in a paper cone called a Cuoppo. Tourists and locals enjoy street food because of its cheap prices, accessibility and ability to engulf on the go!
Photo credits: Pinterest
---

Drinks
In Naples, it is the norm common to drink a caffe espresso whenever possible. The cup must be piping hot because it is believed that the hot temperature of the cup will enhance the aroma of the coffee. There is no shortage of beautiful cafes with stunning interiors, ambiance and well-made drinks in Naples.
We recommend getting an espresso from the Gran Caffe Gambrinus, which has been opened for over 150 years. This cafe tends to be on the pricier side, but is worth going for the stunning architecture inside and delicious espresso drinks.
Photo Credit: Gran Caffe
---
A MICHELIN ROOFTOP RESTAURANT TO SAMPLE LOCAL CUISINE WITH A UNIQUE GOURMET TWIST!

Paying tribute to the founder of the Lauro Fleet, Achille Lauro, "Il Comandante Restaurant" took its name from Achille Lauro's epithet, Commander. It resides on the hotel's top floor, featuring a unique, black decor that perfectly matches with the unique panorama of the Gulf of Naples. The menu is curated by the super-talented Chef, Salvatore Bianco, who has created a flavor-packed menu that combines sophistication and simplicity perfectly.
The menu of Il Comandante Restaurant might not surprise you with its diversity, however, its selected recipes are surely enough to leave a huge flavor-impact on you. For Starters, you can choose one of four delicious dishes, like The Three Prawns 3.0 or the Veal Sweetbreads on the grill with eggplant with soy and peanuts.
For first course, you can go for something light like Spaghetti: a piece of sea, or Ragu 9850. For Main Course, you can choose from a 5 Dishes. You can enjoy the elegant and delicious Blue Lobster on the grill with green apple and cucumber or the Mullet with scallops mayonnaise and plankton, sea fennel and murex. Lamb Solo is another great option.
For dessert, you can opt from fresh seasonal fruits, to sorbets and ice creams, or unique desserts Born Egg and Passion. If you are feeling indecisive, you can opt for the 6-course and 8-course menu Chef's choice, and let the Chef surprise you!
Desserts
Baba, pastira and sfogliatella are three of the most popular Napoleonic desserts. Baba is a sweet cake that originated from the French, but improvised by the Neapolitan to create a new version soaked in rum syrup and filled with whipped or pastry cream. Pastiera is an Easter cake that, according to tradition, every family in Naples prepares during the Holy Week. It is made with ricotta cheese and typically garnished with orange flower water. Sfogliatella is a flaky pastry filled with ricotta and topped with powdered cheese.
The best place to eat Sfogliatelle is at Sfogliatelle Mary in Galleria Umberto U, Attanasio, near the Central station. Sfogliatelle Mary also has plenty of other pastries and baked goods to enjoy.
Photo Credits: Yelp
---
Take a trip to Naples; your stomach will thank you!