Size doesn't always matter, but it definitely makes things better! Lisbon is the largest city in Portugal, and happens to be its capital. As an incredibly populous urban area, the city is super progressive and inclusive to the LGBTQ+ community. There are an abundance of gay bars and venues, as well as a fantastic pride parade in June. Located near the Atlantic, many beaches in Lisbon have an incredible ocean view and refreshing salty breeze. With a large and diverse LGBTQ+ community and beautiful beach areas, it makes perfect sense for there to be popular gay beaches. Here are a few of our favourites!
LGBTQ+ friendly beaches:
Praia de Bela Vista: Beach 19
Praia do Portinho da Arrábida
Comporta's beach
Praia de Bela Vista: Beach 19

Costa da Caparica Photo credit: visitlisboa.com
Overview
Natural beauty. How else could you describe nude, gay, Portuguese men? It's fitting that Beach 19, the big gay nude beach is part of a Nature Reserve. As an official nude beach by law, you can choose whether you want to wear a swimsuit or let it all out. Praia de Bela Vista is roughly 25 minutes away from downtown Lisbon by car. From there, Beach 19 is all the way down South of Praia de Bela Vista. If needed, cars can be parked at the Beach 17 parking lot.
Things to do
What do you do at a beautiful beach surrounded by beautiful guys? Show off and stare of course. Take the time to sunbathe and relax in the sun, or stop to swim in the ocean. During this time, you have the perfect opportunity to go bare and show off your body. If you're interested, many gay men at this beach enjoy cruising. But aside from that, whether you want to wear clothes or be nude, you can enjoy the view of the ocean and the sunbathers. There is a bar nearby and vendors walking around if you want to buy drinks, snacks, or delicious pastries (bola de berlim)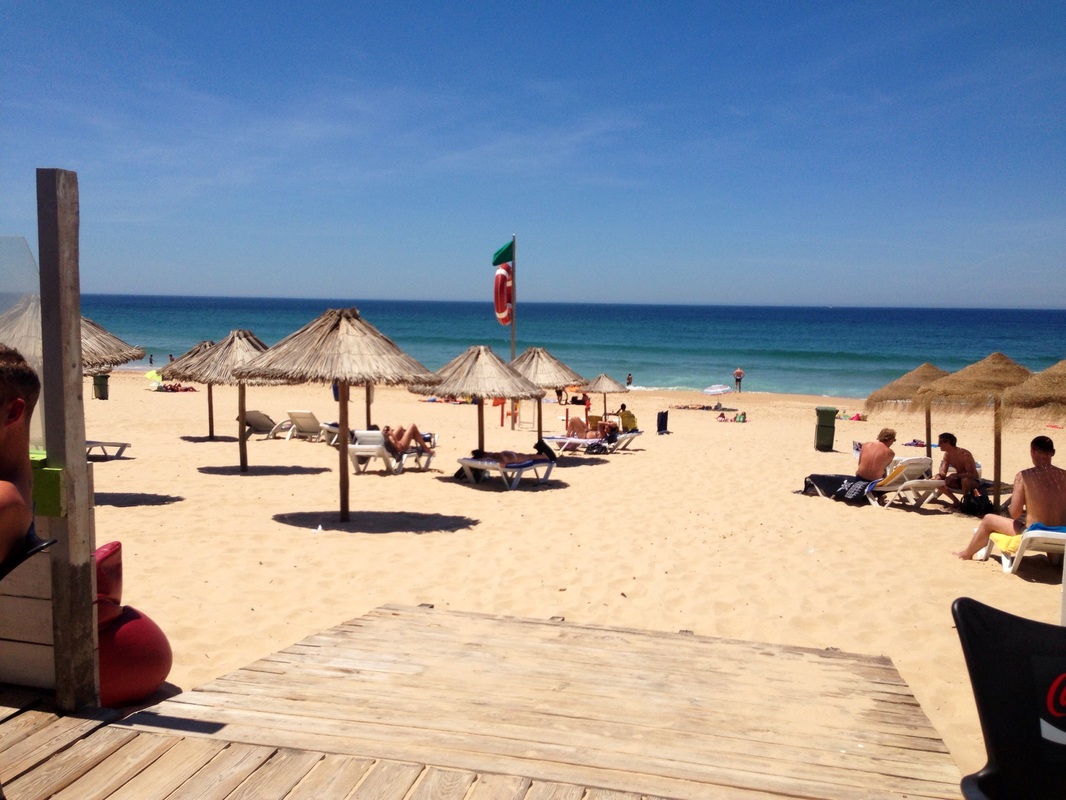 Beach 19 Photo credit: lisbonbeach.com
Praia do Portinho da Arrábida
Photo credit: youtube.com/watch?v=isCA6n9mNOM
Overview
Praia do Portinho da Arrábida is a beach on the Portuguese coastline, is known for their bright sand and crystal waters. Considered one of their most beautiful beaches, their sand and waters contrast the green beauty of Arrábida Mountain National Park. The beach is very inclusive and family friendly, although it also means that the beach gets very packed in the summer months. The bay is very quiet and relaxing, painting a serene landscape for those who visit. However, the beach can be very hard to reach, approximately an hour away from downtown Lisbon by car. Lack of public transit to this location provides overcrowding, so we suggest renting a car to visit this beautiful beach.
Things to do

The silence of the seabed allows visitors to observe marine life at the beach by diving, though underwater hunting is prohibited as the seabed is a nature reserve. To get a better view, scuba-diving equipment is available for rental to properly witness the beautiful life lying beneath the ocean surface. On the beach, you can rent umbrellas, and water and beach games. There is also a popular seafront restaurant called Beira Mar that serves delicious fish and seafood.

Photo credit: outdoorvisit.com
Comporta's beach
Photo credit: greatlivinginportugal.com
Overview
Comporta's beach is a beauty. With 12km of pristine sand and clear waters, it's feels like paradise. Considered the Hamptons of Europe, many rich and famous Europeans vacation in Comporta and own summer houses in this area. The low-key beach is a famous place to occasionally spot celebrities looking for a getaway. However, this beach is the furthest away, approximately an hour and fifteen minutes away from downtown Lisbon by car.
Things to do
Take a boat ride into the water and view the undisturbed waters of Comporta, as dolphins and marine wildlife live free and play in the water. Stroll along the beach and sink your feet into the comfortable white sands, as the ocean breeze helps you relax and stay comfortable. There is also a cafe called Cafe Comporta on the sandy beach, famous for their scrumptious seafood delights paired with perfectly mixed drinks.
Photo credit: tripadvisor.com
Where to stay
In terms of proximity, As Janelas Verdes is the closest LGBTQ+ friendly accommodation near the beaches. The hotel is close to downtown Lisbon, meaning approximately 15 minutes by car to the gayest beach in Lisbon, Costa da Caparica. Book now and have the time of your life at the beautiful beaches of Barcelona. Click here to check Hotel As Janelas Verdes prices and availability!