It must be one of your craziest dreams. A honeymoon in Bali. The most romantic, fascinating experience a newly-married couple could ever wish for.
But the destination, alone, is just not enough.
Usually, when couples decide to spend their honeymoon in Bali, they just get excited about the destination, choose one of the best hotels in Bali to stay, and forget about activities and things to do in this fantastic Paradise-like place.
But we've got you covered. Don't forget that honeymoons are not that different from simple trips. You still need to see the place, find some exciting and romantic things to do, and get the most out of your travel.
This is why we curated a list of six cool things to do during your Bali honeymoon. But let's start with the most obvious question:
Is Bali suitable for couples?
The answer's simple. Yes.
And we guess that this is precisely why it's one of the most popular honeymoon destinations right now — in fact, a Bali honeymoon package is as popular as any tech device on Cyber Monday.
What makes it the perfect place, though, is that it's made for everyone. Whether you like spending your holidays in a hammock or out in the wild, Bali is a diverse place where anything you want can happen.
Do you want some more surprising news? It's quite affordable. Plane tickets aside, accommodation, food, tourist attractions, or even luxurious perks such as a private pool can be accessible at a meager price.
We told you the answer was simple. Yes, Bali is perfect for a romantic getaway.
Romantic Things to do in Bali for couples
Next, we need to take a look at the things you can do in Bali as a couple. We know we just included six tips, but the truth is that Bali is more than luxury resorts, massages, and the things you see in the movies. It's a place of countless wonders.
So, here's a list of places to visit in Bali for your honeymoon, things to do, and, of course, the best hotel for your Bali honeymoon.
1. Watch the world's most romantic sunset at Uluwatu Temple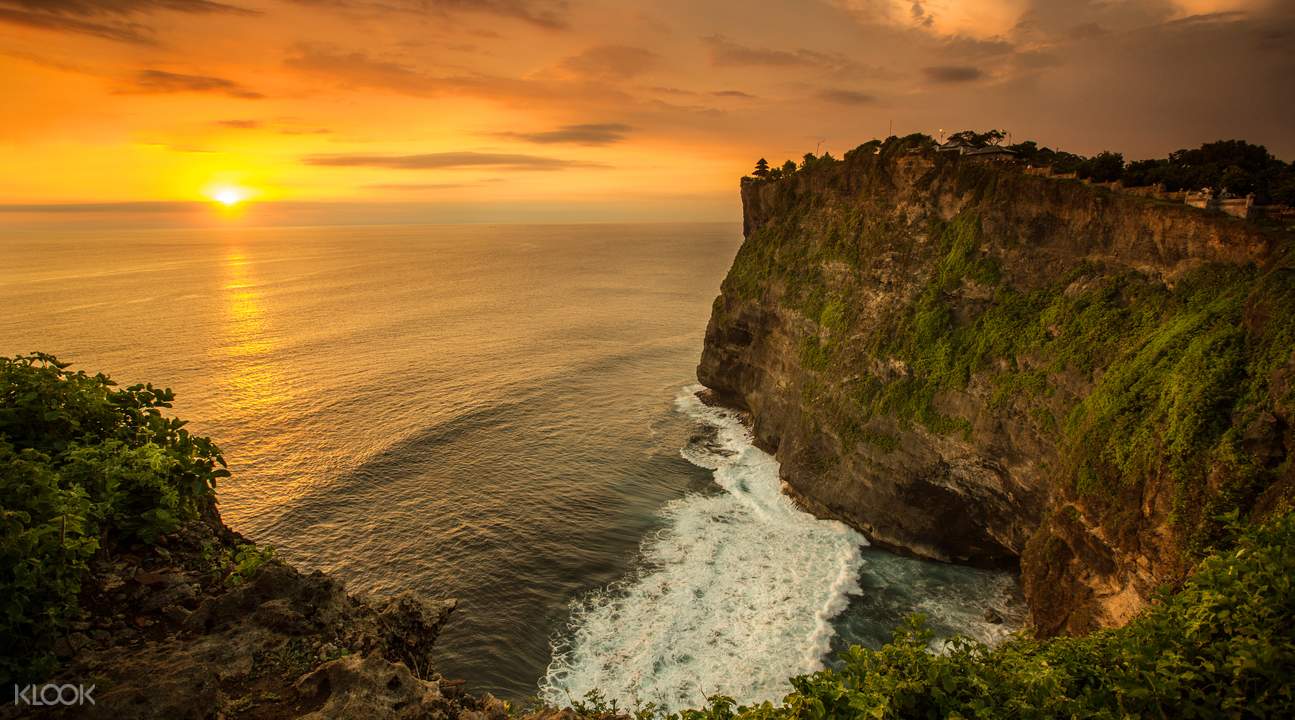 You need to know something about your Bali honeymoon. The memories you're going to acquire will stay with you for the rest of your life. There will be no day, hour, or minute you won't be able to recall — no matter how much time has passed.
So make the best out of it.
One of the best experiences in Bali (and your life) must be the sunset at Uluwatu Temple — the world's most romantic sunset that's like nothing humanity has ever seen before.
Uluwatu temple is located on the sea, and the air is so clear you'll feel like you can touch the sky. Find the perfect spot, hug your better half, feel the breeze hitting your face, and see enjoy the view of the sun setting. This is an experience that stays forever.
2. Get out of your Bali honeymoon hotel and go hiking
We know how some travelers believe that activities like hiking are anything but romantic.
But allow us to inform you that love is built on adventures. Yes, even on a romantic Bali honeymoon. Sure, you can find the best hotels in Bali or luxury resorts, but an experience like hiking, biking, or trekking, for example, will be something to remember. You'll either be great at it or laugh about it every time you bring it up.
Mount Batur sounds like the perfect plan. Batur is basically an active volcano located at the center of two concentric calderas. The views of the sunrise from above are so beautiful that you'll feel like someone has painted an image with indelible ink right in the center of your mind.
As for the price? When any other place in the world offers costly hiking classes, hiking in Bali is affordable.
Bali from above is pure joy. If you're not the adventurous type, consider booking a helicopter tour to see how amazing it looks.
3. Get a couples treatment
Now that we're talking about cheap activities in Bali, getting a massage at a Bali spa resort is also affordable.
To give you an idea, a spa session in Bali can cost anything between 5 and 20 dollars, depending on the studio or the type of massage you're going to choose.
Find a spa to relax and enjoy all the natural products experts in Bali use to make people like you feel like the world is yours. Get rid of everyday anxiety, and feel lost in the soothing background music while experts in relaxation scrub your body, pamper your soul, and body.
If you're looking for the perfect Bali spa resort, Radha Spa in The Sankara Villas & Suites sounds like an ideal plan. Choose among the many different treatments that best match your needs.
4. Swing in Bali — like literally
We've already established how much of an adventure Bali can be, even for newly-weds.
Here's a cool, out-of-the-box idea for your Bali honeymoon. Many companies can book a tour for you to visit Bali's natural swings to swing over the abyss and jungle. Why? for some extra adrenaline rush, of course!
Do you feel uncomfortable swinging on 30 to 250 feet above the ground? You can always adjust your package and choose something more suitable for you. Here's a brief list of ideas:
Lie on the romantic bed on the edge of a cliff
Get into that rock that nature carved into a heart shape
Enjoy the view on the enormous stones over the edge to admire the river waterfall
Whatever you do, just get out of your honeymoon Bali hotel to enjoy the natural silence.
5. Discover food in Bali
Bali is full of taverns and restaurants to grab a bite of the Balinese food culture. But why don't you take it a step further?
Take a cooking class and don't just rely on your tastebuds to explore the culinary side of Bali.
Cooking is an everyday activity for all of us. On average, we spend 37 minutes a day on meal preparation; that's 225 hours a year. Why not make it more fun?
Many restaurants in Bali offer private cooking classes for you and your better half to explore the ingredients Balinese cook enthusiasts use to make these great local delicacies. Have a glass of wine, spend with your loved on time while exploring new flavors and techniques.
Take the best souvenir with you. The secret ingredient to a person's heart. Food.
6. Stay in a place to feel like royalty
Now, as always, we need to answer your main question: Where to stay in Bali for couples? To spend your Bali honeymoon and feel like true royalty at the same time, The Sankara Suites & Villas, one of the best Bali luxury resorts, is definitely what you've been looking for.


Take a dive into the infinity swimming pool as soon as you wake up in the morning and start all the activities we mentioned before. Have a relaxing yoga session to balance body and soul in the hotel's pavilion, and don't forget to order the Culture Dinner at the Sankara's restaurant, Ladhu.

Find the perfect room type for you in one of Bali's best hotels, and wake up in the morning breeze. Whatever accommodation type you go for, it's going to be the best villa in Bali for couples.

Have a great honeymoon! You know you're going to love it.