What makes our travels "luxury"? Is it about the convenience we receive from high-end facilities or the provision of unique experiences? A luxury resort in Greece blurs the line between those two, providing a seamless stay in Crete alongside an assortment of lavish experiences, inspiring its guests to follow a modern, more comfortable way of traveling at Cayo Exclusive Resort & Spa in Crete!
Cayo Exclusive Resort & Spa in Crete is a rather elegant resort that boasts a modern, ecologically sensitive attitude, perfect for travelers drawing inspiration from the art of traveling and love of unique experiences. Cayo will introduce you to a healthy self-centered way of traveling, providing you with all the comforts of a 5-star property, whilst at the same time helping you rebuild your connection with nature and recover your inner peace.
Luxury in Cayo Exclusive Resort & Spa comes in many forms. From its modern spa facilities where you can enjoy some of the most refreshing and relaxing moments in Crete, to the exquisite restaurants where you can embark on a rich culinary journey of rich aromas and flavors obtained by the simplicity and pureness of the Cretan local products. Let's discover the Cretan way of luxury traveling, shall we?
Modern Architecture blending the indoors with outdoors, making Greek landscape part of the stay
Alluring interiors designed by the famous Italian art director and designer Gian Paolo Venier blend modern European culture with Greek and Cretan traditions, manifesting a modern interpretation of 'cozy luxury'.
Cayo's state-of-art lobby, quirky restaurants, stylish rooms, and villas, along with modern spa facilities will become the source of inspiration for every design aficionado.
Staying at Cayo Exclusive Resort & Spa; Modern, spacious rooms with an exclusive view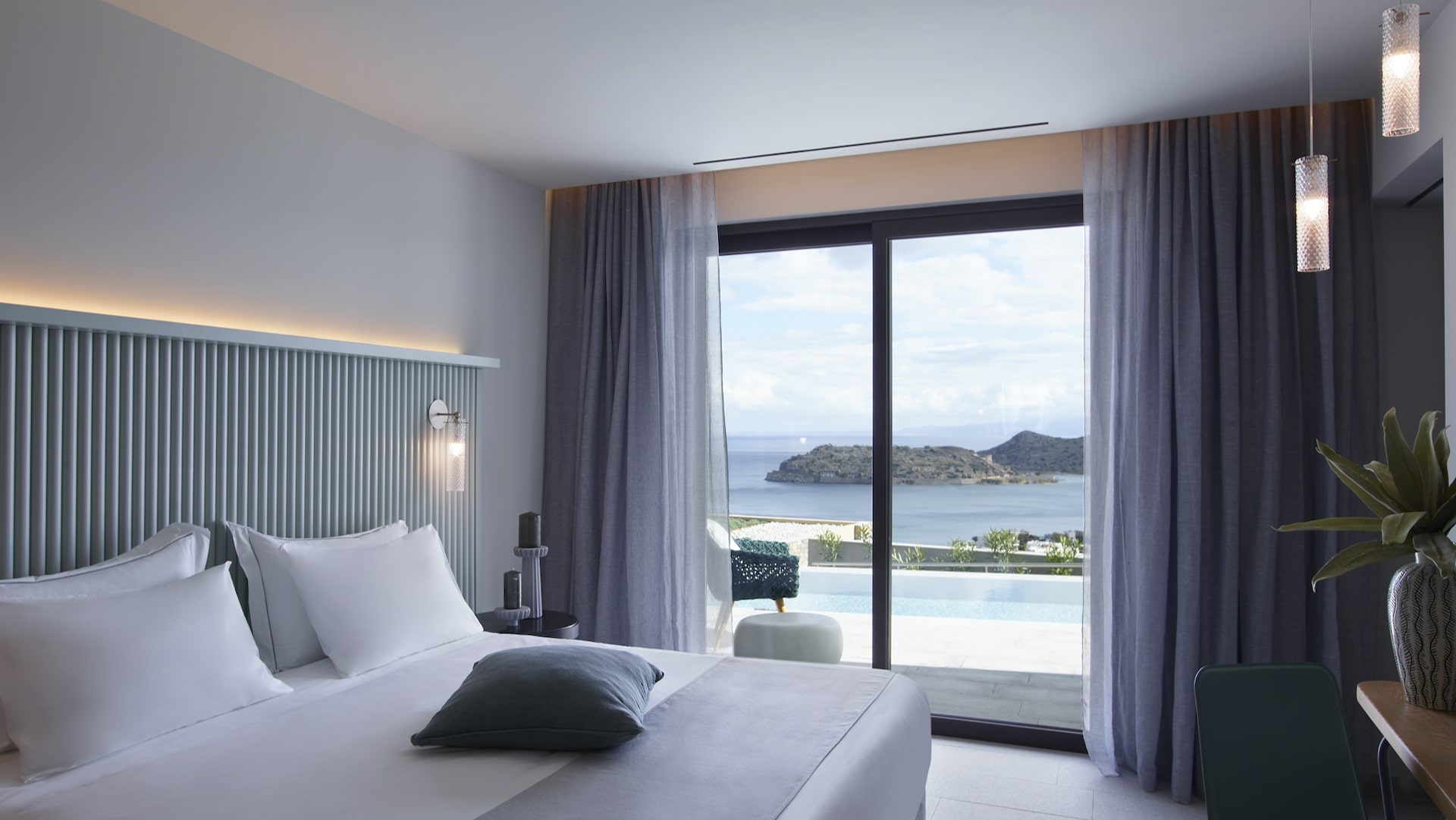 If there is one word that could describe your stay in Cayo, it would be "comfort". Cayo is home to a premium selection of rooms, suites, and villas all equipped with modern facilities and services that will make it feel like a real home. All rooms share a minimal design with earthy colors, plenty of natural light, and a direct view of the sea and the ancient Spinalonga Island.
All rooms are equipped with a private swimming pool except the standard Superior Room which, whatsoever, boasts a beautiful sea view - as all the room types of the resort. You can choose between the premium, superior, and executive rooms with a private pool, while in case you are traveling as a group of friends, they are interconnected to make up a bigger room.
So, you will be able to bask in the Cretan landscape and the Greek sun even from the privacy of your own room. Going to the beach becomes optional when staying at Cayo, as your experiences at Cayo will also revolve around wellness and gastronomy.
Wellness in Cayo: Ancient rituals and 20th-century wellness traditions performed in a state-of-the-art spa installation
Armonia/Harmony [noun]: the quality of forming a pleasing and consistent whole. At Cayo's Armonia Spa, you will achieve the desired balance between body, mind, and spirit through a premium selection of wellness treatments and therapies performed at the resort's modern spa, standing out for its state-of-art design.
The menu includes a wide diversity of facial treatments, body scrubs, wrap masks, after-sun treatments, massages, reflexology, manicure, and pedicure. We highly recommend booking one of the treatments for when you arrive at the resort, which will ensure your vacations will begin on a wellness note. As well as enjoy two more treatments during your stay there, to ensure a completely rejuvenating experience for your mind and body.
For a premium wellness experience, opt for the ritualistic session "Luxury Armonia Therapy" that lasts 80 minutes and will pamper you with a series of body and facial treatments. Of course, wellness in Cayo is not limited to its spa. On the contrary one would say, the spa is only a part of the experience. All the villas provide 100% privacy and seclusion, so even an afternoon spent at your villa's private pool, overlooking the gorgeous Greek landscape, will greatly relax you!
Gastronomy in Cayo: Exquisite Greek Cuisine and Signature Cocktails in a beautiful setting
When it comes to food, Cayo Exclusive Resort & Spa is totally serious, offering its guests an exquisite array of dining options that include from rich, elegant buffets at its main restaurant, Ambrosia to delicious Mediterranean dishes at its Sage & Thyme restaurant by the pool, or even a lavish dinner gourmet experience at Kelari Restaurant.
In Travel by Interest, we believe that luxury is found in both traditional and gourmet cuisine, so we highly recommend taking at least one meal in all the above restaurants to fully grasp the range of Greek/Cretan Cuisine and its beauty. Of course, to wash it all down, you can always enjoy signature cocktails or traditional Cretan raki with delicious mezes (snack) at Cayo's bars.
Extra tip: Don't miss out on the grilled grouper with smoked fava, seasonal vegetables, and fennel sauce with curry at Kelari Restaurant as it's the perfect representation of Greek Cuisine!
Luxury Activities & other things to do near Cayo; From exploring "hidden gems" to beach-hunting!
To complete your Cretan luxury experience, we could not but include a variety of luxury activities that you can enjoy near Cayo Exclusive Resort & Spa. A short walk to picturesque Plaka with the overview of Spinalonga Island and a visit by local boat (Kaiki) as well as a sailing cruise around Mirabello bay towards isolated beaches with crystal clear waters will create the "peace of mind" you really need during your vacations
For those seeking a little action and adventure, Cayo Exclusive Resort & Spa also included a diversity of sports and activities like scuba diving, water sports, trekking, cycling, horse riding, and biking. But, do not forget to explore all the nearby beaches, secluded and popular ones, and swim at their crystal-clear, turquoise waters – even if it's totally optional when staying at Cayo as you will be enjoying the privacy and tranquility of your own private outdoor swimming pool with spacious veranda.
Concluding…
We would like to note that Crete is the largest Greek island with distances that will certainly require a car to explore. Keep in mind that discovering the entire island in one go is impossible. What we suggest is while staying at Cayo, enjoy activities and explore the traditional Cretan villages in Lasithi and possibly arrange a second visit to Crete for Chania and Rethymno. So, what keeps you from a thrilling luxury experience in Crete?