When visiting Krabi, one thing is for sure. Beach enthusiasts will fall in love with the long sandy beaches of the island while romantic souls will have their expectations come true in the best hotel in Krabi for honeymoon, The ShellSea Krabi. But first, let's take things from scratch!
Why is Krabi a must-visit Destination?
With sea temperature staying at an average warm of 29°C all year round, there is no wonder why Krabi is a popular beach holiday destination in Southern Thailand! Combining unrivaled exotic nature, pristine sandy beaches, waterfalls, and hidden caves, along with luxury boutique hotels and exclusive beach resorts, Krabi is a top destination for dream weddings and romantic honeymoons in Thailand.
What is the Best Time to Visit Krabi?
The north-easterly winds between November and April create a scenery combination of refreshing sea breezes, dry blue skies, and beautiful starry nights. The weather is also less warm than usual during these months and many holidaymakers suggest them as the best season to visit Krabi. Moreover, keep in mind that from June to early November the island tents to get a lot of rainfall and has mixed rainy and dry days.

Why is The ShellSea Krabi the best hotel in Krabi for Honeymoon?
The ShellSea Krabi knows well that honeymooners require privacy and seclusion and as such pays exclusive attention to the little details that will make your stay a pleasant and memorable experience.
Located in a hideaway corner of Krabi, couples in love enjoy total relaxation in elegant suites and villas with private pools and views over the Andaman Sea and tropical gardens. Moreover, this 5-star boutique resort is situated just steps away from the Shell Fossil Beach - a geological site famous for its limestone slabs formed from thousands of tiny, fossilised snail shells, dwellers of the freshwater swamp that covered this area some 40 million years ago. What's more romantic than discovering this unique miracle with your loved one?
Which is the best accommodation option for honeymoon in Krabi?
The stylish rooms and private villas along with The ShellSea Krabi's services ensure that you and your loved one have all the necessary seclusion required to focus on each other with no distraction.
However, the Grand Pool Villa, the most secluded spot of the hotel, is highly recommended as the top option for newlyweds! Offering direct access to the beach, a private swimming pool, a spacious living area, and a tropical garden with sea views, your honeymoon in Krabi becomes nothing short of a fairytale!

The master bedroom breaths romance and cosiness with large windows overlooking tropical gardens and a centerpiece Jacuzzi for two. Just imagine spending the evening cuddled up with your partner while soaking in the Jacuzzi or even listening to the waves of Andaman Sea with a glass of wine and the millions of stars shining above you.
Click here to check for prices and availability at the best hotel in Krabi for honeymoon, The ShellSea Krabi

And don't forget, by the time you get hungry you can always enjoy your favourite meal with the hotel's one-touch service in-room dining or even ask to arrange a poolside barbecue!
Why Planning your Wedding Ceremony in Krabi?
If you have been dreaming of your special wedding day taking place in an exotic Thai scenery then the magical by the sea destination of The ShellSea Krabi will make your dreams come true.

Unique and stylish wedding settings overlooking the pristine Andaman Sea along with the ShellSea tailor made approach make your exchange of vows in Krabi a truly memorable experience.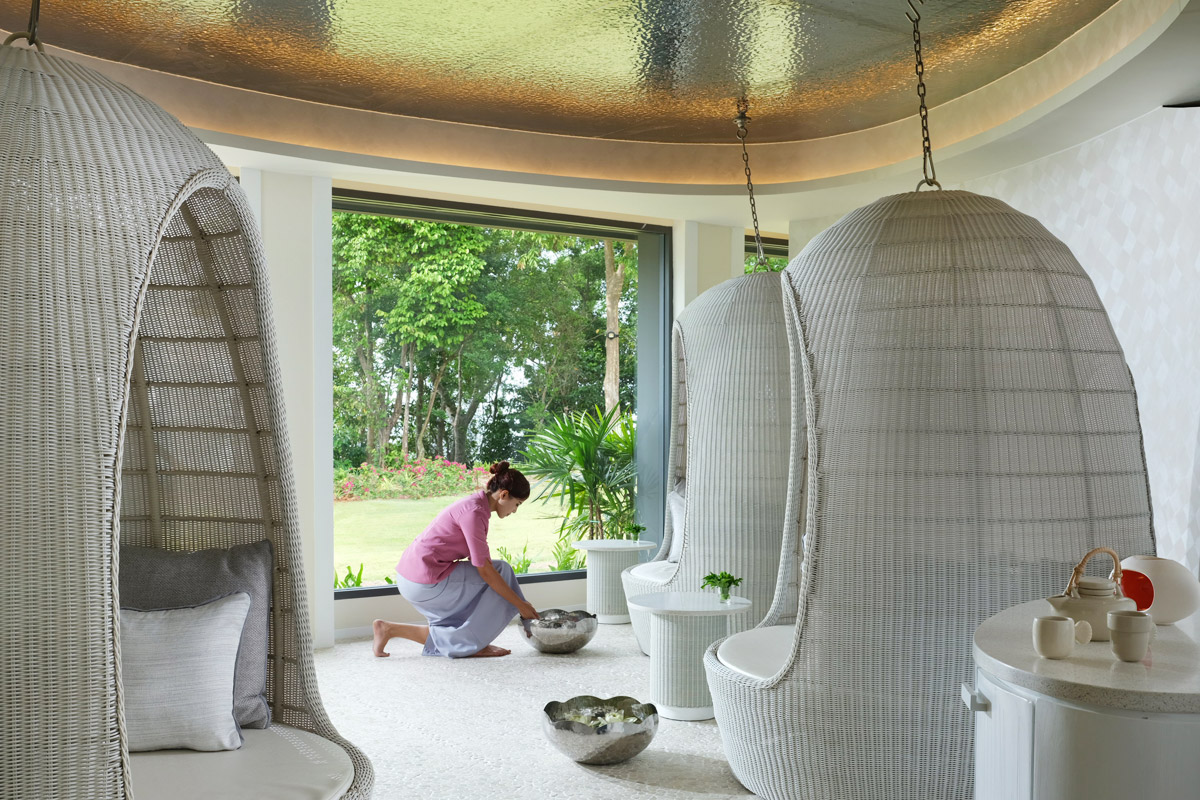 The experienced hotel's staff pledge to take care of all the details offering exceptional services and a choice of stunning places for memorable ceremonies and special celebrations. Ask for browsing the hotel's wedding packages and event venues and let the event planners to guide you through planning your very own special day.


Whether you choose a Traditional Thai Wedding or a Western Wedding Ceremony, The ShellSea Krabi is the promise of celebrating in paradise and spending intimate, romantic moments with your loved one in one of the most exotic islands in Thailand!

Click here to check for prices and availability at The ShellSea Krabi, the best hotel in Krabi for honeymoon, and remember to always book directly with the Hotel, for getting the best available prices and having the most personalized communication with the hotel!