Santorini is like a wild dream come true. It's among the very few islands that combine the luxury and the elegance of a Hollywood destination with the Mediterranean beauty of a Greek Island so perfectly. There are many aspects of Santorini that will make you fall in love with it. The afternoon colours will charm you the most; the sky turns into crimson-red and the sea takes on a vintage shade of light blue. No camera can capture this beauty yet, you have to experience it yourself
Santorini is a destination that needs tons of planning before visiting. The only exception would be if you were planning to spend your whole vacations on a beach – Santorini is not just for that. So, don't think that you will be able to arrange a last-minute trip on this island. Most of the luxury hotels are fully booked by the end of June, thus you should book your accommodation as soon as possible.
Booking a hotel in Santorini is not an easy case. There are hundreds of exceptional hotels on the Caldera, all of which taking full advantage of their location. It's pretty hard to recognize which one of them will offer you the ideal Santorinian experience for you, even though a premium stay is ensured in almost all of them. Above Blue Suites is one of those hotels-examples that offer an inspiring stay that you experience once in a lifetime.
Above Blue Suites | Make it Exceptional!
Above Blue Suites is one of the few hotels on the island that is not overshadowed by the excellence of its destination. You will most probably end up saying "I visited Above Blue Suites" instead of "I visited Santorini" when you will be narrating your experience to your friends – although in vain, cause such experience cannot be described in words.
The hotel goes by the motto "Make it Exceptional" and it can be easily observed by the facilities, the services and the whole resort's attitude, all of which combined truly "make it exceptional". You must be wondering by now… why this hotel?
Some key features that will make up your Above Blue Experience is the hotel's stunning views over the Caldera, ideal location in Imerovigli and premium hotel facilities found in the suites. Each suite is decorated with different colour while most of them have a their own private hot tub. An American Champagne breakfast will be served daily at your private balcony, including local delicacies of your choice.
When all is said and done, your stay in Santorini will be defined by one thing – the people that are going to take care of you.


Hospitality and Service: Friendliness and Professionalism in perfect harmony!
Above Blue Suites has gotten a gasp of the term "hospitality", something that becomes immediately clear right from the check-in. The hotel's people are friendly enough to make you feel cosy and like home, and professional enough to maintain the intimate and luxurious atmosphere of the property. It's actually like… they are jumping on a tight rope.
Moreover, extra services and special requests of yours will be well received and promptly executed. Either it is about an ingredient that you are allergic to, or even a new type of cocktail that it is not in the menu and you want to try it. More particularly, a reviewer in Tripadvisor had this comment for his experience in Above Blue Suites:
"I can't say enough about the level of service we received from George and the staff at Above Blue. Upon arriving in Santorini, we realized we left our passports in Athens. As soon as we got to the hotel, George took the lead in making contact with the necessary authorities to make arrangements for us to get our passports before leaving for Mykonos. He went "above and beyond" what is expected."


1,300 feet above Sea Level: I Love "Expensive" Thrills!
The hotel's swimming pool is dramatically located on the cliff-side and provides spectacular views of the caldera. There are 8 sunbeds and sun loungers around the pool, where you can relax, sunbathe, and enjoy a drink from the Azure Cave Bar.
At night, the pool takes on a new identity. Optical fibers have been scattered at the pool's bottom, flickering every night like little charming stars. Order your favorite cocktail or spirit, and enjoy the spectacular views while listening to lounge music or socializing with friends!


Fine Dining on the Caldera: Lighted by the Stars!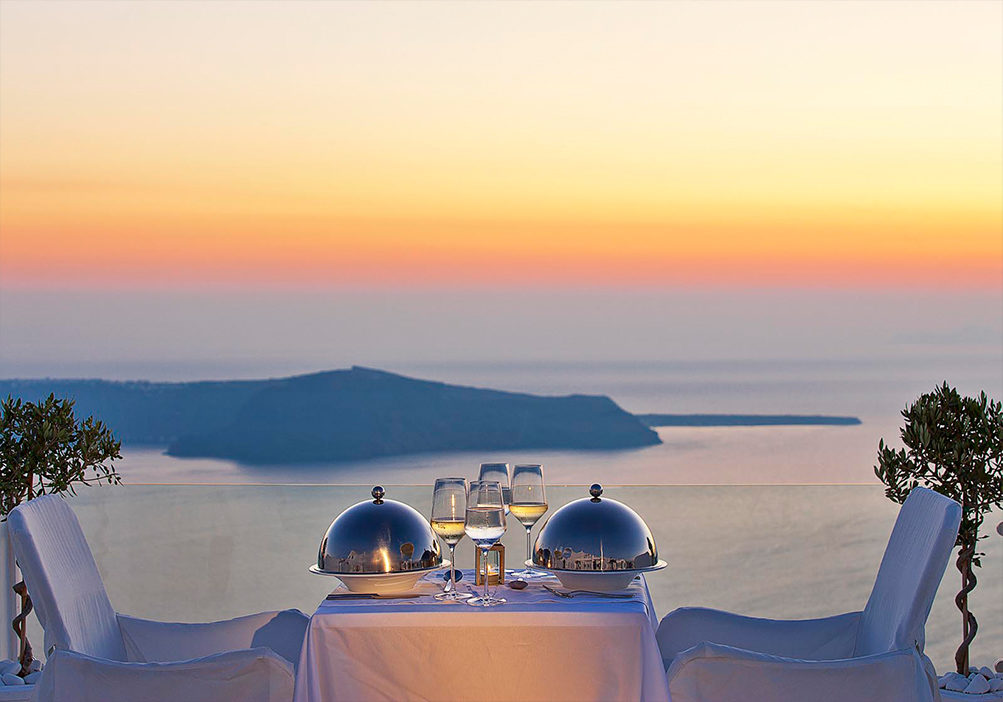 Many consider it too mainstream, but dining on the Santorini Caldera is an once in a lifetime experience. The crimson red colours of the sunset combined with the deep blue of the Mediterranean sea create the perfect setting to enjoy your dinner. Sadly, this beauty cannot be captured in a photo, so you will have to live it to understand the feeling.
Traveling with your other half? Make a gift to your partner and yourself and enjoy a Caldera Dinner at the best location on the island. Above Blue Suites has paid attention even to the smallest details, creating a magical dinner setting that you both will never forget. The dinner is highlighted by delicious recipes whose aromas and vivid colours will lure into a food journey that knows no boundaries.
The candle-light dinner includes two starters, one salad, two main courses, two desserts, and romantic candlelight decoration.


Wellness & Spa | Relaxation in the Caldera!
The best way to start – and end – your holidays in Santorini is with a relaxing massage overlooking the Caldera. Above Blue Suite offers a wide diversity of wellness treatments, aiming to relieve you from the built-up stress of your busy life while immediately putting in a mood for vacations. All of the treatments take place at the privacy of your suite!
The massages last 60, 75 or 90 minutes, depending on the therapy that you choose. The 90 minutes holistic massage is a fabulous choice, since it relaxes and nourishes you with a rhythmic massage that truly opens all senses. The treatment includes a combination of Eastern and Western techniques like Reflexology, Joint Release and Acupressure.

Your Santorini Experience in a nutshell!
Sensational, Astonishing, Natural, Thrilling, Out of this world, Radiant, Impressive, Naughty, Inspiring. These are all words that could describe your Santorini in a nutshell. The island has something for everyone, but it's a particular favorite of couples and forbidden lovers. So, plan your Mediterranean escape now by booking at Above Blue Suites!