Crete is a gay-popular destination whose turquoise-water beaches and traditional villages seduce thousands of gay travellers for adventurous holidays and romantic escapes. It gets mostly crowded during the summer months (June - August), but spring and early autumn are also great months for holidays (just don't forget to take your jacket with you for the windy and rather chilly evenings).
Rethymno is one of Crete's three biggest municipalities, expanding from North to South in the western half of the island. Its capital has the same name, Rethymno, and it is a truly beautiful and picturesque little town with several entertainment choices — one of them being a gay-popular bar with mixed crowds. But, in the end, nobody would go to Rethymno for its gay nightlife; Rethymno is all about daily excursions in the beautiful wild nature, sunbathing in golden-sand beaches, exploring the Greek culture, and enjoying romantic holidays with your other half.
In other words, Rethymno is about alternative gay experiences in the Cretan countryside!
What about accommodation in Rethymno?
The entire municipality features scattered hotels and resorts, most of which are centered in the northern coast, close (or inside) the cute Rethymno town. In addition to the all-time classic stay in a hotel (either a big beach resort or a stylish city boutique hotel), Rethymno features alternative types of accommodation as well — one of which is Villa accommodation. Keep reading, in order to uncover the benefits of staying in a private Villa rather than a hotel room and explore a fascinating Villa recommendation in the broader region of Rethymno.

Presenting the swanky and traditional Villa 'GrottoHomes'
Located in the peaceful village of Goulediana (with just 100 permanent inhabitants), GrottoHomes will offer you total privacy and seclusion during your stay. The Villa can host up to 9 people, so it's a great retreat for romantic gay holidays in nature, wild excursions with your friends, or even fabulous gay-offs with your besties. The Villa location as well as its special features and characteristics, make it an excellent choice not only for Summer holidays in Crete, but also for cozy Winter excursions in Greece's largest island.
With its traditional yet slick design, GrottoHomes reminds of a traditional Cretan house, upgraded with facilities that you would find in any modern 5-star hotel. The Main House can accommodate up to four people in a double and a twin bed, both with en suite bathrooms with shower. The extra studio expands the Villa capacity, being able to host up to three people in beds and two in sofa beds. You can access the studio from the heated indoor pool area, but it has its own individual entrance as well, providing even more privacy to you and your friends.
Hot Tip!


Don't feel left-out if you only get to have your summer holidays in September of even October. Even on rainy nights, the villa's indoor sitting area in the glass-roofed inner courtyard will be the perfect place to be, reading your favorite book and enjoying the sound of the rain that hits the glass roof in the arms of your loved one!


All-year round pool fun
GrottoHomes features two pool areas, one outdoor and one indoor. The outdoor pool, found on one of the Villa's fabulous terraces, boasts imposing mountain views that will relax your mind in an instant.
On the other hand, the indoor pool is a natural wonder, built in a traditional grotto (cave) within the Villa's glass-roof covered inner courtyard. The space features also a stone-built fireplace, that keeps the temperature high during the cold winter days.

Hot summer nights at Rethymno
GrottoHomes is about 30 minutes drive from Rethymno town's center, meaning that a car would come in handy, as the public transportation is not very reliable. As already mentioned, the beautiful town of Rethymno is not what you would call a 'gay nightlife paradise', however, a cocktail night by the old Venetian Port is definitely a must-do!
Metropolis Society Bar is a gay-popular venue at the Old Port. It is the best place to enjoy a strong spirit while listening to the latest dance hits. Other favorite night entertainment venues include Barrio Cafe, Tholos, O kipos tou Ali Vaphi, and Baja Beach Club.

Summer Exclusive: Visit Crete's nearby Gay Beaches
Crete might not have any gay-only beaches, however, at least seven beautiful beaches are known as gay-popular, meaning that you can relax and sunbathe amongst gay locals and visitors. GrottoHomes is actually very close to two of them:
Ammoudaki Beach is located near Damnoni and Plakias, about 30 minutes drive from GrottoHomes. The beach's nudist area attracts many gay travelers who are after the perfect tan.
Kavros Beach is about 50 minutes' drive from GrottoHomes, located after the village of Kavros (right before Georgioupolis). It is a beautiful sandy beach hot-spot for gay travelers.
Hot Tip!


If you are more of a loner, you can easily find a secluded beach nearby and go for a skinny dip or a complete suntan, either with just your partner or your entire group of friends.
Winter Exclusive: Walk off the beaten track at Crete
Cretan climate is temperate so it enjoys plenty hours of sunshine even during the winter months. On the other hand, the (usually) unbearably hot Summer days, make it rather difficult to enjoy a trekking or nature-exploring session. That being said, winter is probably the best season to explore ancient paths, climb on top of mountains, and enjoy breathtaking views of the Mediterranean Sea and Cretan landscape, without breaking a sweat.
You can ask your host for the most popular nearby hiking trail, however, we would highly recommend the Samaria Gorge, Europe's longest trekking gorge. Samaria Gorge remains one of the top reasons for visiting Crete, for many travellers. If you do decide to visit, make sure to plan ahead, as it usually takes from 4-7 hours to fully explore it.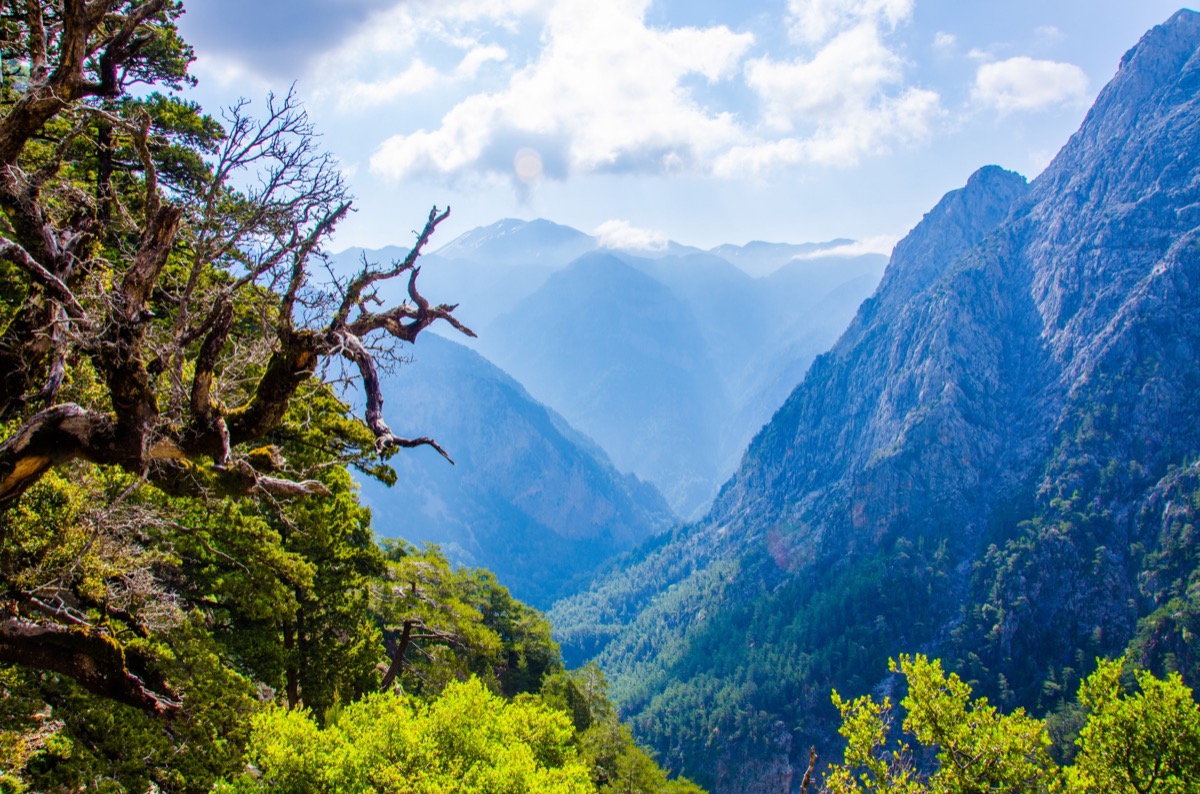 Special Guest: GrottoHomes Hydro
GrottoHomes Hydro is GrottoHomes' beautiful sister property. The Villa is housed in a 1942 stone-built building and can comfortably host up to six people in its three bedrooms, five beds and three baths. The Villa has its own private outdoor pool where you can cool down in summer, as well as an indoor jacuzzi room where you can relax during the winter.
The Villa's super-friendly host, will become your best friend during your stay, since he is always available for any kind of information or assistance you might need. His help and attendance will surely make your experience at GrottoHomes Hydro inspiring and unforgettable.

Your alternative gay experience... simple and beautiful
Even if an alternative gay experience in Crete was not something you had in mind, we are sure that after reading this article, the idea is now stuck in your head. After all, what would be better than a week in Crete, even during the winter? Have a look at both properties and start planning your trip right away, either at GrottoHomes or Grotto Homes Hydro.