Vietnam might not be a very popular destination around the world, especially for food travelers, however, if you are keen on exploring distinctive food traditions which will help you further explore the worldwide food culture, then it's the ideal country to visit in 2018! Of course, the gastronomy hotels are very important on that par, since they give a more western taste to the local recipes, making them more easily to eat, especially if you are only accustomed on the European or American food culture.
Top Gastronomy Hotels in Vietnam with Restaurants to choose for 2018!
Culinary creations in Vietnam are an absolute and creative combo of salty, sour, sweet and spicy flavors! Fresh herbs and other signature tastes mixed together, in hot, extra tasty delights. Below you can find our top 5 food dishes that will let your taste buds go wild during your holidays in Vietnam!

The Culinary creations of Vietnam


1. BANH XEO, the VIETNAMESE PANCAKE
Every country has its signature pancake and Banh Xeo is the Vietnamese one! It's a savory treat, containing shrimp, pork, bean sprouts and egg. Fried and wrapped in rice paper, the traditional way to eat it, is to dip it a spicy sauce!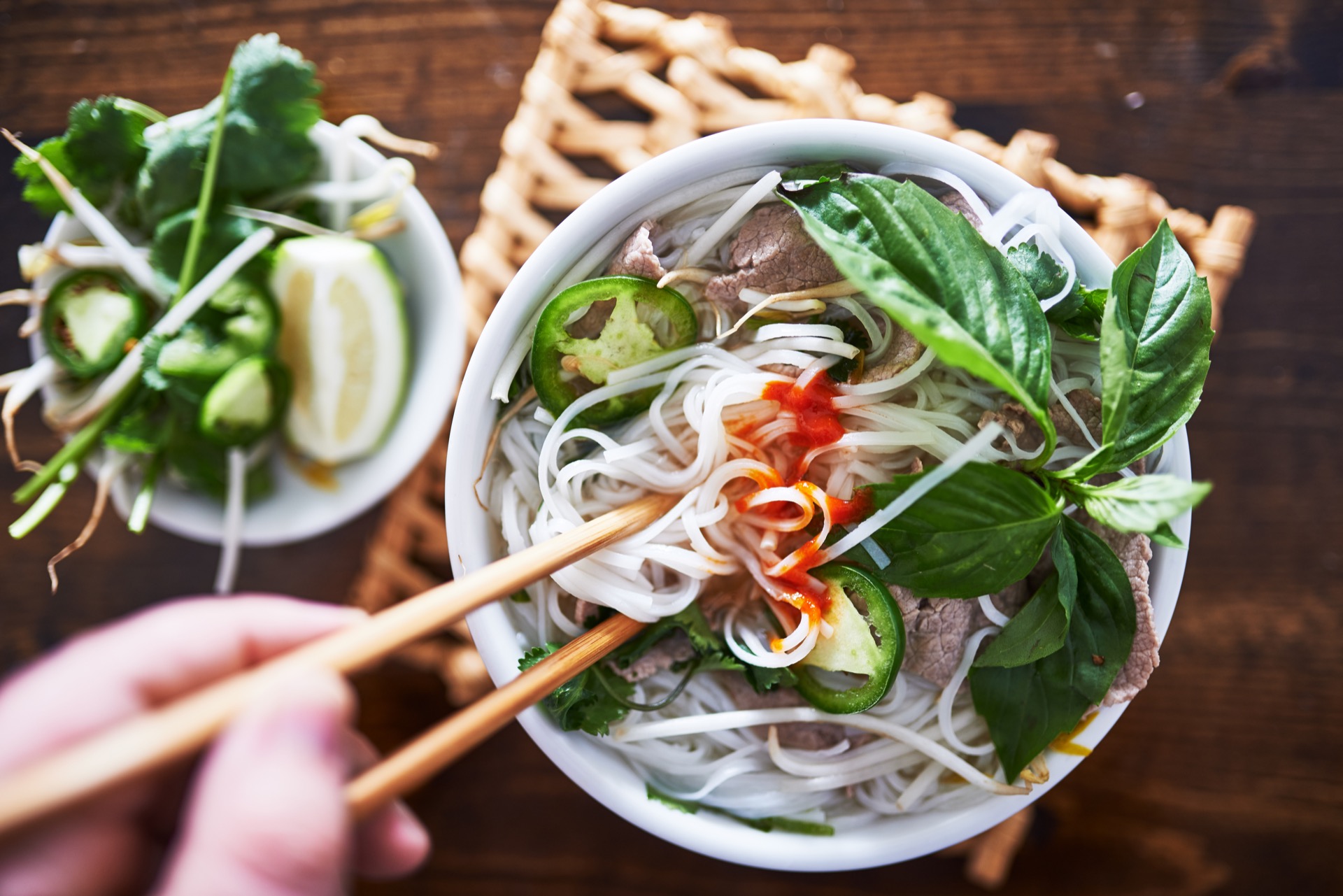 2. PHO, or just NOODLE IT
From breakfast to dinner, there is a dish that can be eaten any time! Pho, meaning 'fur,' is the absolute Vietnamese noodle soup! Light beef or chicken is the main ingredient, traditionally flavored with coriander and ginger. Large flat rice noodles are accompanying the meat and spring onions complete this mouth-watering platter, with slivers of chicken, pork or beef added accordingly.
3. CHA CA, the SEAFOOD TREAT
Mostly popular in Hanoi, Cha ca is a food in Vietnam that will excite you. White fish varieties are sautéed in butter and then prepared with care to create an excellent seafood platter! Spring onions could not be missing, while dill and a scattering of peanuts is the detail that makes it even more interesting. Rice noodles complete this creation!
4. BUN CHA, the HAMBURGER OF VIETNAM
A food in Vietnam that you will see everywhere! Bun Cha, is served in street food venues or in fancy restaurants in a gourmet approach. Numerous varieties for a simply delicious Vietnamese specialty. Easily described as a small hamburger, Bun Cha consists of little balls of pork, which are barbecued on an open charcoal brazier. After that, they are served on top of cold noodles, with a kind of sweet sauce.
5. CHA GIO, or MEAT SPRING ROLLS
These mouth-watering spring roll-like creations of Vietnamese Cuisine, are called Cha Gio in the South and Nem Ran in the North. Whichever sounds better to you! Crispy on the outside and soft on the inside. The filling contains, meat and veggies dunked in a juicy sauce. Can be prepared without the meat filling, for our vegetarian travelers. Enjoy!