Many believe that Barcelona is the gay capital of Spain, however, if you compare it to Madrid (their population and number of gay events), it's easy to understand that Madrid is the rightful heir of the throne. After all, Madrid hosts the largest gay pride in Europe, attracting approximately 1.5 million people each year, and home to some of the best gay bars and night clubs in Europe.

Clubbing in Madrid comes only after a visit to a tapas bar, and, thankfully, Chueca has several of them. Two great places where you can enjoy your beer with your friends or boyfriend before heading out for clubbing are El Tigre Sidra Bar and La Barraca. Every pint of beer that you order there will come with a large plate of tapas (while 2,5 euro per pint is a deal that cannot be missed).
So, let's discover the best gay bars to visit in Madrid.
A Gay-Friendly Resort near Chueca with a Rich History, Excellent Service & World-Class Facilities
Picking a centrally-located hotel in Madrid is essential, especially if you want to explore the city's gay nightlife to its fullest. If you haven't found a place to stay yet, we have great news for you, as we have researched and present to you the best hotel for gay travellers in Madrid. Of course, we are talking for none other than The Westin Palace, a hotel whose extravagant history and worldwide repuation have made it a hit for gay travellers, and not only.
The Westin Palace Hotel is found at Plaza de las Cortes, which means that it's at a walkable distance from the city's gay nightlife. The hotel offers world-class facilities and amenities, among of which, we particularly loved the Opera Brunch that takes place every Sunday, and the stunning gym found at the hotel's last level. All sound great up so far, but truly stole our hearts is the hotel's friendly and discreet attitude.
No weird looks and 100% wholesome service awaits the visitors of The Westin Palace Hotel in Madrid, and this is why we love this hotel.
laKama
Relatively new to Madrid's gay scene, laKama opened in 2013 and managed to become one of the most popular gay bars in Madrid really fast. It's open daily from 21:00 to 03:30, while it gets busy mainly on weekends. Apart from handsome, this bar's barmen are very friendly, and always open for a chit-chat. There are also occasional go-go dancing shows!
Bears Bar
Bears Bar is a popular gay bar that attracts gay bears, cubs, chubbies, daddies, and their admirers. It's open from 20:00 to 02:00 every Sunday/Monday, 19:00 to 02:00 from Tuesday Thursday, and 19:00 to 03:30 every Friday-Saturday. It gets pretty packed on weekends, so don't be surprised if you have to wait in a line to get inside. The bar is known for its 2 for 1 drinks everyday until midnight. While, it organizes meetings for MAD.BEAR as well!
LL Bar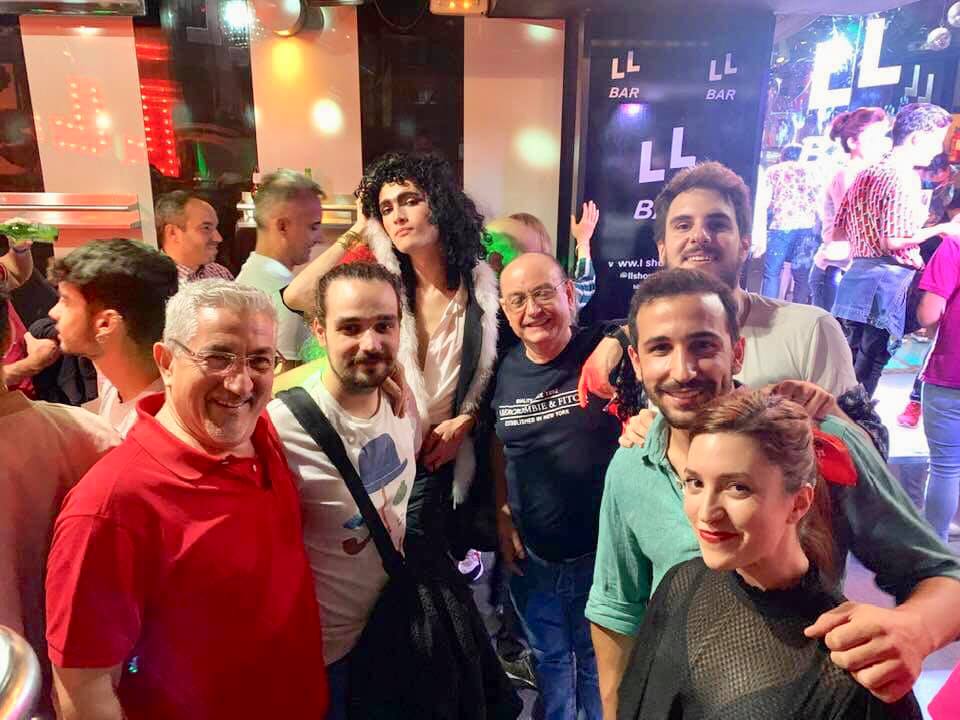 A colorful bar with friendly and fun vibes that hosts stunning drag shows every night. The performances usually start around midnight, while adult movies are shown on the TV screen at the rear of the bar. You will most probably not get a thing of what the drag queens say (been there, done that), however the vibes of this bar are awesome, so you will have tons of fun!

Boyberry
Boyberry is a popular bar for cruising (so, don't be surprised by guys roaming through the bar), however, the drinks are quite cheap, and there are various special events through the week. There are also special events happening through the week, so we recommend visiting their website.
HOT
HOT Bear's Bar Madrid is the perfect bar for Bears, mature guys and chubby men. It's particular popular for its friendly staff, while it also gets busy during early evenings (19:00). This bar also offers a happy hour, 2 for 1 drinks, and it's the perfect place to hit before the clubs. Younger guys who are into older also frequent this place, while there is a small cruising area downstairs.
The Paso
Photo Credits: The PASO
Even though it's generally known as a gay bears bar, The Paso is a popular gay bar that attracts all sorts of guys. It's busiest during the weekends, however, it attracts a good amount of people during the weekdays as well. Great music, great crowds, great atmosphere - it's a must visit.
Barbanarama
Barbanarama is another relatively new gay bar in Chueca that attracts a mix of jocks and bears. Reasonable-priced drinks and friendly, this is a great place to enjoy a drink before heading to one of Madrid's gay clubs. The bar is open from Thursday to Saturday until 02:30.
El Bulldog
El Bulldog is a cozy gay bar in Chueca, ideal for socializing and cocktail nights. The bar has nice music, great crowds, and even great service. The bartenders are gorgeous. Here, as well, you can enjoy the 2 for drinks offer every day until midnight. It's open from 21:00 to 03:00.

ZARPA
ZARPA is yet another popular gay bar for bears, cubs and their friends in Chueca. This is definitely one of the friendliest gay bars in Madrid, and Manu, Jose and Jonathan are excellent hosts. There is free wi-fi in the bar, and the 2-for-1 drinks offer.
So, these are the most popular gay bars of Madrid. If you are still searching for accommodation, make sure to check out The Westin Palace Madrid, a popular, gay-friendly luxury hotel near hotel that's known for its extravagant history and friendly service.
Main Photo Photo Credits: Zarpa Bar