There has always been something unique about "Gay Madrid". Is it its modern vibes? Or, its glamorous gay life? It could also be the abundance of things to do around the city. As it seems, Madrid is a unique gay destination for many reasons, and guuurl, we do not complain at all.
To make the most of your Madrid vacations, however, you have to carefully select your hotel, and what's better than picking a hotel that's as glamorous as the destination? The Westin Palace is most definitely one of those hotels. Let's explore it!
The History of a Luxury Hotel near Chueca | The Birth of Westin Palace Hotel, Madrid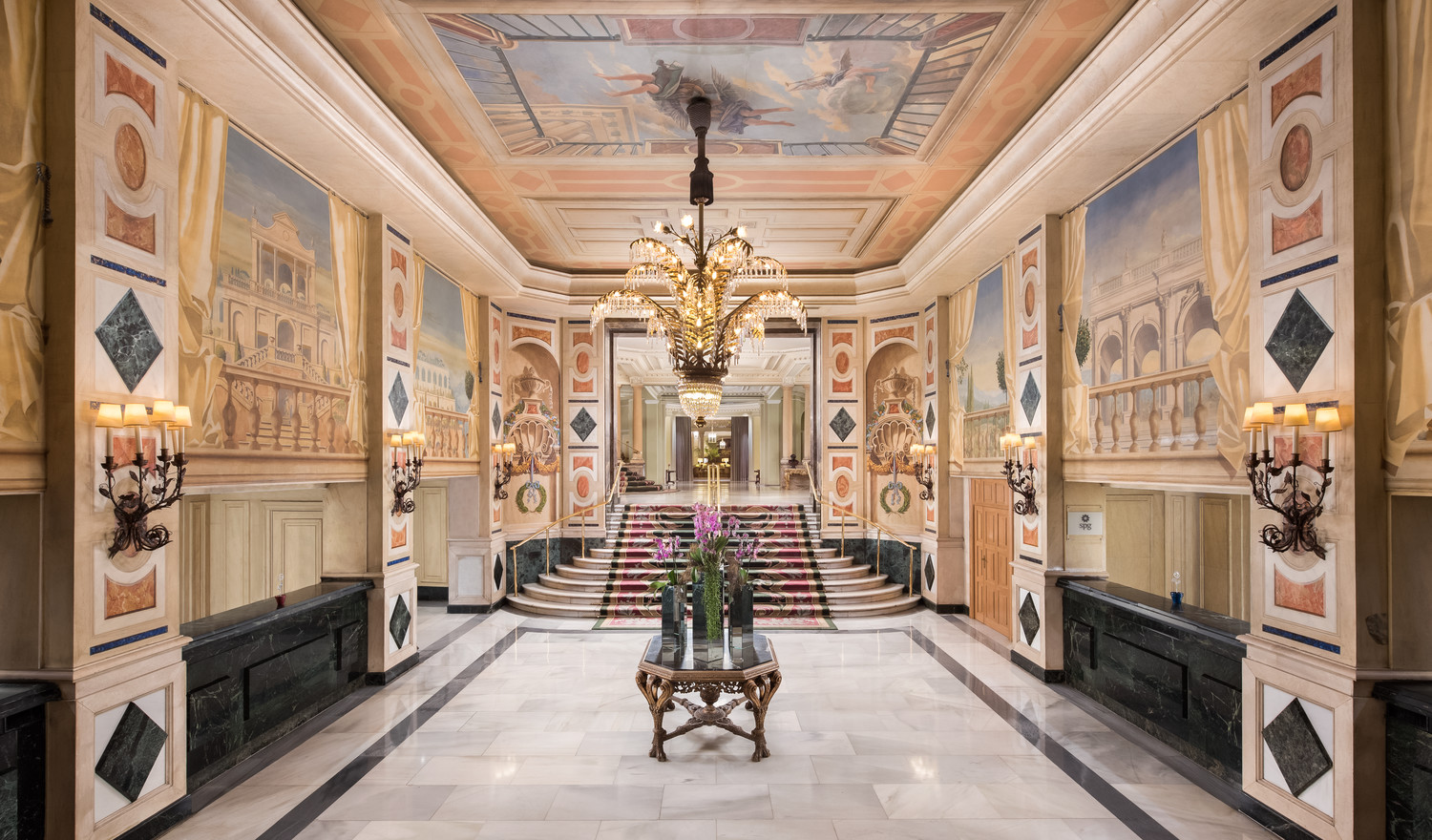 Let us take you back in time... Not in the 90's, neither on their 50's, but on the early 20th century. The Palace Hotel (the name of The Westin Palace then) was an initiative of King Alfonso XIII, who planned to give Madrid the ultimate luxury hotel. And, so he did, The Palace Hotel was built within only 18 months and 11 days, and it first opened in 1912, marking the record of the the largest and most modern hotel of its time.
It also introduced many new things with its construction, as it was the first hotel in Spain with a bathroom in every room, the first hotel with a telephone in every room, and the first building in Spain to use concrete in its construction. Its official opening, on the 12th of October, 1912, became one of the greatest events of the year, attracting several famous guests like Igor Stravinsky, Pablo Ruiz Picasso, Marrie Curie, and the double agent Gertrude Zelle (Matahari).
As expected, soon after its opening, The Palace Hotel received its first reward, which was the 'Best City Building' in 1914. From a luxury hotel, The Palace Hotel was converted into a meeting place in the center of Madrid's social life, where people could do business, conduct meetings, throw parties, and make celebrations. People were talking about it, while the renowned mid-twentieth-century writer and journalist, Josep Pla, defined it as "a microcosm of Spanish life".
The hotel's glory, whatsoever, quickly faded, as it was converted into a military hospital during the three-year-long Spanish Civil War. The Lounge, under the hotel's stunning glass dome, became an operating theater, and people gathered there to escape for a while from the tragedies that were happening all over the country.

After the war's end in 1939, the hotel was restored and reopened. Until the 1950's, it had become a favored meeting point for foreign agents, spies and journalists. It was also the permanent resident of Julio Camba. And then, the economic boom happened in the 1950s, and the hotel was once again frequented by celebrities. Ernest Hemingway, Orson Wells, Lauren Baccal, Rita Hayworth, Ava Gardner, and many others visited this stunning hotel to get a glimpse of its luxury.
The Palace Hotel quickly recovered to its former glory, and in 2001, it was integrated in the Marriott Hotel Chain. So, the Westin Palace Hotel was officially born.
Luxury with a dash of Queerness | How The Westin Palace Hotel, Madrid conquered the heart of Gay Travellers
Now that we have uncovered the history of how The Westin Palace Hotel came to be, let's find how this luxurious hotel became a sensation for gay vacations. As we say in most of our articles, people are the heart and soul of a hotel, and that is true for The Westin Palace Madrid as well. The discreetness and politeness of its staff makes you feel that you are visiting your long-distance relatives. Of course, as it's a huge hotel with lots of guests, you shouldn't expect the same level of personalized service as in a boutique hotel, but hey, these guys try their best, and we love them for that.
Of course, its central location paid a critical role to its reputation as well. It's literally 10 minutes' walk distance from Chueca, thus all of Madrid's popular gay venues. Some notable gay bars and clubs to visit are Boyberry Madrid, Shower & Bar Madrid Gay Club, THICK Bar Madrid, Bears Bar, Baranoa Bar. You can check out Madrid's most popular gay bars here. At the same distance, you will also find two popular gay cafe, La Kama and Mama Ines Cafe, which are an excellent option for coffee breaks during the day. At the same time, The Westin Place is close to three of the city's most popular sights - The Prado, Thyssen-Bornemisza, and the Reina Sofia Museums.

Opera & Brunch | Munch on Delicious Delicacies while listening to Live Operatic Arias
Every Sunday, and in the heart of La Rotonda Restaurant, you can experience the one and only Opera & Brunch. During this luxurious lunch-buffet, you can try delicious sweet and savory dishes, including seafood, fresh salads, delicious hot dishes, and innovative desserts. All the above while listening to live Opera Performances. This is a once-in-a-lifetime experience that we highly recommend to all travelers!
Three Luxury Restaurants & a Bar inspired from the 50s
The Westin Palace Hotel is home to three exquisite restaurants and one bar that's literally like it was taken straight from the 50's. For Spanish Cuisine, you can opt for La Rotonda Restaurant, the hotel's main restaurant (where, breakfast and brunch is also taken). For gourmet Asian Cuisine packed with delicious Cantonese flavors, opt for Asia Gallery, and for a fusion of Japanese sushi and Spanish tapas, Green T Sushi Bar will surprise you.
Lastly, a Gym so that you never let go of your Working Out Routine
Vacations are not an excuse to ditch your working out habits, especially when you are staying at The Westin Palace Madrid. The hotel is home to an absolutely gorgeous gym, located at the last floor, overlooking the city of Madrid. The view is gorgeous, while it's packed with the most advanced training equipment.
As you can see, there are plenty of reasons for a gay man to love The Westin Palace Hotel in Madrid. We recommend you not waste any more time, and start scheduling your trip by booking at The Westin Palace Hotel right-away.