When it comes to combine luxury holidays with a cosmopolitan experience in Greece, Oia in
Santorini
is the ultimate destination that comes to mind, and, there is no mystery behind it. Santorini's steep beauty is a result of hundreds of thousands of years of volcanic activity!
It's impossible not to feel enchanted with the all-white small yards, cave-like dwellings overlooking Caldera, breathtaking pools perched on the steep cliff, and black pebble beaches, that come in contrast with the deep blue of the Aegean Sea.
However, while there is a variety of beautiful white stone villages to stay on the island - from Fira to Imerovigli – Oia village is undoubtedly one the best places to stay in Santorini.
What makes Oia one of the best Places to Stay in Santorini?
LOCATION | Nestled in the Aegean Sea, Santorini is a volcanic island accessible by air and sea.
WHEN TO VISIT | Santorini's Peak season is in July and August, however anytime between May – October is a good time to visit.
WHERE TO STAY | A property, with tailored in-house neighbourhoods, Santo Maris Oia Luxury Suites & Spa, offers its guests the unique experience to indulge for hours in the heated waters of the outdoor private Jacuzzi while gazing at the renowned Oia sunset!
There's nothing quite like immersing yourself in the rays of Oia's sunset, which is also the main reason that many travellers tend to visit Santorini in Greece, every year.

Whether you crave romance, luxury indulgence, or simply relaxation on a private veranda with heated Jacuzzi, staying in an all-white suite in Oia, Santorini, is sure to be one of the best accommodation experiences!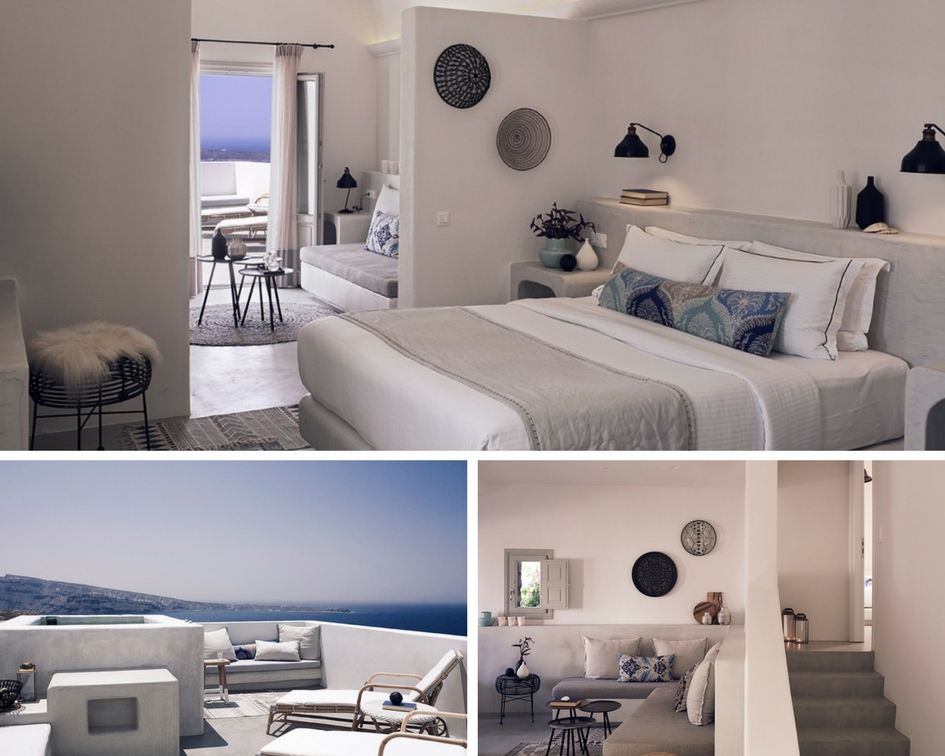 What makes Santo Maris Oia Luxury Suites & Spa one of the best places to stay in Oia, Santorini?
Welcoming you with the message create your perfect holiday story, Santo Maris Oia Luxury Suites and Spa invites you to a world of Santorini luxury and comfort.
Offering exquisite and spacious suites, cutting-edge services, and views over the Aegean Sea, Santo Maris Oia Luxury Suites and Spa is located in one of the world's best-loved destinations, Oia, Santorini.
The property's tailored in-house neighbourhoods overlook the Aegean Sea and their design is inspired from different Greek islands while they are decorated with colonial chic quirks always based on refined style, high quality amenities, and design facilities.
Whichever suite you may choose, you will experience the benefits of tranquility that derive from minimalist design inspired by Santorini's architecture. Don't forget that you will be staying in one of the most impressive hotel rooms in Europe of 2019, the high quality of the experience is guaranteed. Check prices and availability at Santo Maris Oia Luxury Suites & Spa.
Oia's renowned sunset is always present in Santo Maris Oia Luxury Suites and Spa and along with the deep blue of the sea and the minimal cycladic elements, create a scenic paradise for romantic souls and newlyweds in short.

One of the best hotels in Santorini for romantic honeymoons!
The well-known elegant yet lively ambiance of the island along with the opulent collection of Santorini, leave no question why Santorini tends to attract honeymooners and couples in love all-year round!

The Honeymoon Suite Sunset Sea View of Santo Maris Oia Luxury Suites and Spa really stands out, as it offers spectacular views to the Aegean Sea and Oia's sunset not only from its private veranda but also from its spacious and comfortable bedroom. Last but not least, the outdoor heated Jacuzzi facing the deep blue of the sea could not but add an additional touch of luxury to your overall majestic experience!
So, if you are looking for the best place to stay in Oia, Santorini, Check for prices and availability at Santo Maris Oia Luxury Suites & Spa and remember to always book directly with the Hotel, for getting the best available prices and having the most personalized communication with the hotel!