The white-washed island of Santorini stands proud in the midst of Mediterranean Sea's vivid blue, attracting the interest of couples and newlyweds for as long as we can remember. The island boasts a dramatic landscape with impeccable views, luxurious 5-star accommodation perched on a steep cliff, and a breathtaking view that simply makes it too difficult for any couple to resist its beauty.
All the above (and much more) make Santorini one of the best islands in the world to arrange your wedding. That said, arranging your wedding in Santorini is not as easy as it sounds: it needs planning and, above all, patience. A great way to simplify the whole procedure is by staying in a hotel that arranges weddings. One of the best hotels to arrange your wedding in Santorini is the glamorous, chic and super-deluxe Villa Bordeaux in Fira Town.


Paperwork; boring but crucial
Your wedding preparations in Santorini will start weeks before the actual ceremony. The documents that you are going to need for an applicable wedding are:
A valid passport.
A birth certificate with the Apostille stamp certifying the copy.
An official Apostille translated into Greek certified either by a lawyer, a foreign ministry's translation department, a certified translator or a Greek consulate from your country.
Proof of freedom to marry or a affidavit of marriage, notarised, in both English and Greek.
A decree of absolution of your previous marriage if applicable.
A copy of the local newspaper where your intent to marry was published.
Keep in mind that most of the above paperwork will be taken care by Villa Bordeaux, while you will need two copies of every document if you are planning to make a religious ceremony (one for the house of worship and one for the town hall).
Get Married against the Imposing Caldera!
A short Google Search will give you a rough idea on how weddings in Santorini look like. Villa Bordeaux has a white-washed wedding venue overlooking the imposing caldera that will immediately convince you that this is the best place on earth to exchange your eternal vows of loyalty. It's rightfully considered as one of the most premium Santorini wedding venues.
Besides the paperwork, the hotel will cater to all your wedding needs and desires, organizing the catering, the flower arrangements and the wedding ceremony according to your wishes. After your ceremony, you can celebrate your official union as a couple with a sumptuous dinner by the hotel's stunning swimming pool perched on Santorini's steep cliff. The menu will be tailor-made by the hotel's chef to match your preferences!
Considering your wedding's photo shooting, Santorini is blessed with many stunning spots where you capture your most breathtaking moments on the island. One of the most iconic hotspots in Santorini, the whitewashed church with the blue-painted dome is only a 10 minutes' walk from Villa Bordeaux, so it's the best place to start your photo-shooting adventure.

4 Luxury Suites deliver a high-quality stay!
Arranging your wedding in an exclusive destination like Santorini comes with many risks. Some of you may live in another country, or even continent, this is why you must make your wedding at Santorini as appealing to your guests as possible. Villa Bordeaux will not only make it difficult for your guests to deny this opportunity, but impossible.
The hotel offers world-class accommodation facilities and services that get off-charge even the most "experienced" travelers. The four types of suites found in the hotel feature a minimal design and the standard breathtaking views over Caldera. Each suite stands out for its own unique characteristics, but they all offer a similar high-quality stay.
Santorini is blessed with beautiful volcanic beaches, picturesque cobblestone alleys and spectacular wineries, however, the place where you will spend the most enticing moments of your holidays will be... the hotel's infinity pool that's actually the biggest on the island. Its gorgeous views and elegant atmosphere make it ideal for fresh dips during the day.
Last but not least, we should mention the hotel's gorgeous location, featuring the best view in Fira Town, the island's heart.
A Gourmet Restaurant to taste the best of Santorini!
La Colline Restaurant Moscow-Santorini, curated by the multi-talented Chef, Jerome Coustillas, is currently one of the finest restaurants in Santorini where you can enjoy local flavours with a modern twist. The menu features many iconic and delicious dishes, even though one could say that the desserts are always on the spotlight. Click here to read more about La Colline Restaurant!
After your flavor-packed dinner at La Colline Restaurant Moscow-Santorini, the best place to wash it all down is the glamorous and enticing 4 Elements Champagne Bar. Just pick one of the 5 signature cocktails and enjoy a wonderful evening overlooking the nearby town's twinkling lights and the small boats on the sea!
Make your wedding the beginning of your Honeymoon!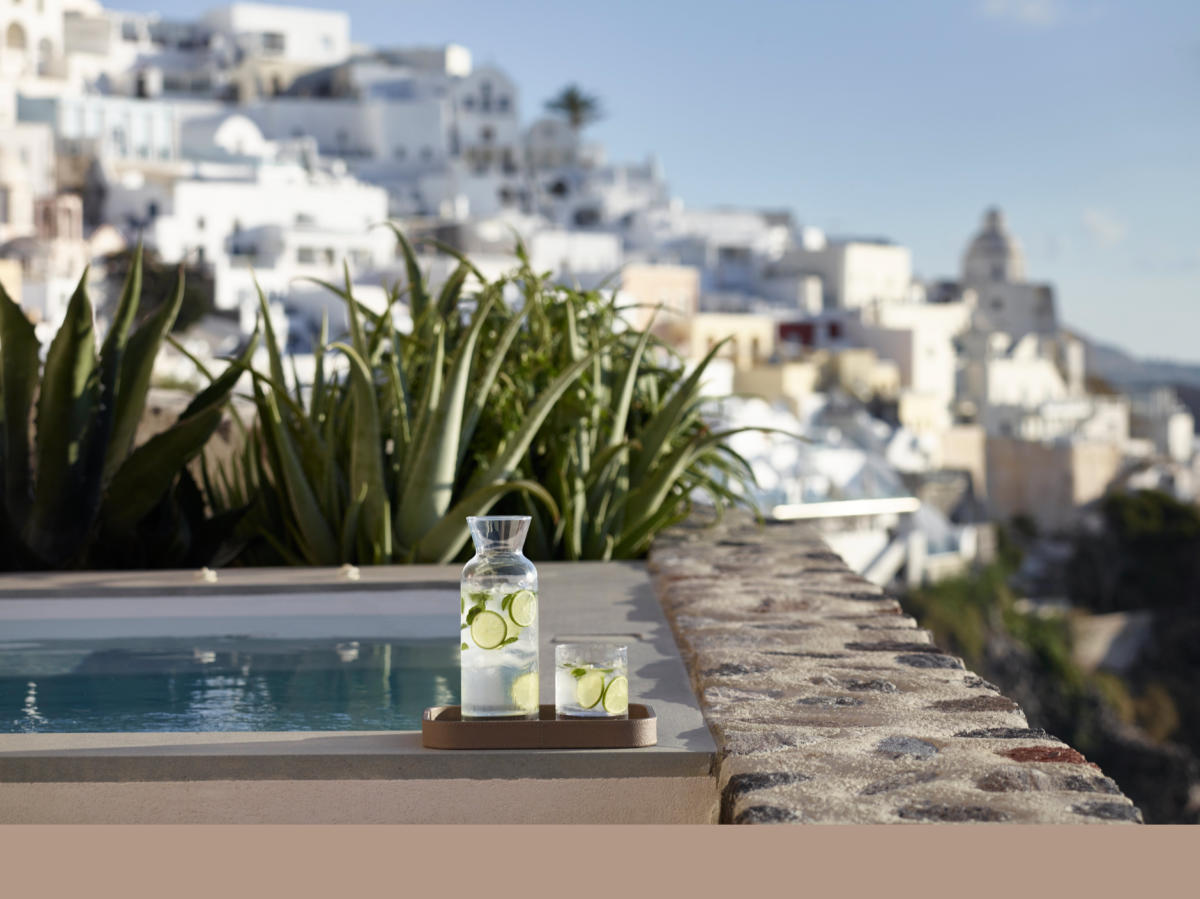 Santorini is surely a wonderful destination with a unique natural beauty, however, there are so many things to see in Greece that it would be a shame if you didn't see at least a small portion of it. So, for your honeymoon, we highly recommend you to make a tour at least to a couple of the nearby islands like Ios, Crete and Folegandros. Thankfully, Santorini is connected to many islands so it will make it super easy for you to navigate. For a more upscale and private experience, we would highly recommend you rent a boat!